All-NorCal Football Defense 2019: SportStars Honors 26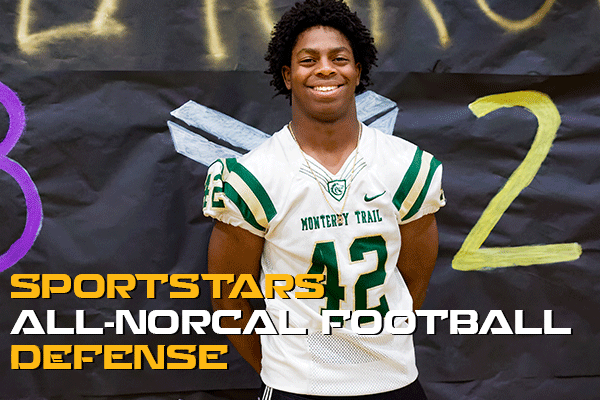 Meet The 26 Players Comprising SportStars' All-NorCal Football Defense 2019 Roster — Led By Defensive Player Of The Year, Marcus Jones Jr. •
We do things differently at SportStars. Rather than build an all-region roster broken into first- and second-team honors, we build one complete roster. The 26 players below represent our All-NorCal Football Defense 2019 roster. To view the All-NorCal Football Offense, CLICK HERE.
LB | MARCUS JONES JR. (Monterey Trail-Elk Grove) | Sr.
Our NorCal Defensive Player of the Year capped an amazing high school career with 134 tackles, including 101 solo tackles. Jones (pictured above) led the Mustangs to a Sac-Joaquin Section Div. I semifinals upset of Folsom and a second consecutive finals appearance. He also had 5.5 sacks and three fumble recoveries.
DL | JAMAR SEKONA (Marin Catholic-Kentfield) | Sr.
USC-bound senior led a Wildcats defense that pitched five shutouts and allowed 5.3 points per game. He collected 82 tackles and 10 sacks for the NCS Div. IV runners-up.  
DL | NUSI MALANI (Serra-San Mateo) | Sr.
West Catholic Athletic League Defensive Lineman of the Year set the tone for the NorCal-champion Padres. He racked up 61 tackles and four sacks.
DL | DESHAWN LYNCH (Folsom) | Sr.
The Sierra Foothill League's Lineman of the Year had 39 tackles (12.5 for loss) and 4.5 sacks. He's weighing as many as nine offers, including ones from Nebraska, USC, Oregon and Tennessee.
DL | MAX GIPSON (Sutter) | Sr.
Fierce edge rusher had 17 sacks among his 121 tackles for a Huskies team which reached the CIF 4-AANorCal Regional final. 
DL | PAYTON ZDROIK (Liberty-Brentwood) | Sr.
Bay Valley Athletic League MVP was a force on both sides of the ball, but was at his best in the opponent's backfield, tallying 57 tackles with 23.5 tackles for loss and 10.5 sacks.
DL | PEYTON BRADFORD (Oakdale) | Sr.
Bradford was the Valley Oak League's Defensive Player of the Year as a tenacious defensive end. He also helped the 9-4 Mustangs as a bruising tight end in their Wing-T rushing attack.
_______________________________
CONNECT WITH US:
Follow SportStars on Twitter & Instagram | Like us on Facebook | Subscribe!
_______________________________
DL | BRADLEY RANKIN (Casa Roble-Orangevale) | Sr.
Rankin led NorCal with 19 sacks for the Rams. He also had 114 tackles, two forced fumbles, two fumble recoveries and an interception.
LB | RYAN ENNEY (Oak Ridge-El Dorado Hills) | Jr.
The linchpin of the SJS Div. I champions' defense recorded 142 tackles, five fumble recoveries and an interception. He was credited with 103 solo tackles.
LB | MASON MASTROV (Campolindo-Moraga) | Sr.
After battling injuries early in the season, SMU-bound force ended the year with Diablo Athletic League Defensive Player of the Year honors and led Cougars to the NCS Div. II final.
LB | ZACH BROOKS (Davis) | Jr.
Delta League Defensive Player of the Year had 123 tackles and 3.5 sacks. Brooks averaged double-digit tackles per game and had three fumble recoveries, returning one for a score.
LB | MARIO AYOTTE (Sutter) | Sr.
A tackling machine, Ayotte totaled 177 over 14 games. He had 32 tackles go for loss, including 8.5 sacks. He also forced four fumbles and recovered one.
LB | CONNOR SHAY (Monte Vista-Danville) | Sr.
Latest in long line of Mustang linebacker standouts collected 134 tackles, including seven for loss. Wyoming-bound playmaker was also a force at tight end, hauling in 32 passes (4 TDs).
DB | EDWARD WOODS (McClymonds-Oakland) | Sr.
Oakland Athletic League MVP led defense that recorded six shutouts. Arizona State commit grabbed four interceptions and returned three punts and one kickoff for touchdowns.
DB | KAVIR BAINS (Valley Christian-San Jose) | Sr.
UC Davis-bound safety grabbed four interceptions and made 63 tackles en route to earning co-defensive back of the year honors in the West Catholic Athletic League. 
DB | DEJUAN BUTLER (Antioch) | Sr.
Cal-bound DB cut off half the field for the Panthers, forcing teams to avoid him at all costs. Earned Bay Valley Athletic League Defensive MVP honors and also rushed for 380 yards and six TDs.
DB | AARON ESPERO (Inderkum-Sacramento) | Sr.
Athletic senior was a shutdown cornerback with six interceptions, returning two for scores. Espero added a fumble recovery and 1,492 all-purpose yards to go with 16 total TDs.
DB | AVANT JACOBS (Oak Ridge-El Dorado Hills) | Sr.
All-around athlete shined on defense with 50 solo tackles, five interceptions and a fumble return TD. Jacobs also had 13 passes defensed and more than 1,000 yards receiving.
DB | ALAN LLOYD (Ygnacio Valley-Concord) | Sr.
Led NorCal as one of only three players in California to finish the season with 12 interceptions. He also logged 106 tackles, blocked two punts and was just shy of 500 yards receiving on offense.
AP | TEDDYE BUCHANAN (St. Ignatius-S.F.) | Sr.
UC Davis signee was one of NorCal's most impactful all-around players. He passed for 1,785 yards with 18 TDs and rushed for another 557 yards (9 TDs). He also recorded 83 tackles with six sacks at linebacker.
AP | SHAMAR GARRETT (De La Salle-Concord) | Sr.
Our NorCal Player of the Year was the best two-way player on NorCal's best team. The San Jose State commit rushed for 16 TDs, added two receiving scores and passed for three more. He also returned a punt for a TD and lined up at every defensive position except down lineman. 
AP | DANNY HERNANDEZ (Ripon) | Sr.
Hernandez amassed 21 total TDs, including rushing, receiving, kickoff return, punt return, and interception return scores. He rushed for 1,233 yards for the CIF 4-AA State Bowl champs.
AP | NATE RUTCHENA (Monte Vista-Danville) | Sr.
The Cal-bound playmaker  lined up all over the field on defense, finishing with 105 tackles (10 for loss). On offense, hauled in 53 passes for 709 yards and 12 touchdowns.
AP | RASHEED RANKIN (Rancho Cotate-Rohnert Park) | Sr.
A bulldozer on both sides of the ball, he led the Cougars to NCS and NorCal titles. North Bay League Back of the Year carried the load offensively while also starring at linebacker.
AP | ISAIAH FLORES (Wilcox-Santa Clara) | Sr.
Two-way standout rushed for 942 yards and 12 touchdowns, recorded 53 tackles and nine sacks, and made 50 of 51 extra points with four field goals as Wilcox's kicker.
AP | CARTER HARRIS (Elk Grove) | Sr.
Star of the Herd triple option, the lightning-quick QB amassed 215 carries for 2,007 yards and 28 touchdowns to lead the Thundering Herd to an SJS Div. II title.