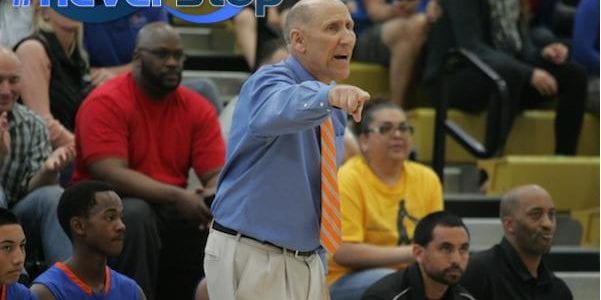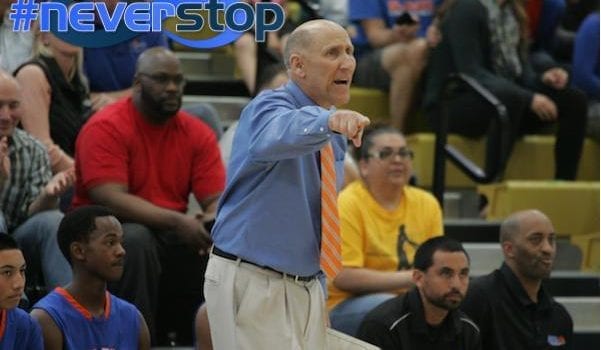 Valley Christian Basketball Coach Mark DeLuca Adds To Our #NeverStop Project With A Nod To His Own High School Hoops Coach — Bay Area...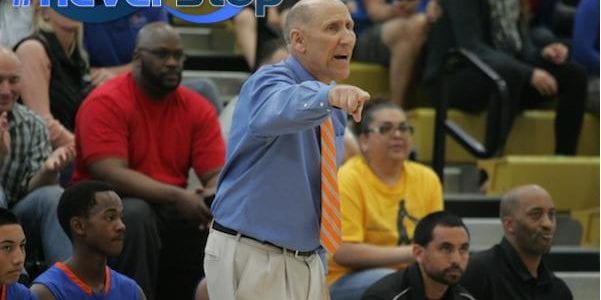 Valley Christian Basketball Coach Mark DeLuca Adds To Our #NeverStop Project With A Nod To His Own High School Hoops Coach — Bay Area Legend, Don Lippi
As a kid growing up in Indiana, I was like every other Hoosier in the state. I loved basketball. Well — let me make a correction — I absolutely worshipped Bobby Knight. He and Pete Rose were hands down my first heroes.
From the time I can remember my days were filled playing football, basketball and baseball. However, Knight, Bobby "Slick" Leonard, Isiah Thomas and Larry Bird made me love the game of basketball. It's in my Hoosier DNA. 
Therefore, in 1979, I became very concerned when we moved out of the Midwest to Vallejo, CA. I asked myself if the schools and coaches out west love basketball the way I did? Would the players sleep, eat and breath basketball? It was that year that I was enrolled at St. Patrick High (which became St. Patrick-St. Vincent in 1983). The head coach was Danny Dion, a Vallejo legend, and I was asked to meet him in July before my freshman year. 
In the gym that day was Dion and his mentor Neil McCarthy (Weber State, New Mexico State). I immediately thought I was lucky just to be around Dion and McCarthy. I played varsity basketball that year in the Catholic Athletic League. The best Catholic schools were in the league and Tony Jackson (Bishop O'Dowd High, DePaul University) was the league MVP. Things seemed to be going well.
I got my lunch handed to me as a freshman in the CAL, but we had a good team. Suddenly out of nowhere, Dion left in the middle of the spring to coach in college for McCarthy. I was devastated. Who was going to get the job? Who would be my high school basketball coach?
_______________________________
STAY CONNECTED:
Follow SportStars on Twitter & Instagram | Like us on Facebook | Subscribe!
_______________________________
That following July, a funny looking guy with high top converse walked into the gym. He was our new coach. Further, he was my new coach. His name was Don Lippi. 
We started playing open gym and Lippi — a lefty — was pretty darn good. I remember thinking I wanted to test him early so I fouled him. It was an 80's Celtics-Lakers type of foul. Lippi just laughed and kept making jumpers all day. 
After open gym he said, "You're DeLuca. I want you as my T.A. second period."  For the next three years I was his teacher assistant and we talked everyday. Every single day for three years.
Lippi knew I had it rough growing up. Real rough. He knew I was raised by a single mom in the south side of Beech Grove. He was the first coach to show a genuine interest about me aside from athletics. That year I scored a few touchdowns against Moreau Catholic one night. After each TD I was showboating, dancing and acting like an immature idiot (I was well ahead of my time in terms of showboating). 
The following Monday, Lippi ripped into me like there was no tomorrow. Full throttle. He said I embarrassed myself, the school, and him because I was like his son. He was the first male in my life to actually care about me. From that moment on I knew I was playing for a great man — not just a great basketball coach. Then it hit me, I wanted to be a coach, a basketball coach like Don Lippi.
Playing for Lippi was like playing for a comedian, teacher, coach and activist all in one. You'd never know what he was going to do or say next. He'd take charges with us, then lecture us on Vietnam and then tell us wild stories. He is to this day the best — bar none — storyteller on the planet. Legendary stories about growing up, umpiring, teaching, coaching, driving a bus, anything really. He missed his calling: He should have been a comedian. I watched him closely and I wanted to be him. 
After high school and college, I naturally got into coaching. Early on Lippi called me after big wins, or called to tell me to stop screaming at the refs or players so much. As the years went by I started to cherish our conversations. After competing against so many dedicated and talented high school coaches, I started to truly understand just how good Lippi was all those years. As a player, he was a father figure to me. As a young coach, he was a mentor. Now, as a veteran coach I can see he's in the elite class of high school coaches regardless of the sport. 
Frank Allocco and Mike Phelps were easily the best in the business, and in a one-big-shot-to-win moment, I'd pick either of them. However, when it comes to shaping the lives of so many students, athletes and coaches; Don Lippi is far and away the best.
He was, and still is my father figure. He is the reason why I chose to coach and more importantly help kids. He's everything to me. 
My blessing's started the day he became my coach and continues to this very day because he's influenced everything I am as a coach, father, husband and educator.
______________
EDITOR'S NOTE: After his 2019-20 St. Joseph Notre Dame-Alameda team won 23 games, Don Lippi holds 895 career wins. He is NorCal's winningest high school boys basketball coach. His teams have won 16 section championships and four state titles.