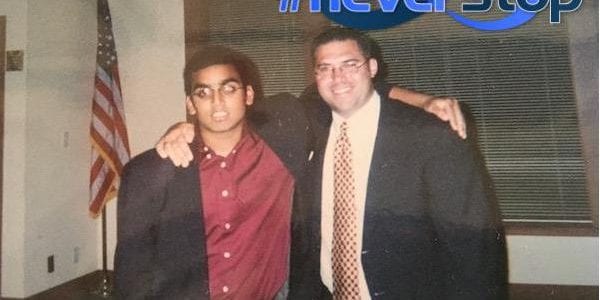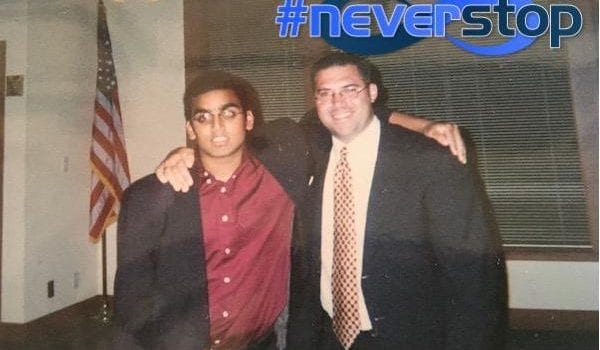 Richard Fernando Scored One Point In His Salesian High School Career, And Now Makes A Living In The NBA — Coach Bill Mellis Tells...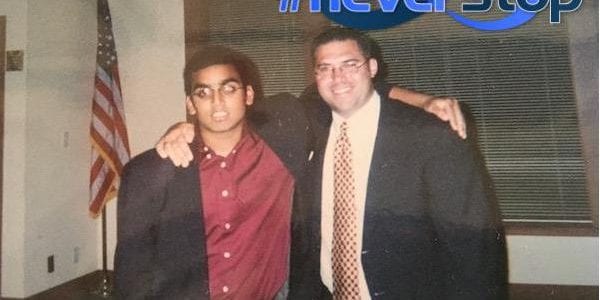 Richard Fernando Scored One Point In His Salesian High School Career, And Now Makes A Living In The NBA — Coach Bill Mellis Tells A #NeverStop Tale Of That One-Point Effort •
Early on in my time as head coach at Salesian, I decided that we needed to have a student manager. I was teaching P.E., a job that has been very rewarding. That's when I met Richard Fernando, one of my students, who was an avid sports fan — especially basketball.
Richard came from a wonderful family. He was a very smart kid who had terrific grades, made lots of friends, and was well-loved by classmates and teachers. He had a lot going for him, but athleticism wasn't one of them! Knowing we were looking for a student manager, he expressed interest in the job.
I hired him immediately.  
To this day, I joke with Richard about how he didn't have an athletic bone in his body. Seeing him in P.E. was a spectacle, but he was a great student manager and took his responsibilities seriously. To reward his years of service to our program, we suited him up on Senior Night and played him in the fourth quarter — something we have continued to do with all of our senior managers throughout the years. 
I knew Richard was unlikely to score, but the fans were hyped to see him try, especially the students. 
_______________________________
#NEVERSTOP STAYING CONNECTED:
Follow SportStars on Twitter & Instagram | Like us on Facebook | Subscribe!
_______________________________
We were playing Albany, who was then coached by one of my favorite people ever, Doug Kagawa. Late in the game, we put Richard in, and the fans were going crazy. He proceeded to miss about five shots, most of them not even close. 
With 10 seconds left in the game, Albany was shooting free throws and Coach Kagawa called one of his players over to speak to him. Then Coach Kagawa said something to the official. We told Richard to go stand at our end of the floor. The Albany player missed the free throw. There was a mad scramble for the ball in the middle of the key. 
Time was disappearing and I realized that poor Richard wouldn't score that night. However, one of our guards dove on the floor and came up with the ball. From his back, he tossed it to a teammate who threw the ball down court to Richard. 
Standing three feet inside the 3-point line, he let it fly and was fouled — by the player Coach Kagawa had spoken to. Kagawa obviously instructed the player to foul Richard, and the official knew the plan. As the official came to the scorer's table to report the foul, Coach Kagawa said, "Excuse me sir, but that was clearly a 3-point shot." 
The official looked at him, smiled and replied, "Yes, you are correct. That's three free throws." 
Only 0.2 seconds remained on the clock. The official handed Richard the ball for his first free throw. You could literally hear a pin drop. As he tells the story, his knees were shaking so hard in nervousness that they were banging against each other.  
The rest of the story is history. He made one of the free throws and I'm not sure I've ever heard our tiny gym that loud before. Students and teammates mobbed Richard as time ran out. He admits he slept in his uniform that night.  
Richard went to achieve way bigger and better things. He was a student manager for the University of San Francisco's men's program. After graduating, the Dons hired him to be their film coordinator. It was a job he held for several years, until the NBA's Miami Heat contacted him and hired him for the same position. He quickly moved up the ranks, becoming Heat coach Erik Spoelstra's right-hand man.
His true moment in the spotlight probably came when he was on national television standing on stage next to LeBron James, Dwayne Wade and Chris Bosh at a trophy presentation during one of their championship seasons. Or I suppose it was when he took a picture with Serena Williams at Chris Bosh's wedding.
Last year, the Philadelphia 76ers hired him for a front office position. It's not a surprise that he has led a successful career in the NBA. It makes me proud I was able to help him get his start, and it's a great reminder that certain jobs can open doors to future opportunities. 
In this day and age, we see moments like Richard's all over social media. At Salesian, we have had 11 senior managers play on Senior Night during my 22 years as coach. All 11 have scored! In each of the past two seasons, we had a senior manager make a 3-pointer, from the same magical spot. Both moments went viral. Richard's spotlight moment was in 2002. It was pre-social media, but certainly would have been seen by everyone. 
His moment reminds me that it is important to reward the people who don't ever get the recognition they deserve, such as student managers who often work hard behind the scenes. It also reminds me that Coach Kagawa is one of the classiest people I've ever come across, and there are more important things in high school athletics than winning games.
EDITOR'S NOTE: The Albany Education Foundation Hall Of Fame Recently Included Doug Kagawa In Its 2020 Induction Class