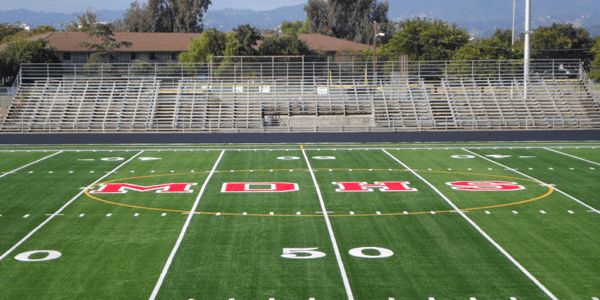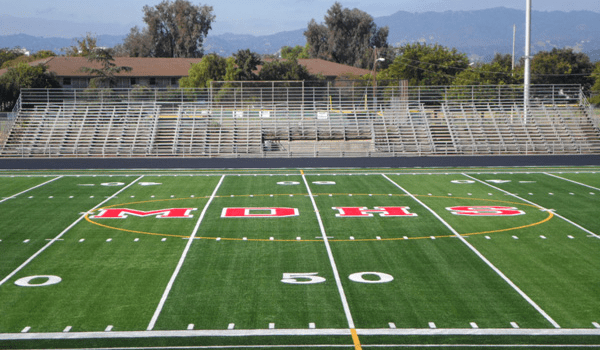 Series By The Clayton Pioneer Digs Into The Names Behind School Sports Facilities, Starting With Mt. Diablo High, Concord's Original • Mt. Diablo High...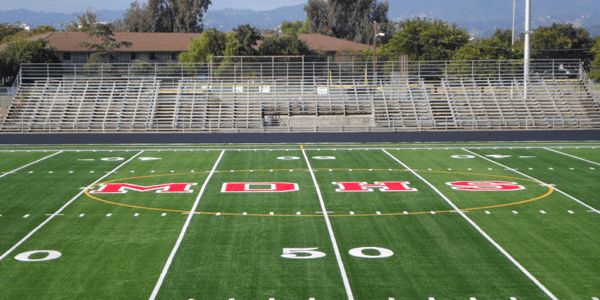 Series By The Clayton Pioneer Digs Into The Names Behind School Sports Facilities, Starting With Mt. Diablo High, Concord's Original •
Mt. Diablo High School opened in 1901 and its rich athletic history includes championship teams and outstanding athletes like Dan Colchico, who played for the San Francisco 49ers and New Orleans Saints, and Todd Lichti, who was elected last year to the College Basketball Hall of Fame.
The downtown Concord campus opened its first building on the Grant Street site in 1904. Called "the largest and best equipped in the area," a gymnasium opened in 1920 and the school says there were "many victories with honor" in the gym. It was later converted to the Music Building and was removed during a 1963-64 building program.
_______________________________
SportStars NOW
Get the New App in the Apple Store & Google Play
_______________________________
The current gymnasium opened 70 years ago in 1950 and was named after MDHS coach and school administrator Peter J. Kramer in 1965.
The football stadium was built after World War II along with adjacent grass fields and outdoor basketball/badminton/volleyball and tennis courts. Legendary football coach Hart Fairclough's name is shown above the Mt. Diablo High Red Devil Stadium sign on the school side of the home bleachers.
P.J. Kramer
P.J. Kramer was a Mt. Diablo High coach and Mt. Diablo Unified School District administrator for more than 50 years before retiring in 1964. He died in 1986. He played football and basketball at Washington State University before he began his coaching and teaching career at Mt. Diablo in 1925.
During that era, the head coach handled the entire MDHS athletic program and one year coached six sports: football, basketball, track, baseball, tennis and swimming! During his quarter century coaching Red Devil athletic teams, Kramer emphasized the slogan "victory with honor."
For decades, the Concord school honored its athlete of the year with the P.J. Kramer Award. Even after his retirement in 1964, Kramer continued to support athletic and social functions at Mt. Diablo. The California Coaches Association honored Kramer in 1967 by electing him to its Hall of Fame.
Hart Fairclough
Fairclough is regarded as one of Contra Costa County's best high school football coaches ever. He led the Mt. Diablo football team through one of its most successful eras in the 1950s and 1960s. The Contra Costa Times named him one of its Top 20 Coaches of the 20th Century. Fairclough was 89 when he died in 2013.
The Red Devils' head football coach from 1956-69 led his teams to five Diablo Valley Athletic League titles. He also taught math at Mt. Diablo before he moved to Ygnacio Valley and then Northgate. Fairclough served as commissioner of the DVAL from 1972 until his retirement in 1988.Mt.
Fairclough served three years in the Army during World War II and then enrolled at Cal, where he served as team manager and studied under legendary Cal coach Pappy Waldorf before he became a junior varsity assistant at Oakland Tech, where he coached future 49ers quarterback John Brodie.
_______________________________
STAY CONNECTED:
Follow SportStars on Twitter & Instagram | Like us on Facebook | Subscribe!
_______________________________
Fairclough arrived at Mt. Diablo in 1951 as a 26-year-old and served on the JV staff. Former Cal All-American Rod Franz was hired as varsity coach and one of Franz's assistants was John Ralston, who would go on to coach Stanford and the Denver Broncos.
"Never played the game"
Although he never played organized football, Fairclough's ambition was to one day lead a team. "I never played the game," Fairclough said in a 2003 Contra Costa Times interview. "I went into high school at 81 pounds, came out at a whopping 103. But I loved the game."
Fairclough was an innovator at the high school level, as players were given scouting reports and often watched film at lunchtime, so they knew exactly what to expect from opponents. His wing-T offense produced 2,392 rushing yards during the 1960 championship season. In his first five years, Fairclough's teams had a league record of 22-3-1 and an overall mark of 31-9-2. As a track coach, Fairclough helped the Red Devils win three DVAL titles.
First in a series about athletic facilities at eight local high schools, published in the Concord/Clayton Pioneer
Read related stories: