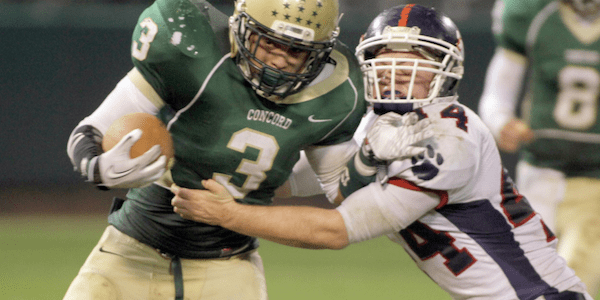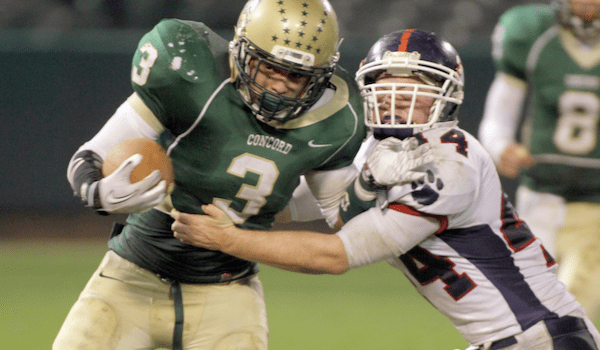 Revered As One Of The Past Decade's Best NCS Football Championships, We've Used Several Interviews To Recreate The 2010 Classic Between Concord And Rancho...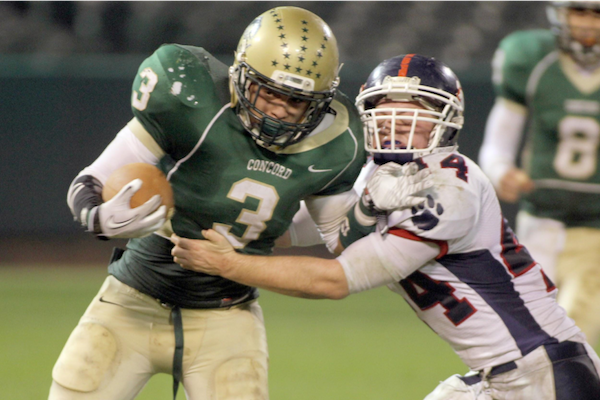 Revered As One Of The Past Decade's Best NCS Football Championships, We've Used Several Interviews To Recreate The 2010 Classic Between Concord And Rancho Cotate •
Not all great championship games are equal. 
Over the magazine's first decade, SportStars has covered its share of championship games across many sports. There have been good ones, great ones, and a handful that were dubbed 'instant classics' in their immediate aftermaths. Still, even some of those can rise above the rest.
Those special ones have all the characteristics of other instant classics — back-and-forth scoring, wild momentum swings, star players, unsung heroes, last-second heroics, etc. — while also containing a little extra when it comes to setting, magnitude of the moment for a school or program, and other dramatic storylines that tie into the matchup. 
There's little question that the North Coast Section Division II Football championship had it all.  
One team was a consistent presence in its own North Bay region and owned two previous NCS titles (in 2001 and 2002) which held "Redwood Empire" distinction from when the section ran two sets of championship brackets to reduce travel. It was a proud program. And one that wanted to prove itself on the biggest section stage. This was Rancho Cotate-Rohnert Park.
_______________________________
SportStars NOW
Get the New App in the Apple Store & Google Play
_______________________________
The other team was from a program that went just 3-37 over the first four seasons of that decade. It had zero section titles and had played in just one final — 21 years prior. But in 2010 it may have been the most exciting team in the East Bay. It was the No. 1 seed. This was Concord.
Both teams lost their season-opener before winning 12 straight to reach the final.
Both teams held an average margin of victory of more than 30 points. 
Rancho Cotate's well-balanced team averaged 40 points on offense and held opponents to just under nine points a game. Concord — despite a roster size that hovered around 26 with several kids playing both ways — averaged more than 51 points per game behind a dynamic spread offense led by Southern Mississippi-bound senior quarterback Ricky Lloyd. The Minutemen didn't punt; they did not run traditional kickoffs, and always went for two after touchdowns.
Both teams showed up to the Oakland Coliseum (the penultimate year of this venue's use for NCS finals) on the crisp Saturday night of Dec. 11, 2010. They would clash in the second game of a doubleheader, a 7:30 p.m kickoff that followed De La Salle-Concord defeating California-San Ramon 49-21 in the Division I game.
Each team was exactly who fans thought they were. The game featured one tie and eight lead changes. There were four touchdowns of 50 yards or more, big defensive plays, a special teams touchdown, a safety, and a nine-play, 79-yard game-winning drive that culminated in a Concord touchdown with 16 seconds left to play. Final score: 40-37.
For the game's 10-year anniversary, SportStars spoke to more than 15 individuals to create an oral history about that day, the game and Concord's journey to what remains its only section championship.
CHAMPIONSHIP MORNING
RICKY LLOYD (Concord QB 2008-10; British Columbia Lions QB 2018-present): That whole morning was just about trying to stay as calm as I could. The anticipation was intense. Like the day before going to Disneyland or Christmas Eve.
JAMES MORALES (Concord OL/DL 2009-11): At my house it was like the Super Bowl was happening that day. We were playing at the Oakland Coliseum. It was a big deal. 
BRIAN HAMILTON (Concord head coach 2004-12; current line coach at Texas State Univ.): Every game day morning was the same for me. I'd meet assistant coaches Jon Bell and John Koven in our weight room and we'd lift and joke around. Then I'd go get lunch at Parma Deli down the street. And I remember Koven (who works for California Highway Patrol) talked his CHP buddies into arranging a police escort to the Coliseum. That's my first tangible memory, was him surprising us with that.
MORALES: I remember we had to be at the school kind of early. I'm pretty sure the coaches already knew if they gave us enough time we'd get into some kind of trouble.
TRENT MAHLER (Concord LB 2009-11; Nevada LB 2012-16): As soon as I got to the school, everything felt different. 
JOHN KOVEN (Concord asst. coach 2004-13): It was like herding cats almost every pregame, no matter what. But we got them all on the bus.
POU PELETI-GORE (Rancho Cotate QB 2008-10; Oregon DB 2016-18): At Rancho, I remember we had a sendoff party at the school that morning. Everyone was excited.  
ED CONROY (Rancho Cotate head coach 1988-2016): The kids were just jacked up to be going to the Oakland Coliseum. It was such a special thing. That's something I wish (the section) would go back to doing. It was such a treat for those kids.
ARRIVING AT THE COLISEUM
MORALES: We got there really early and the bus did multiple laps around the stadium because no one knew where to have the driver take us exactly. Several parents were behind us too. My dad had this red van and was just following us around the Oakland Coliseum. It was hysterical.
JON BELL (Concord offensive coordinator 2007-16; current Liberty-Brentwood OC): So we parked in the parking lot and we're unloading our gear and I distinctly remember asking the question, 'Where's the balls?'
KOVEN: We all kind of looked at each other. Like, how do you forget the footballs?!
LLOYD: I still can't remember how they got misplaced. I know I had them. 
RANDY CODDINGTON (Concord defensive coordinator 2004-16): We're in scramble mode. Because Ricky had his "magic" football and he can only throw his magic football. There's no way we're going to play without that football.
LLOYD: Luckily we found someone (Bell's stepmom) who was still in Concord and could pick them up.
_______________________________
STAY CONNECTED:
Follow SportStars on Twitter & Instagram | Like us on Facebook | Subscribe!
_______________________________
CODY CHAPPLE (Concord RB/LB 2008-10): I distinctly remember Coach Hamilton saying, "Well it's a good thing we got that first mistake out of the way. If everything went smoothly right away I'd be worried."
CONROY: I remember getting the team into the locker room and how in awe they were. We were placed in the visitors locker room that had last been used by Miami. And we had a sophomore named Fono Misi whose cousin played for the Dolphins. The placards were still up above the lockers and he was running around trying to find the one his cousin used.
PELETI-GORE: Once we were inside I had a lot of nerves. I didn't talk to anybody. I usually liked to sing, dance and be in a fun mood before games to keep guys loose, but not then.
LLOYD: I remember the Raiders locker room was huge. Back in Concord we had lockers on top of lockers. Now we had all this space, but still ended up huddling and dressing together in one corner of the room. That was just who we were. We were used to being so together, so why change then?
HAMILTON: De La Salle is in the game before us and also had the home locker room. And the way they do it at the Coliseum, the previous team comes in at halftime to clear out its stuff. So De La Salle is walking out of our locker room as we walk in. Every one of those coaches hugged us and told us how proud they were of us, and how much they respected that we were there. For me, I just exploded inside. To know that the people that I respected, respected our kids. That was an overwhelming and calming moment.
TERRY EIDSON (De La Salle asst. coach 1983-present): I can barely remember what I said three days ago. But we did have a great relationship with a lot of those guys. There was kind of a kindred spirit. We always appreciated how hard it is to bring a program out of its doldrums.
CHAPPLE: Walking out of the tunnel. Man.
SITANI MALUPO (Concord LB/TE 2008-10): That's something I remember very very vividly. How pitch black everything is before you walk out, and at the end was all this light and the sounds of the crowd.
DAVE PERRY (Concord asst. coach 2004-10; current Bishop O'Dowd head coach): That moment made me think of the movie "Gladiator." You're in the dark and you can hear all the chanting in the stadium. You're ready to leave the tunnel and you hear all these football sounds — the snapping of chin straps and the cleats on the concrete. I remember looking over and seeing one of our wide receivers sort of shaking. I said, "Hey, you good?" And he's like "Yyyyyeah-yeah, Coach. I'm good." And I thought, OK, here we go. 
PELETI-GORE: That was the first time any of us had walked out of the tunnel for anything. None of our fans were there for that (De La Salle) game. Then when we came out of the tunnel, they were all there. To see everyone come, it was huge. That's when it hit me.
MORALES: It just sends chills talking about it even now. When we walked through that tunnel. It was one of the greatest moments of my life at that time. Seeing all the fans. Such a big, big deal.
CODDINGTON: I'm up top in the coaches booth before kickoff and they've got all-you-can-drink soda up there with a bunch of different flavors. I'm trying them all. Just doing anything I can to take my mind off of the anxiety of the moment. Just get more soda. Do not stay still. 
THE GAME
Rancho Cotate jumped out to a 14-0 lead behind two touchdown runs by senior tailback Brian Dworkin.
PELETI-GORE: That was Brian. He was just a playmaker. For that day and age, he was the Christian McCaffery of our league. He set all sorts of school and league records. Coach Conroy would get mad at me because I had a habit of just handing the ball to him and watching him go. The sideline would be yelling, "Go block!"
BOB PADECKY (Santa Rosa Press Democrat columnist 1987-2013): Dworkin was as impressive as Ricky Lloyd that night. We obviously knew him well in our parts, but you always want to see how guys like that perform outside of Sonoma County. We got our answer. Tackling him seemed like trying to catch a hummingbird with oven mitts.
CHAPPLE: From the defensive perspective, we kind of got punched in the mouth. I didn't think (Dworkin) was that fast. He definitely caught us by surprise.
PELETI-GORE: Leading up to the game we'd talk about the guys they had with Division I offers. We didn't have anyone on the team with an offer. We used it for motivation and so we felt pretty excited to get the jump on them. … Then once we saw Lloyd bounce back and get them on the board, we were like 'OK, he's the real deal.'
MORALES: Our offense had found ways to score all year. We knew we weren't giving in after 14 points. They got us on our heels, but we were all still high on the adrenaline of the moment. It was just time for things to settle down and play our game. 
Concord reeled off 20 straight points as Ricky Lloyd threw his first touchdown pass to Steven Otaguro followed by two to Kelly Starnes.
PERRY: I had actually benched one of our starting receivers and put Otaguro in. In a true depth chart, he was probably our fifth string wideout. He'd missed a lot of time the previous season with a broken leg, and I was pumped for him to catch that first touchdown (getting behind the defense and catching it in the end zone for a 25-yard strike). It was his first all season.
LLOYD: I remember being stoked because that completed my goal of getting all eight of my receivers at least one touchdown that season. 
CHAPPLE: Starnes probably had the best hand-eye coordination of anyone I've ever seen. He was just freakishly good. 
Starnes's second TD catch gave Concord it's first lead (20-14), but it was extremely short-lived thanks to Dworkin's 73-yard kick return right before the half.
KOVEN: We tried a pooch kick that went just a little too far. We have certain landmarks that we aim for, and we just missed that one. They adjusted to it well and made us pay for the mistake. And I heard about it at halftime. Trust me.
CONROY: That's just the kind of stuff Dworkin had done for us all season. All three years for us really.  
CODDINGTON: After that, it felt like they had all the momentum going into halftime.
HAMILTON: There wasn't a lot of technical talk during halftime. I just remember it was all about having just two more quarters with each other. There was 24 minutes left to finish what we'd started.
Concord opened the half with a 57-yard TD pass to Starnes that put Concord back on top 28-21. That was followed by Mike Tuaua sacking Lloyd for a safety and Peleti-Gore hitting receiver Sean Fish for an 11-yard go-ahead touchdown (30-28).
CONROY: Sean had faced some discipline earlier in the season before really turning his attitude around. That night he probably had his best game of the year. He was strong and fast and just did a tremendous job. 
BELL: A few plays before they took that lead, Starnes went down with a knee injury. I remember thinking: This one is going to hurt. 
ALEC PICA (Concord RB/LB 2009-10): I was very very ticked off that Kelly got hurt. He was probably my best friend in high school. It happened because one of our players had run into him too, and that made me even more ticked. 
HAMILTON: Without Starnes I was nervous, but I still thought we had enough. And Pica was playing out of mind.
Pica finished the night with 180 yards rushing, with arguably 100 of those yards coming after contact. His 4-yard touchdown run went through several tacklers and gave Concord a 34-30 lead.
PICA: That game I ran different than I'd ever run before. I was more downhill that game. I learned early on in that game that I was going to have to grind out those 3- and 4-yard runs and not try to be a hero and look for the big play.
MAHLER: I remember Alec just had a different fire that night.
LLOYD: He was a man on a mission. There were a lot of games where he played hard, but that night he pulled whoever could get to him an extra yard or three. He would not go down. He did that all night long.
CODDINGTON: We had a couple of explosive hits on defense in that fourth quarter that helped change the momentum too. Malupo had one on a screen play to Dworkin. He put his shoulder right in his chest and Dworkin's helmet went flying off.
MALUPO: I felt real bad. There was another player from Rancho who I've talked with a few times after our high school day and he's brought it up a few times. He'd say "Why'd you have to lay out my running back like that?" I wish I could've helped pick up his helmet at least.  
The lead changed again mid fourth-quarter after Fish intercepted Lloyd on a long pass that was part of a reverse flea-flicker. Rancho Cotate then flipped the field with a long pass to Fish down the left sideline. A few plays later, Fish made a one-armed grab in the back of the end zone for a 37-34 lead.
PELETI-GORE: That one-handed catch was an NFL, Division-I athlete play. He was just another playmaker for us. I could throw the ball up and just knew he was going to go get it.
CODDINGTON: That was just an amazing catch. Upstairs, there was just a simple pane of glass separating our coaches booth from Rancho Cotate's. They were very happy in that moment. They made sure we knew it.
PADECKY: This really was one of the most enjoyable high school football games I ever remember seeing. You knew Lloyd was going to come to play and he did. But Rancho Cotate was keeping in lock step with them. 
Lloyd coughed up a fumble during a scramble on the next possession and Rancho Cotate suddenly had the ball inside the Concord red zone with about four minutes to play.
LLOYD: After the fumble, that's when I first got that little bit of doubt. I was upset with myself and I had to go back behind our bench and compose myself. I didn't want to show anyone that doubt. 
CODDINGTON: If they get a first down, the game is over. I remember we got a couple stops and then they had a false start penalty that forced a fourth-and-long. They decided to go for it (instead of trying a 38-yard field goal) and our sophomore defensive back Daniel Golden made a great play to deflect a pass meant for Fish.
BELL: So it's our ball with about 80 yards to go and just under three minutes to do it.
MALUPO: I can't lie. I was really stressed. I knew we were getting tired. Some of the players weren't 100 percent. We talked to each other and told one another just hang in there. Hang in there for this one drive.
KOVEN: Throughout that year, we hadn't had many situations like this. So many of our games just weren't close, even in the playoffs. This was going to be one of their first big tests. I was very concerned. But I was confident in our coaching staff. It was going to put the kids in the right position to succeed.
HAMILTON: Ricky winked at me before running onto the field. And I felt good. I knew there wasn't a throw he couldn't make.
LLOYD (laughing):  I did. I winked. It calmed him down a little bit, and honestly, in my head, I figured the drive couldn't go any worse than the last two series.
PERRY: I'm trying to figure out our personnel and I start hearing this banging. Drgh! Drgh! I look over and Kelly Starnes has stripped a lineman's knee brace off. It's probably an XL; probably way too big. He's bending it and stomping on it with his good leg, and he smashes it until it fits his leg. He sneaks up behind my left shoulder and says, "Coach, I'm ready to go in. Put me in. I'm good, I've got a knee brace. I'm good."
KOVEN: I saw what Starnes was doing and knew it wouldn't help if it wasn't a proper fit. We had him put on a few pairs of extra socks to bulk it up. 
PERRY: We told him he could only run out routes and he could only plant on his healthy leg. And if you catch the ball, fall down. … He caught two balls on one leg in that final series.
CODDINGTON: After the offense took over we left the coaches booth for the field. You can't hear anything in that elevator going down. It seemed like forever. All I wanted was to get out and see that we at least still had the ball. I came out and we had it near midfield. It was like: OK. Breathe.
After eight plays, the Minutemen faced a 1st-and-10 at the Rancho Cotate 24 with 0:25 left on the clock. 
BELL: The play was called "Double Solid Fox" — because foxes are sneaky. It's a play action run fake with both outside receivers putting their hands up to sell a fake screen pass. The inside receivers are supposed to block for a couple seconds and then release up field.
CODDINGTON: Give all the credit to Rancho Cotate. They played it perfectly. Ricky had to improvise and started rolling right. Sitani had read his wristband wrong and wasn't even supposed to be where he was.
LLOYD: In my head, I remember thinking This is taking too long. It's taking too long. I start rolling right and Sitani is the only green shirt in my view. 
MALUPO: It was like slow motion. The defensive back dove (fully-extended). His hands were flying right in front of my face. I thought he was going to get it and remember the ball hitting my hand, and my reaction was just to grab it. I was just so surprised it got through.
CONROY: Our safety, Xavier Griffin, came off the field and just said "Coach, I thought I was going to get the ball." He gave his best effort, but just missed it.
PELETI-GORE: There were great players on both teams. and great players make great plays. We thought Xavier was going to knock it away. He read the ball perfectly and was right there. It was just an unfortunate result against great players. Every player has to live through it at least once in their playing career, and that was ours.
LLOYD: I still don't know how Sitani stayed in bounds.
MALUPO: I wasn't sure I had either. I got to the end zone and just looked at the ref for confirmation. He threw his hands up and then I think I blacked out. 
PADECKY: It seemed like it was always going to come down to a fingertip and a tip-toe. Maybe the only better ending would've been a Lloyd Hail Mary. There were so many improbable things that happened in split seconds.
Concord's ensuing kickoff went out of bounds and they were forced to kick again. It tried an onside kick up the middle that Rancho Cotate recovered near midfield with enough time for one final play. The Cougars ran a play set up as a double-pass, but Peleti-Gore couldn't get it off and was eventually run out of bounds to end the game. 
CONROY: We had some options there, but I don't blame Pou for pulling the ball down and running. He had made so many great plays for us over the years, and he did the best he could. 
PERRY: I just remember grabbing and throwing each other around. Grabbing whoever you could get to. It was a release of so much joy. You can't explain that joy until you get out there and go coach.
PETELI-GORE: I remember that Lloyd ran straight over to me to try to console me. Hearing some kind words from him, it reaffirmed to me the kind of player he was.
PADECKY: In my column that night, I called it a "a magnificent loss" for Rancho Cotate. You don't put those words together too often. But if you're gonna lose, after getting that far and having the type of season they had, to come up within inches the way they did — you tip your cap and say, "Hey, they play football, too" … It was the essence of competition. Two teams taking each others' best punches right to the very end. It was very cool.
PICA: I think I just fell down on the field and I started crying. I remember one of the camera people found me and wanted to interview me. That interview is still on YouTube and it's so embarrassing.
LLOYD: Sitani got interviewed and admitted that he didn't even know if the play was a run or a pass. We still laugh at that.
MORALES: It was so fulfilling because everyone had a job. Everyone had a job. And we knew if we did that job enough we'd be successful. We needed everyone that season, and every one played a part. 
PICA: It's a lot easier to play as a team when you only have 26 guys. You don't have a choice but to stick together.
HAMILTON: The buzzword in football today seems to be "grit." Does your team have grit? That was the grittiest group of young men I've ever dealt with.