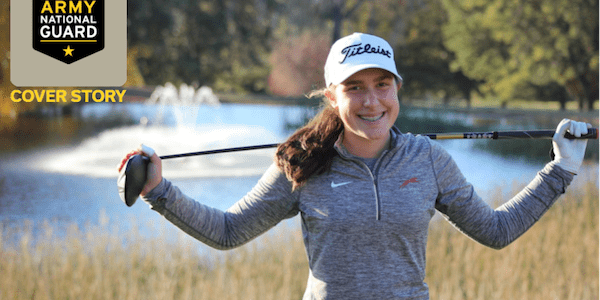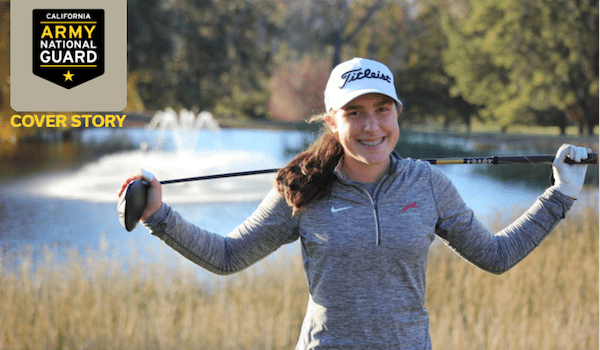 With A Renewed Passion For Her Sport, Carondelet's Maddie Gamble Is Slaying Amateur Competitions And Hoping For A Chance To Lead The Cougars One...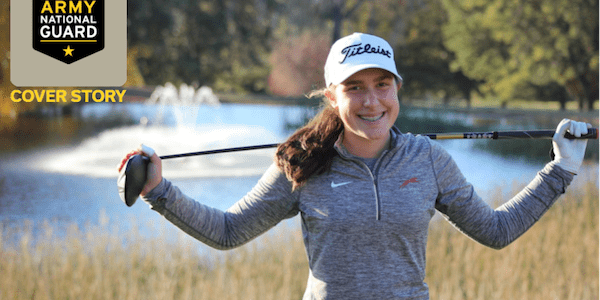 With A Renewed Passion For Her Sport, Carondelet's Maddie Gamble Is Slaying Amateur Competitions And Hoping For A Chance To Lead The Cougars One Last Time •
Carondelet High golfer Maddie Gamble understands she won't get a ton of sympathy. 
After all she's been able to play and compete in her sport for more than six months now. But the two months she had to go without allows her to easily empathize with so many California athletes waiting for their sport to return. 
"Just being home and not being able to touch a club, after playing golf my whole life? That was really weird," Gamble said of the first two months of quarantine before golf courses began reopening in May. "But it really helped me, I think. My appreciation for golf skyrocketed when I was finally able to get back out there.'
Playing with a new zest for golf can only lead to good things — especially when one is already among the Bay Area's best young golfers.
Gamble punched her membership card to that group at a very young age. And she's been one of NorCal's best high school golfers since her freshman season at the Concord private school. In her first CIF/NCGA NorCal Championship Tournament, Gamble tied for fifth with an even-par 73. 
_______________________________
SportStars NOW
Get the New App in the Apple Store & Google Play
_______________________________
In fact, she's never finished worse than fifth at the NorCal event. She finished tied for fourth as a sophomore and tied for second as junior. Her junior season also included a fourth-place tie at the CIF State Championships. 
"She just has a tenacity and a desire," Carondelet golf coach Rick Eisenhour said. "She's both very competitive and very even-keel. And she's got a lot of game."
Gamble has been flexing that game for nearly a decade. Drawn to the sport by her dad's affection for the game, she's been playing tournaments since the age of 7.
Dave DeLong, the longtime PGA professional at Walnut Creek's Boundary Oak Golf Course, has been Gamble's personal coach since that time. Her natural ability was evident from the start, he said. 
"Just a couple months back I sent Maddie a video of her swing from when she first started. There's an unbelievable amount of resemblance to where she was at age 7 and where is now." 
When she was 9, she attended the U.S. Kids Golf World Championships at the famed Pinehurst Country Club in North Carolina. The 9-year-old division was played as a three-day, 27-hole tournament. Gamble finished tied for second. 
"I was shaking I was so nervous," she said. "After I finished second, though, I remember thinking 'I can do this.' We were at the awards ceremony and I just remember thinking 'This is so awesome.'"
_______________________________
STAY CONNECTED:
Follow SportStars on Twitter & Instagram | Like us on Facebook | Subscribe!
_______________________________
Plenty more awards ceremonies have followed, including a handful over this past summer and into the fall. In mid-November — just days after Gamble signed her letter of intent to Washington State — Gamble teamed up with another WSU commit, Granite Bay High junior Hannah Harrison, to win the Northern California qualifier for the USGA Women's Amateur Four-Ball Championships.
Four-ball format uses a field of two-golfer teams. Each golfer plays his or her own ball and the team takes the lowest of its two scores on each hole. If one team member birdies the hole, and one pars it, the team earns a birdie. There is no limit to how many times each player's score can be used for the team.
The pair combined to shoot an 8-under 64.
"We've known each other for 10 or 11 years," Harrison said. "I think I texted her back in September and asked her if she wanted to partner up for it. That was even before I had committed to Washington State. … We had a lot of fun practice rounds together, and on the day of the tournament we looked at it as good luck that we were going to be college teammates. We really had a positive mindset going in."
Green Valley Country Club hosted the qualifier. The course is located in Gamble's hometown of Fairfield, and her heavy familiarity with the layout proved helpful. 
"Maddie came out and birdied five of the first seven holes," Harrison said. "That let us relax a bit and we played the back nine really well together."
The USGA Women's Amateur Four-Ball Championships will take place April 24-28 at Maridoe Golf Club in Carrollton, Texas. Coincidentally, that will be right around the time both Gamble and Harrison hope to be competing during a rare spring season with Carondelet and Granite Bay.
California golf courses have been open to the public since May. Which made it odd in July when the CIF still made boys and girls golf spring 2021 sports as part of its pandemic-related calendar restructure. Traditionally, girls golf is a fall sport, and boys compete in the spring. Both could've been played in the fall, but that's a different story. 
Carondelet and Granite Bay were two of the top four teams in NorCal last fall. Granite Bay finished second at the CIF/NCGA NorCal Championships and qualified for the state tournament where the Grizzlies were the highest-finishing NorCal team (fourth). Granite Bay is expected to be loaded again, and Carondelet should also be an upper tier Bay Area team led by the senior duo of Gamble and Maddie Wu. The Cougars also feature a stellar sophomore class that includes Gamble's younger sister, Morgan. 
Golf is certainly not a sport of focus in the public outcry to restart high school sports. And even though the Gamble sisters and Harrison can still find competitions, all three said the value of the high school season is too easily dismissed.
"Golf is a very individual sport," Morgan Gamble said. "(High school) golf season is really the only time of the year that you get to play with other girls and have that social team bond that you really miss in individual sports. Having a golf team and having that experience teaches you a lot of life lessons that being alone on the course just won't teach you."
_______________________________
RELATED READING:
SportStars Named Maddie Gamble Among The Top 10 Girls Golfers Of The Last Decade
_______________________________
"I miss it so much," Maddie Gamble said. "My teammates are my best friends on and off the course, and it's just been a bummer."
Meanwhile, the sisters keep working on their game as much as possible. Having each other to play with has certainly helped during this downtime. 
"She's really enjoying the game and that's really cool to see," Maddie said of her younger sister. "She really wants to go out and practice. Her whole mentality for the game has changed."
As for Morgan, she's watched her sister's game develop over the years and continues to admire her game. 
"I've been her caddie in situations where I knew she's under so much pressure," Morgan Gamble said. "There were a lot of different ways some of those situations could go. Her ability to pull shots off under pressure is what amazes me the most."
If Maddie Gamble is unable to get one last season in at Carondelet, DeLong believes the sky will be the limit for her in the Pac-12. 
"I'm very excited for her future," the 26-year professional said. "She's a player you want on your team. She rarely trips and stumbles in this game. If you saw her on the outside you see just this cool, collected player — but she's got a fire inside her that's pretty awesome."
Eisenhour couldn't pick just one thing at which Maddie has excelled. There's a list. 
"Good short game. Hits the ball well off the tee. Good iron player, and someone who thinks her way around the course." said the coach who's now in his third decade of leading the Cougars. "I'd take six of her any day of the week. You just have to point her in the right directions and say 'Go get it.'"
If her first 10 years of competitive golf are any indication, there's plenty more Maddie Gamble can get.