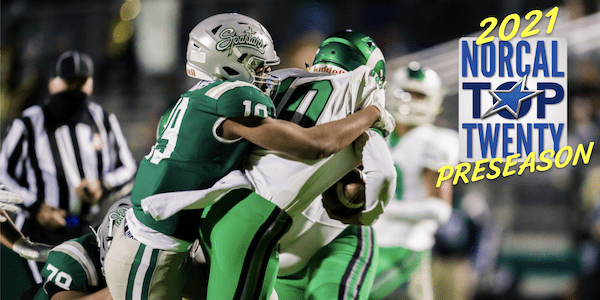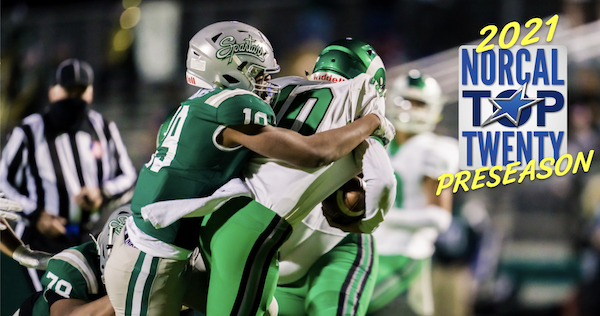 To No One's Shock, De La Salle-Concord Opens At No. 1 In SportStars' Preseason NorCal Top 20 Rankings, But Folsom Is 1A • Every...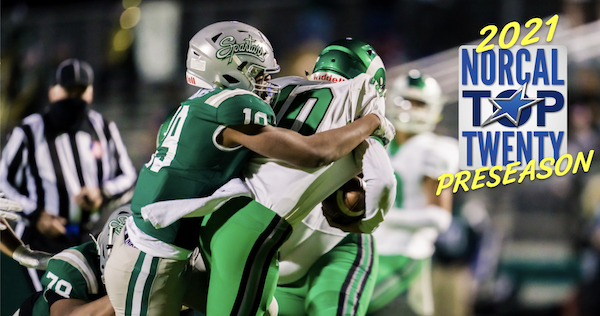 To No One's Shock, De La Salle-Concord Opens At No. 1 In SportStars' Preseason NorCal Top 20 Rankings, But Folsom Is 1A •
Every coach will tell you that rankings don't matter in August, only in December. We can't disagree, but it's not stopping us from taking our usual stab at a NorCal Preseason Top 20.
Here it is. Let the debate begin. Or, tell us we're 100 percent right. We're OK with that too.
SportStars' 2021 Preseason NorCal Top 20 Rankings
1. De La Salle-Concord (6-0 last spring)
There will be new faces in a lot of key positions, but expecting the Spartans to be anything less than their normal NorCal-dominant self has proven a foolish endeavor in year's past. Senior Luke Dermon is expected to take over at quarterback, filling the post Dorian Hale held down for three seasons. A handful of players are competing to see who will join Dermon the De La Salle backfield, including returning linebacker Damonie Perkins (PICTURED AT TOP). The passing game does include key returning seniors Zeke Berry at WR and both Brodie Tagaloa and Cooper Flanagan at TE. Berry and Perkins will be defensive leaders as well.
FIRST GAME: Aug. 27 at St. Mary's-Stockton
2. Folsom (6-0)
If there wasn't a program that had an active 300-plus game unbeaten streak against NorCal opponents, then this Folsom team would've been close to a lock for the No. 1 spot in these rankings. But that program does exist, and until De La Salle-Concord falls to a NorCal foe, it needs to remain at the top of the rankings. The Bulldogs and their 19 returning starters will get their shot at DLS on Oct. 8. Folsom's key returners include QB Tyler Tremain, who led the state in passing yards last spring, and a number of his top targets (WR Rico Flores Jr. and TE Walker Lyons). Jacob Tremain and Justin Eklund will anchor the defense from the linebacker position.
FIRST GAME: Aug. 20 at Monterey Trail-Elk Grove
3. Pittsburg (5-0)
The Pirates have nine returning starters from an offense that averaged a little less than 400 yards of offense and more than 47 points per game. Junior four-star dual-threat quarterback Jaden Rashada finally gets to take the full reins of Pittsburg's spread offense, and coach Vic Galli raves that his confidence is a "night and day" difference compared to last spring. Rashada will have an ample amount of talent at his disposal.. Chief among the team's many playmakers is four-star junior WR Rashid Williams. More offensive firepower will come from fellow juniors Israel Pok, Keynan Higgins, Charles Brown and Budha Boyd. Brown is replacing All-NorCal running back Daytuawn Pearson, and Galli thinks he may have a chance to be even better.
FIRST GAME: Aug. 27 vs. Serra-San Mateo
4. Serra-San Mateo (5-0)
Serra and Pittsburg were always going to be Nos. 3 and 4 in these rankings, it was just a matter of which one goes where. In the end, we felt the Pirates had a bit more experience — and besides, it wasn't going to matter too much because the two will decide it on the field in both teams' season-opener on Aug. 27. While there will be some inexperience in a few spots for the Padres, there's still a wealth of talent as well. Cal-Hi Sports' State Running Back Of The Year from last spring, Hassan Mahasin, returns, as does three-year quarterback Dominique Lampkin. Lampkin has the luxury of two 3-star starting tackles — Drew Azzopardi and Nathan Elu — protecting his flank. Defensively, Serra will be counting on a strong secondary that includes Malakei Hoeft and Sione Laulea.
FIRST GAME: Aug. 27 @ Pittsburg
_______________________________
CONNECT WITH US:
Follow SportStars on Twitter & Instagram | Like us on Facebook | Subscribe!
_______________________________
5. Rocklin (4-0)
The Thunder return eight starters on offense and another five on defense following a very impressive spring. Senior Kenny Leuth returns behind center and he'll have some of the Sac-Joaquin Section's best linemen in front of him, Bobby Piland (6-1, 280 pounds) and Brad Baur (6-6, 280). Rocklin will also bring back Leuth's top three targets from last spring as well. Seniors Nathan Kent, Toran O'Harran and Elias Mullican are all back. Mullican (who also rushed for 175 yards) led the team in catches over the spring and Kent was the leader in receiving yards (averaging more than 25 yards per catch. Leading rusher Anthony Johnston also returns.
FIRST GAME: Aug. 20 vs. Turlock
6. St. Mary's-Stockton (3-1)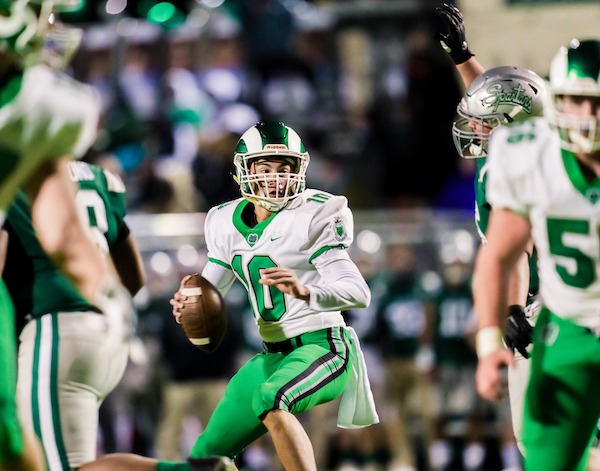 Lightning-fast UCLA-bound receiver Jadyn Marshall and punishing linebacker Jahzon Jacks lead an experienced Rams team that went toe-to-toe with De La Salle in the spring before falling 35-27. Returning quarterback Cruz Herrera — who split time behind center with senior Nathan Arnaudo — tossed two of his four spring touchdowns in the Rams' impressive showing against NorCal's No. 1 team. Herrera, who has both of his favorite targets back from last season as junior Jason Calvin returns as well, will be back under center when St. Mary's gets another shot at the Spartans on opening night.
FIRST GAME: Aug. 27 vs. De La Salle
7. McClymonds-Oakland (4-0)
Mack returns 19 starters, the most the Warriors have featured in several seasons. It's worth noting that Mack finished its last full season playing in the CIF 2-A State Bowl game. The Warriors lost that game, but won state bowls in the three preceding seasons. They won the 5-A Bowl in 2016, 5-AA in 2017 and the 4-A Bowl in 2018. So what can decorated coach Michael Peters do with a roster of 19 returning starters? Opponents shudder to think. Among the returning talent is four-year QB Dreyaun Paul, who accounted for 30 TDs over just four spring games. There's also game-breaking running back Tajir Golden. The defense features standouts Dwayne McDougle, Tigana Cisse and Simeon Mitchell.
FIRST GAME: Aug. 27 vs. Tamalpais-Mill Valley
8. Valley Christian-San Jose (3-1)
Coach Mike Machado's Warriors finished one score shy of an unbeaten spring, falling to Serra-San Mateo 33-26 in a March season-opener. Valley Christian's 26 points were more than the combined total of Serra's final four opponents (23). While they'll have a new face at running back, the Warriors return QB Jakson Berman and 4-star junior receiver Jurrion Dickey on offense. Dickey had 14 grabs over four games — five went for TDs. All-NorCal LB Will Cuddie (who also serves as the team's kicker) returns as does disruptive defensive lineman Nehemiah Musika.
FIRST GAME: Aug. 27 @ Wilcox-Santa Clara
9. San Ramon Valley-Danville (4-2)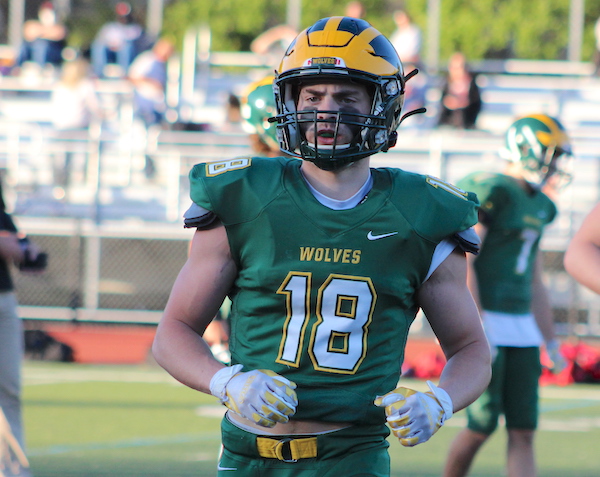 With 15 returning starters, including three-year starting QB Jack Quigley and his personal protector we just mentioned above, the Wolves may have their most experienced roster in several years. Quigley will have a number of his favorite targets from last spring back for the fall. Senior wideout Caden Ridley led SRV in receiving yards last season with 23 catches for 434 yards and three TDs. Junior Caleb Padrid led the team in receptions with 27 for 265 yards. The team's leading rusher, Za'Darion Nardi, also returns. The defense will return seven starters, which doesn't include Mater Dei-Santa Ana transfer Tanner Salisbury. Salisbury isn't a stranger though — he spent his freshman and sophomore seasons in Danville.
FIRST GAME: Aug. 27 vs. Vintage-Napa
10. LINCOLN-STOCKTON (4-0)
Outside of Folsom, there may not be a Sac-Joaquin Section team with more top-level talent at the skill positions than the Trojans. The honor roll starts with senior tailback Jonah Coleman. The 5-foot-9, 205-pound Arizona commit averaged more than 11 yards per carry during his last full season in 2019. Kenyon Nelson is a junior dual-threat QB who already holds an offer from Tennessee. Senior linebacker Tim Thomas III recently committed to Fresno State and senior WR/DB Jomarion Briggs is weighing offers from UCLA and Arizona, among others.
FIRST GAME: Aug. 20 at Edison-Stockton
11. MONTEREY TRAIL-ELK GROVE (5-0)
Of the teams in our Top 20, the Mustangs' seven returning starters may be the fewest. However, over the last five years, Coach TJ Ewing's program has shown a consistent ability to replace key contributors and not skip a beat. Among the standout players returning from an undefeated spring are senior QB Frank Acruri who can make plays with both his arm and his legs, as well as senior all-purpose back Brevin Amiga and senior linebacker Tanaki Tonga. Filling the gaps on defense will be the biggest key if Monterey Trail wants to stay in the rankings for the duration of the season.
FIRST GAME: Aug. 20 vs Folsom
12. CLAYTON VALLEY-CONCORD (4-2)
Just because the titles came nearly two years ago, it's worth noting that the Ugly Eagles remain the defending North Coast Section Div. II and CIF Div. 2-AA State Bowl champions. They're also the defending East Bay Athletic League-Mountain Division champions from last spring. (De La Salle-Concord plays in the EBAL-Mountain, but is considered an independent.) Clayton Valley is replacing approximately 11 starters across both sides of the ball, but still has plenty of talent at its disposal. That includes dual-threat QB Brenden Bush, his twin brother Alex Bush at WR/DB, and three-year tailback Rahsaan Woodland II. Fellow three-year guys Jared Palega (LB/OL), Tariq Adams (RB/DB) and Amari Comier (DE) will lead a stout defense.
FIRST GAME: Aug. 27 at Turlock
13. MENLO-ATHERTON-ATHERTON (5-0)
Menlo-Atherton finished its spring season a perfect 5-0 record while outscoring opponents 177-55. Now second-year coach Chris Saunders prepares for his first full season and does so with the luxury of having a 3-year starting QB. Matt MacLeod has been among the efficient QBs in the Bay Area since taking the starting job in 2019. In 16 stats he's thrown 27 TDs and just two INTs across 252 attempts. He's got several of his favorite targets back too, including seniors Jalen Moss, Jeremiah Earby and Johnnie Barbie. The Bears' fortunes this fall will depend on the how well they can replace the seven linemen lost to graduation.
FIRST GAME: Aug. 27 at Bellarmine-San Jose
14. JESUIT-CARMICHAEL (3-2)
One has to go all the way back to 2011 to mark the last time the Marauders finished a year below .500 — and that streak won't be ending this year. Not with 17 starters returning to 4660 Fair Oaks Blvd. That group returns after a 3-2 spring season in which its only losses were to De La Salle-Concord and St. Mary's-Stockton, teams which finished No. 1 and 12, respectively, in our final spring rankings. Nelson Hemmert, a senior 3-star lineman on 247sports.com, will be the linchpin up front for Jesuit. Skill players to watch include senior RB/DBs Kai Santos and Garrett McGriff. Keep an eye out for the air connection of QB Preston Vukovich and WR Jackson Hagopian.
FIRST GAME: Aug. 27 at Folsom
15. ST. FRANCIS-MOUNTAIN VIEW (3-2)
Despite one of the younger rosters in the West Catholic Athletic League last spring, the Lancers were an overtime loss away to finishing 4-1. That OT loss came against Valley Christian-San Jose, a team that will begin the year ranked near the Top 10. St. Francis will return 11 of its starters, and like Los Gatos, will be integrating players from an undefeated JV roster. Key returnees include senior two-way RB/LB standout Camilo Arquette and senior RB/DB Nico Andrighetto.
FIRST GAME: Aug. 27 at Central Catholic-Modesto
16. LOS GATOS (5-0)
The Wildcats were especially dominant during the spring season, outscoring opponents 221-56 and averaging nearly 375 yards of offense per game. The team has big shoes to fill in replacing league MVP and SportStars All-NorCal running back Adam Garwood, but much of the core returns. That's especially true on defense where recent Boise State commit, Jake Ripp, will lead a group that includes six returning starters. Coach Mark Krail will also be able to fill gaps from a junior varsity squad that also went 5-0 over March and April.
FIRST GAME: Aug. 27 vs. Oak Grove-San Jose
17. EDISON-STOCKTON (3-1)
Edison has been a rising program for a few seasons now, having gone 19-5 over the last two full seasons in 2018 and 2019. The Vikings nearly knocked off Folsom in the 2019 Sac-Joaquin Section Div. I playoffs, before falling 45-42. Those teams were led by Oklahoma commit Raleek Brown, who's now a senior at Mater Dei after transferring prior to his junior season. Now the team is led by another dynamic running back, Jaylen Blacksher. He's one of 14 returning starters (8 offense, 6 defense) from a spring team that went 3-1. Other key returnees will be senior receiver Johnathan Taylor and senior corner Keoni Lindsay.
FIRST GAME: Aug. 20 vs. Lincoln-Stockton
18. BISHOP O'DOWD-OAKLAND (4-1)
The Dragons begin two runs higher than they closed out the spring, moving up from No. 20. Coach David Perry's first "half-season" was incredibly successful by all measures. The spring group lost its opener to San Ramon Valley-Valley by just one score (21-13) and then outscored opponents 111-19 the rest of the way. Three-year starting QB Jesse Madden graduated, but Perry has experience at just about every other skill position. That includes running back Matt White, whose impact in the passing game may be equal to what he does on the ground. Look for Julian Wilson to be a leading force on the defensive side of the ball.
FIRST GAME: Aug. 27 @ Liberty-Brentwood
19. OAK RIDGE-EL DORADO HILLS (2-4)
It was a record-scratch spring for the Trojans as a team with high expectations succumbed to its inexperienced at key positions. But that young roster has much more experience now, and long-respected coach Eric Cavaliere has been succeeded by equally-respected Casey Taylor. Taylor takes over at his alma mater and returns to the Sierra Foothill League that he once dominated from the Del Oro-Loomis sideline. Key to Oak Ridge's success will be junior QB Drew Cowart (who started all six games last season) and senior RB Reese Catchings (6 rushing TDs last spring.) Linebacker Luke Armstrong will lead the defense.
FIRST GAME: Aug. 20 vs. Cosumnes Oaks-Elk Grove
20. VACAVILLE (5-0)
The Bulldogs closed the spring ranked No. 24 in our expanded final Top 30 after a 5-0 campaign that saw them outscore their four opponents 247-74. Vacaville rolls into the fall with six projected returning starters, including senior QB Ryan Vaughan (839 passing yards, 9 TDs, 4 INTs) and senior tailback Darian Leon-Guerrero (701 rushing yards, 15 TDs). Senior Timothy Plowman led the Bulldogs with three interceptions last year and will be one of five returning starters on defense.
FIRST GAME: Aug. 20 vs. Davis.