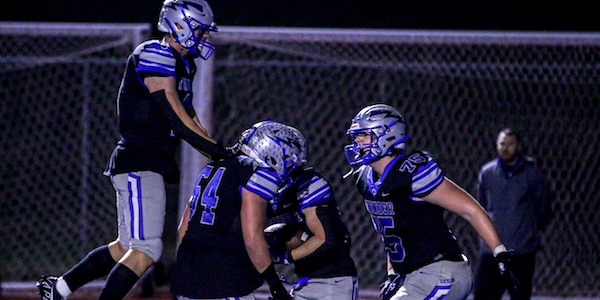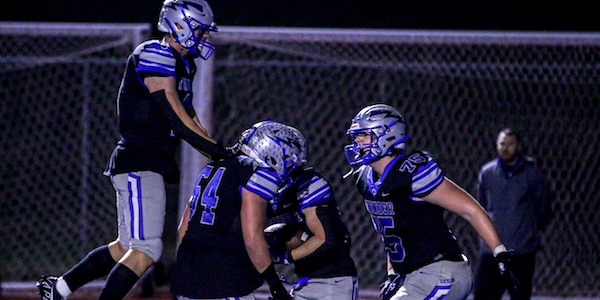 Unlikely Heroes Emerge As Rocklin Stays Unbeaten In A Wild, Come-From-Behind, Instant-Classic Semifinal Win Over St. Mary's-Stockton • Friday's Sac-Joaquin Section Div. I semifinals...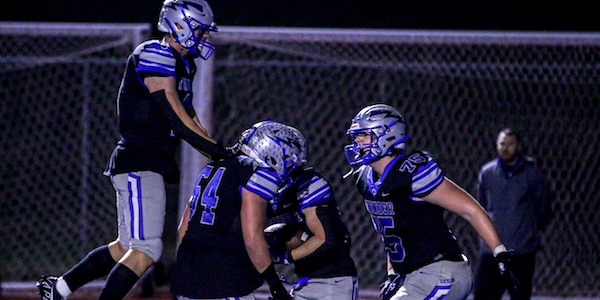 Unlikely Heroes Emerge As Rocklin Stays Unbeaten In A Wild, Come-From-Behind, Instant-Classic Semifinal Win Over St. Mary's-Stockton •
Friday's Sac-Joaquin Section Div. I semifinals and Rocklin's perfect football season hinged on the clutch performance of an acclaimed track-and-field sprinter.
And not like you would think.
MacGregor Teselle, who earned a scholarship to run the 100/200 at Cal Poly, drilled a field goal from 37 yards out to tie St. Mary's-Stockton with 38 seconds to play. Thirty-seven seconds later, he booted the 38-yard game-winner as time expired, lifting Rocklin to a 51-48 win and earning a ticket to Friday's Div. I finals against Folsom.
Teselle's second field goal in the game's final moments — his third of the game — came after a Kyran Bell interception, a fortunate scramble by quarterback Joey Roberts and back-to-back timeouts by St. Mary's coach Tony Franks with 1.9 seconds to play.
But you can't ice that which is already stone cold, and Rocklin was ruthlessly efficient when it mattered most.
"I've never seen a better high school finish," Thunder offensive coordinator Tim Kenney said. "It took every second on the scoreboard, every yard and every play. Everything just kind of went our way and it worked out for us.
"And we got a really good kicker."
Teselle's unlikely hero moment was made possible by an unthinkable comeback after St. Mary's battled Rocklin like no other team has this season — and erupted for continued success against the best defense in the section.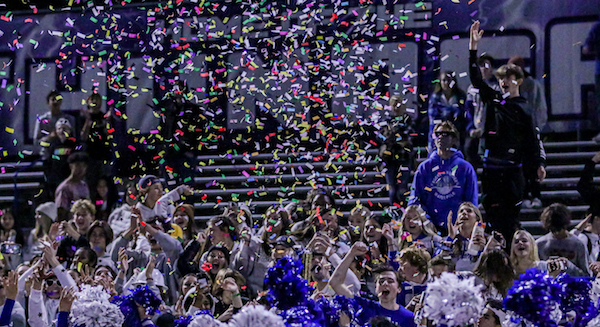 His three field goals were also only his second, third and fourth attempts of the season, as three different kickers have competed for the right to challenge uprights this season.
Friday was all about Rocklin meeting challenges.
_______________________________
CONNECT WITH US:
Follow SportStars on Twitter & Instagram | Like us on Facebook | Subscribe!
_______________________________
When UCLA-bound Jadyn Marshall snuck upfield to scoop-and-score the game-opening squib kickoff, St. Mary's handed Rocklin only its third deficit of the season.
And that's just where it started. To put all of Rocklin's efforts in perspective, you really have to see the unique experience it created for a team that outscored all other opponents by an average margin of 40-5 this year.
Some firsts worth mentioning:
It was Rocklin's first game…
• with over 14 points allowed
• surrendering a lead
• with a halftime deficit
• trailing for two quarters
It was Rocklin's…
• narrowest margin of victory
• only game with a winning kick
The win gave Rocklin…
• a first-ever appearance in the SJS Div. I finals
• a first-ever finals birth as a No. 1 seed in any division
The team that has been untouchable since its 41-0 shutout of Turlock on Aug. 20 certainly answered a lot of questions, the biggest being: Without starting quarterback Kenny Lueth (out with a knee injury since Sept. 24), how will they play in a shootout?
"Well, we got our shootout," Coach Kenney said. "In our bye week before we got into the playoffs, we spent a lot of time working on special situations, and believe it or not, a whole day on end-of-game, end-of-half stuff.
"We told the guys, 'This is the stuff you should be dreaming about.'"
Rocklin also found a savior in Joey Roberts, who delivered his best performance of the year. Roberts finished 16 of 24 with 283 yards and two touchdowns. His first was an 83-yard bomb that dropped perfectly into the arms of Nathan Kent to give Rocklin its first lead of the game in the third quarter. His second, another toss to Kent, kick-started a three-drive scoring stretch in Rocklin's two-minute offense, bringing Rocklin within three.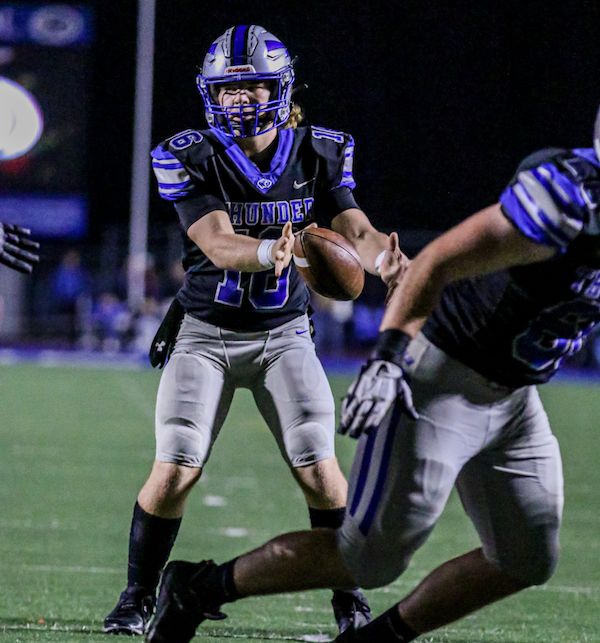 Roberts also ran for a score and bolted 28 yards to set up the game-winning field goal.
"You live for these moments in football," Roberts said. "It kind of felt like a Madden moment."
Roberts now leads the Thunder in passing and because of the COVID-shortened season of 2019, he also has more career completions (71) and attempts (110) than his predecessor.
"I was (Lueth's) backup to start the year, and he did a great job, because he is one of the best quarterbacks in the area," Roberts said. "It's hard to be as good as (Lueth), but that is what I have been trying to do all season."
On Tuesday, Kenney said that Lueth is likely done for the season as he protects his knee from long-term injury. The lanky signal caller still has an important role to play.
"He is at every practice, and in games he is doing signals, helping with reads," Roberts said. "He will talk to me about what coverage they are playing, if they are rolling down, blitzing, or talking about what plays could work.
"He's really smart."
Roberts also credited the offensive line that has kept him from even being touched in multiple games. It's not the kind of care opposing lines have provided, as Rocklin has allowed eight or fewer points in 10 of its 12 games.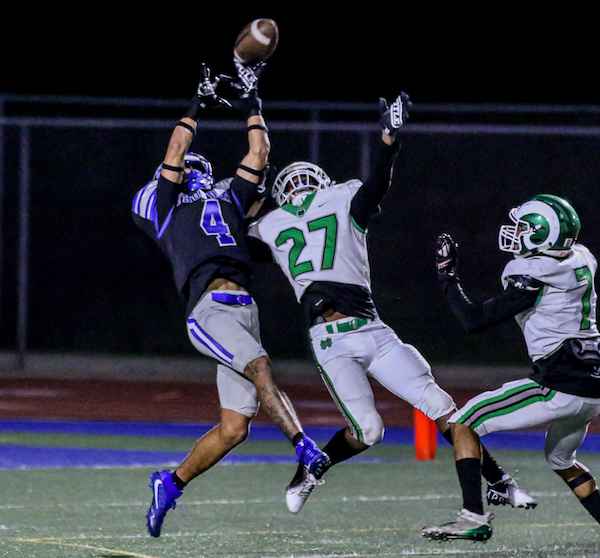 It's why 48 points to St. Mary's presented such a unique challenge, and required such big moments. One of those was provided by outside linebacker Derek Houston, who ripped the ball from Marshall's arms and darted the other way for a 32-yard fumble-return touchdown. The play put Rocklin back in the game.
"I just wanted to spark our team, and we came out at halftime ready to compete and come back," Houston said. "When I saw an opportunity to make a play, I made one."
And despite the points allowed, other defensive plays still made a difference.
Kaleb Larson recovered a first-quarter fumble that led to Rocklin's first score of the game while Anthony O'Brien came down with one of the game's only quarterback sacks. Teeg Slone pressured a fourth-quarter extra point attempt that went wide as a result, providing the important three-point margin late in the game. O'Brien, Slone and Elias Mullican made consecutive stops as St. Mary's tried to run out the clock with two minutes to play. It's what forced St. Mary's heavy-formation run on fourth and two with 1:37 remaining.
Rocklin stuffed that play in a pile to earn possession for the game-tying drive, and won the game after Bell's unthinkable interception on St. Mary's next snap.
Because of those late heroics, Rocklin plays Folsom for the SJS Div. I title Friday at 7 p.m. at Hughes Stadium on the Sacramento City College campus.
It's the stuff Thunder players will be dreaming about.