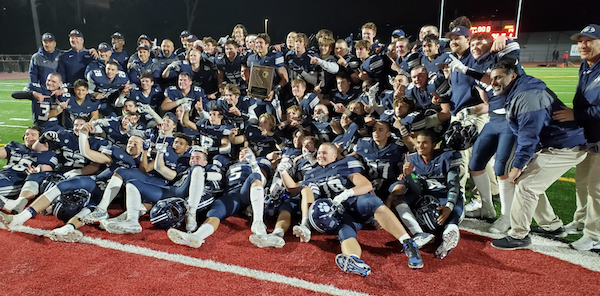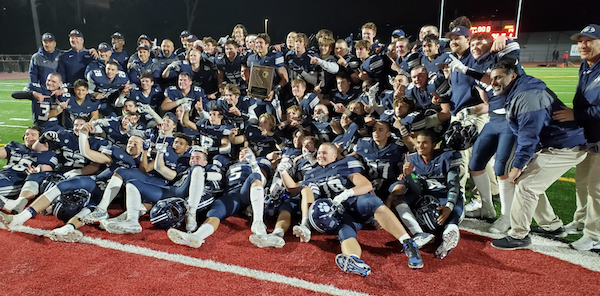 Wildcats Get Big Nights From Charles Williams, Michael Ingrassia As Marin Catholic Punches Ticket To 4-AA State Bowl Championship • Marin Catholic safety Charlie...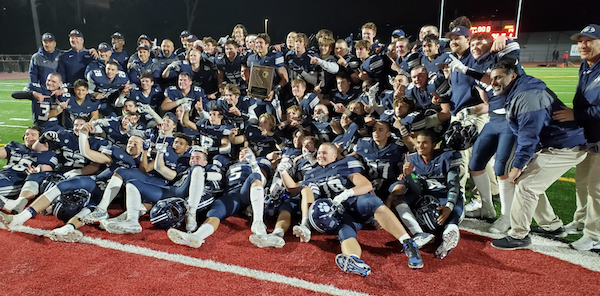 Wildcats Get Big Nights From Charles Williams, Michael Ingrassia As Marin Catholic Punches Ticket To 4-AA State Bowl Championship •
Marin Catholic safety Charlie Allen waited on his own 13-yard line, knees bent, nobody within five yards of him.
The senior leapt, managed to grab hold of the back half of the incoming Escalon pass just before it got over his head. And even before he was able to take off running, reality hit like a ton of bricks for both sides of a sellout crowd at San Rafael High School.
The Wildcats of Kentfield are headed back to a California Interscholastic Federation state bowl game. It's their third appearance overall and the first since Madison-San Diego defeated a Jared Goff-led squad 38-35 in 2012.
Allen's catch punctuated a wild back-and-forth CIF Division 4-AA NorCal championship game that featured big momentum swings and plenty of consequential plays. In the end, Allen's interception with 40 seconds left sealed a 21-14 victory for Marin Catholic and ensured that for the third time in the modern CIF era, the Wildcats will be in action on the final weekend of the season.
"You're in the right spot at the right time. That's what it is," said Allen, one of just 15 seniors on Marin Catholic's 61-man listed roster. "Our whole defense played great the whole game. (Escalon) is a great team. They play hard-nosed football and we knew we were coming into a war."
40.5 sec left and Charlie Allen makes the INT that matters most. Block in back negates TD but @MCAthletics leads 21-14. 2 TO left for Escalon. pic.twitter.com/2eLFrxiT7e

— SportStars™ Magazine (@SportStarsMag) December 4, 2021
What type of game fans were in store for became apparent right from the very beginning. Escalon took the ball first and proceeded to grind out a 20-play drive that lasted 10 minutes and 33 seconds.
The only problem for the Cougars? Marin Catholic held, and that lengthy drive resulted in a missed field goal and no points. Seven plays later, Marin Catholic sophomore Charles Williams rushed for the first of his three touchdowns on the night, this one from 11 yards out, and the Wildcats had both the early lead and the game's first momentum.
"That was enormous," said Marin Catholic coach Mazi Moayed. "They had a good number of guys who play on both sides of the ball and they started to wear down, but that initial drive they were fresh and crisp. We told our guys we just need to withstand their initial surge. Our defense did a great job and our defensive staff adjusted."
_______________________________
CONNECT WITH US:
Follow SportStars on Twitter & Instagram | Like us on Facebook | Subscribe!
_______________________________
With things beginning to go Marin Catholic's way, Michael Ingrassia started to show why he is considered one of Northern California's top quarterbacks.
Doing it both through the air and on the ground, the senior accounted for 79 yards on a 10-play scoring drive, and when Williams crashed in from 2 yards out with 3:17 left in the first half, Marin Catholic led 14-0.
Williams' final touchdown of the night, a 6-yard run, put Marin Catholic up 21-0 with just under eight minutes left in the third quarter. The touchdown came after a 52-yard run by Ingrassia moved the Wildcats inside Escalon's 5-yard line.
Not even injuries could slow Ingrassia's playmaking ability. An ankle injury early in the game, combined with what Moayed termed a 'dead leg', left the senior signal-caller in need of medical assistance twice on the evening. And, although he threw his first two interceptions of the season, the Wildcats' offensive leader finished with 171 passing yards and another 81 yards on the ground.
"He's unbelievable man. Toughest guy on our team," Moayed said. "That guy has got so much heart. Every ounce of him is like a linebacker. He gets up and keeps making plays and demands that his teammates do the same. He's the heart and soul of our team."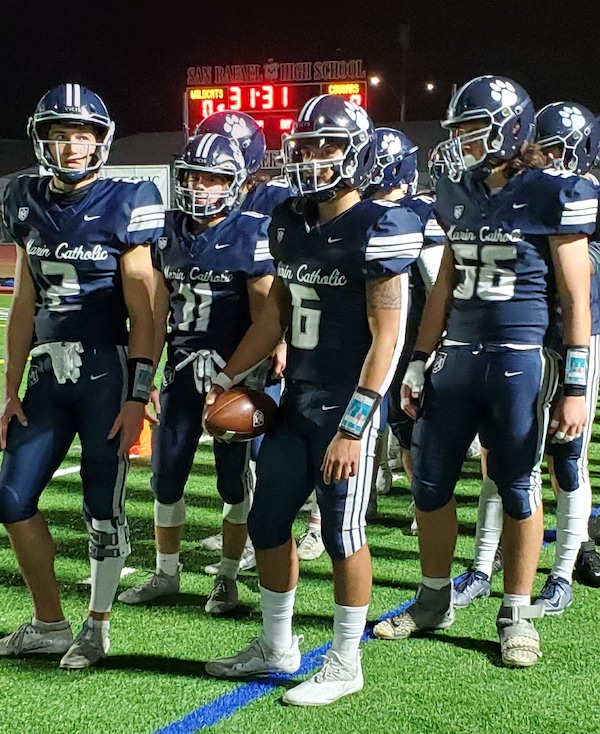 Escalon fought until the very end. Ryker Peters scored the Cougars' first points with a 2-yard touchdown run with 1:07 left in the third quarter and in the process got a rowdy bunch of fans a little bit louder. Those cheers went up yet another octave midway through the fourth quarter when Escalon used a well-executed hook-and-ladder play to convert a pivotal 4th and 19 from their own 46.
One play later, sophomore Donovan Rozevink's pass to the corner of the end zone deflected off the hands of a Marin Catholic defender and senior tight end EJ Lewis snatched it out of the air for a 16-yard touchdown, narrowing the gap to 21-14 with 6:06 remaining.
After stopping Marin Catholic on 4th and 2 near midfield, Escalon got the ball back with 4:09 remaining. It took six plays to get the ball to the Wildcats' 22-yard line, but with Marin Catholic defensive lineman Hayden McBride about to bring Rozevink down for a sack, the game's final pass fluttered into Allen's outstretched arms to seal the outcome.
"This means the world," Ingrassia said. "We worked so hard this past summer and offseason. We've got a young team and we've formed a great brotherhood, one I'll never forget. We've worked so hard for this and we're hoping to end up on top with a state championship."
Not only does the win mean Marin Catholic will play for a state bowl title, but it also means fans will get one more shot to enjoy Saturday afternoon football in Kentfield. Central Valley Christian of Visalia defeated Serrano-Phelan 21-9 in the Southern California regional, which means the Cavaliers will head to Marin County for a 1 p.m. showdown against the host Wildcats.
The game will also be the first part of a Marin County Athletic League bowl doubleheader as San Marin-Novato, which defeated Sutter 35-7 in the Division 5-AA NorCal regional, will host Independence-Bakersfield at 6 p.m. on Saturday.