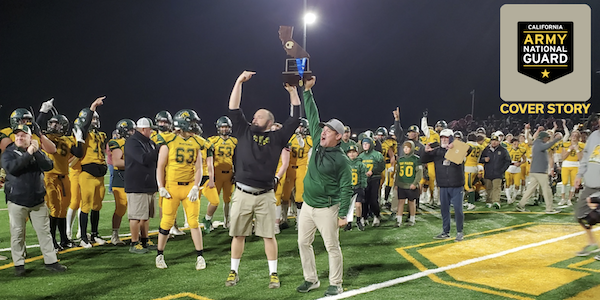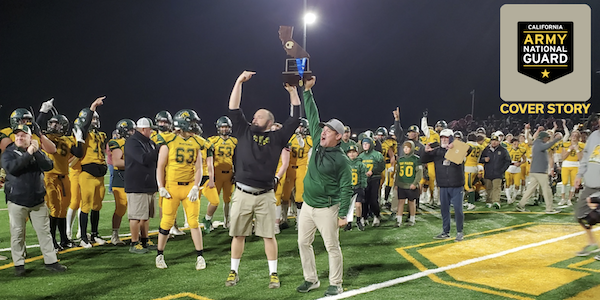 Led By NorCal's Leading Rusher And A Talented Core, San Marin Claimed Its First CIF State Bowl Title And Inspired A Novato Community Along...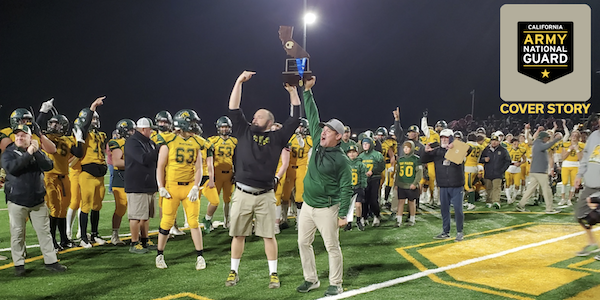 Led By NorCal's Leading Rusher And A Talented Core, San Marin Claimed Its First CIF State Bowl Title And Inspired A Novato Community Along The Way •
One of one.
That's the mantra that the San Marin-Novato football team clung to throughout a season that will go down in school history.
Thanks to a 20-14 win over Independence-Bakersfield in the California Interscholastic Federation Division 5-AA bowl game, the 2021 Mustangs will forever be able to call themselves the first state champions in school history.
But it was far from a singular effort.
In fact, the final scene in a landmark season looked more like what a Hollywood producer might try to depict when it comes to the stereotypical high school football experience.
Digital street signs alerted Novato residents that it was championship night. Novato police officers welcomed fans on approach to the stadium. And, once you got in, the most valuable currency for fans was a seat saver because both San Marin and Independence supporters jammed the stands and created the perfect environment for state glory to be bestowed.
_______________________________
CONNECT WITH US:
Follow SportStars on Twitter & Instagram | Like us on Facebook | Subscribe!
_______________________________
This wasn't a case of a community rallying when it matters most. No, the San Marin faithful have been there all along, filling the stands and providing support throughout the season as the Mustangs turned from a Marin Catholic Athletic League team looking to prove itself into a genuine contender for a state bowl title.
Once San Marin traveled to Sutter and won 35-7 in the NorCal final, the Mustang community knew it would get one more chance to cheer on its team.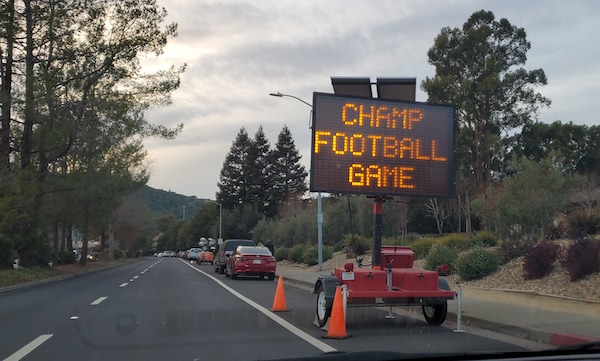 And that meant showing up with voices ready in the season's biggest moments.
"It's been all week that way with this community," said San Marin's Dominic DiMare, who shares the co-head coach title with Cory Boyd. "From the kids going down to the grammar schools and opening doors for them, it's been a whole week, almost like Super Bowl week leading up to it. We knew we were going to have a big crowd here. This crowd has been absolutely special all year and I thank them a lot."
Senior Justin Guin has been at the center of the story all season. With over 2,300 yards on the ground, Guin finished his final high school season as the top rusher in all of Northern California. He was also a standout as a safety/linebacker rover, helping to lead the Mustangs on both sides of the ball.
To that point, surely any scouting Independence might have done before coming north would have shown that stopping Guin could go a long way to determining the game's outcome.
Easier said than done.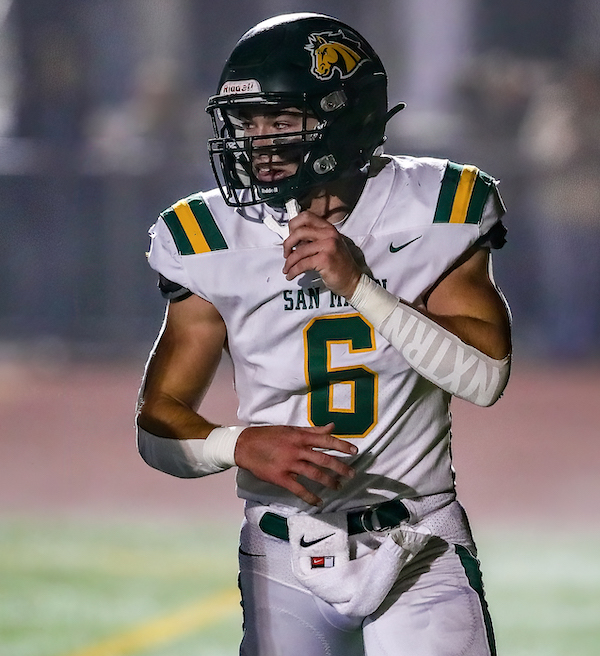 When a 1-yard touchdown run by Independence quarterback Ladon Denmark tied the game at 14 with 7:59 remaining, San Marin knew who to turn to.
Guin got the ball three times in a row, beginning with a 15-yard run that included a personal foul face mask penalty on Independence. After a 2-yard gain put the ball on the Falcons' 36, Guin took his next carry right up the middle, broke a tackle at the linebacker level, broke another in the defensive backfield and with 6:45 left to play, San Marin had the lead once again.
"Amazing. He is the best player on the field at all times," senior Dominic Mancuso said of his fellow upperclassman. "I love him. He's one of my great friends and it's so awesome to see him succeed."
A missed PAT by San Marin gave Independence hope, but the Mustangs were up to the challenge. The Falcons drove to the San Marin 24-yard line with just under two minutes left only to see a fourth-down heave by Denmark meet the outstretched hand of Mustangs senior Harry Hughes and carom harmlessly to the ground to end the drive.
Just a few seconds later, the celebration was on.
"It's been a goal since the beginning of the season to go as far as we can because we knew we had a special group of guys," said quarterback Joey Cook. "It's crazy to believe we got this far."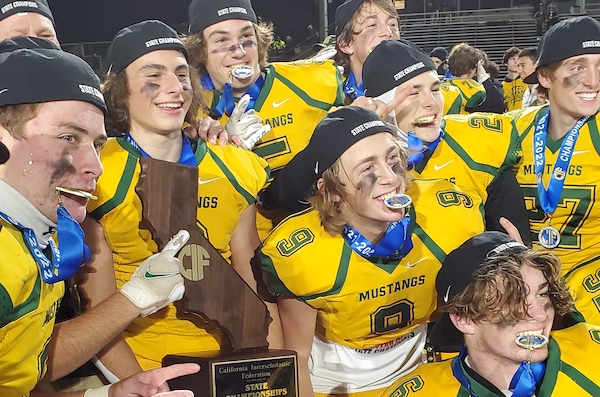 Exactly when the Mustangs' dream of a state title started to turn from subconscious to realistic is up for debate.
For some who follow the program, it was the 14-point lead that San Marin built against MCAL power Marin Catholic-Kentfield in week eight that signaled a turning point. The Wildcats, who also went on to win a state bowl title, ultimately won that game 21-14 but the Mustangs showed they could compete with one of the state's traditional heavyweights.
For others, it was a 26-25 win over St. Bernard's-Eureka in the North Coast Section Division 5 semifinals that really showed what potential existed. In that instance, Mancuso played the role of hero, grabbing a key interception with a minute left to ice a narrow win.
No matter the timeline, it would be impossible to accuse the Mustangs of being afraid to dream big.
"They've always had a mountain they wanted to climb. Whether it be the Marin Catholic mountain, whether it be the NCS champion mountain, whether it be the NorCal mountain," DiMare said. "Now, the state (championship) mountain was there and in their reach. Was it ever a dream? It's always a dream. Here at San Marin, we go to win every game and it just so happens this year was the year."
The win was especially significant for a senior class that includes several players who have played together since they were in grade school.
Wearing San Marin's yellow and green for the final time would have been emotional under any circumstance, but as they posed for pictures together with medals and a trophy in hand, the moment didn't take long to sink in.
"We've come together since we were Pintos, little seven-year-olds," Guin said. "We've been dreaming of this moment. It feels great. Wouldn't want to do this with anyone else."
Though Guin and his fellow seniors walked off the field with their place in school history secure, chances are the impact of such a historic season will live for quite some time both inside and outside the walls of their Novato school.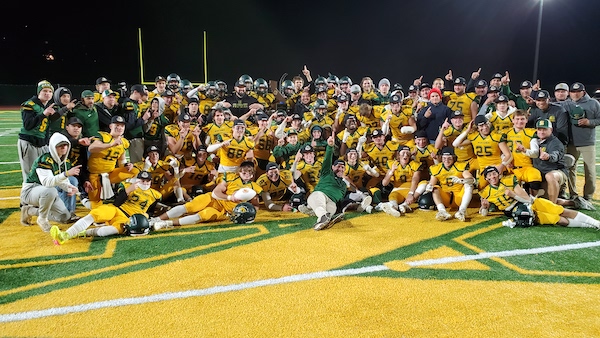 That's usually what happens when a team captures the hearts of an entire community.
"We've inspired so many people to be Mustangs. It's amazing for the community," Mancuso said. "It brought us all together. It was the best thing ever."
One of one? More like the first of many.