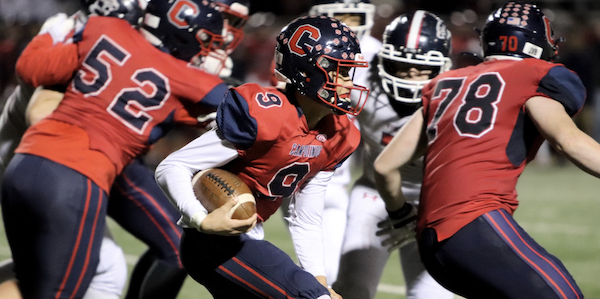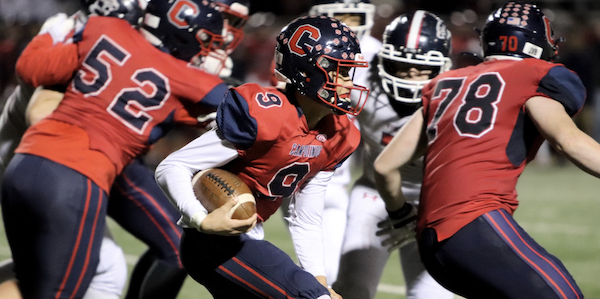 Campolindo Football Advances To North Coast Section Div. II Final After Instant Classic With Rancho Cotate; DLS Tops Pittsburg For Open Title • PICTURED...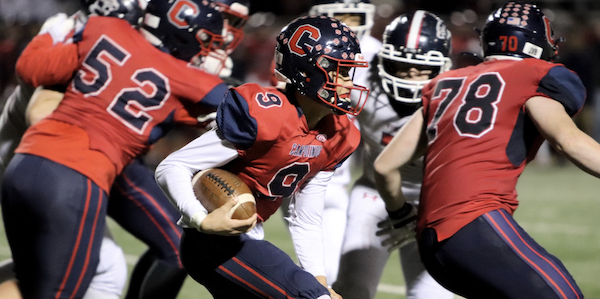 Campolindo Football Advances To North Coast Section Div. II Final After Instant Classic With Rancho Cotate; DLS Tops Pittsburg For Open Title •
PICTURED ABOVE: Campolindo QB Dashiell Weaver Looks For Running Room On Friday. He Accounted For Nearly 400 Total Yards Passing & Rushing. (Ben Enos photos)
One more week.
That's what the No. 2 seed Campolindo football team chanted in the moments after an unforgettable 42-41 victory over No. 3 Rancho Cotate-Rohnert Park in the North Coast Section Division 2 semifinals.
For as simple as those three words might be, they carry a significance that might shine at least a bit of light on the incredible consistency that Kevin Macy's squad has established through the years.
A back and forth affair that included no punts, only one turnover (that didn't end up with the other team), and a whole lot of high-caliber football turned at the very end as Campo's Charlie Murrin knocked down Rancho Cotate's attempt at a 2-point conversion with 27 seconds left to help keep Campolindo's season alive.
Murrin was one of many stars on the evening, but he found himself front and center on the game's two biggest plays.
The first came in the final seconds of the third quarter. An interception by Rancho Cotate's Dylan Gagnon looked like it would give Rancho the game's first defensive stop, but as Gagnon tried to make a move upfield, Murrin ripped the ball from his hands and Campolindo recovered. Four plays later, Dashiell Weaver scored on a 2-yard run to give Campolindo a 35-28 lead.
"I saw him pick the ball and I saw myself in the middle of the field and I knew we were going to collide," Murrin said. "I had a good angle to get a good hit on him and I wanted to make sure I got that ball out. As he was going to the ground, I was able to rip it out. I couldn't believe it. I didn't think that stuff could happen."
Rancho Cotate (9-3) fought back to tie the score on a 6-yard touchdown run by quarterback Jacob Pruitt, but Campolindo (12-0) marched down the field yet again, and a 34-yard strike from Weaver to Tim Daugherty gave the hosts a one-score advantage with 1:44 remaining.
Again, Rancho Cotate responded. Pruitt found Sailasa Vadrawale in stride for what looked to be his third receiving touchdown of the night, but when the ball popped free at the Campolindo 1-yard line and bounced forward, teammate Ananias Walker fell on it in the end zone to bring Rancho Cotate within a point.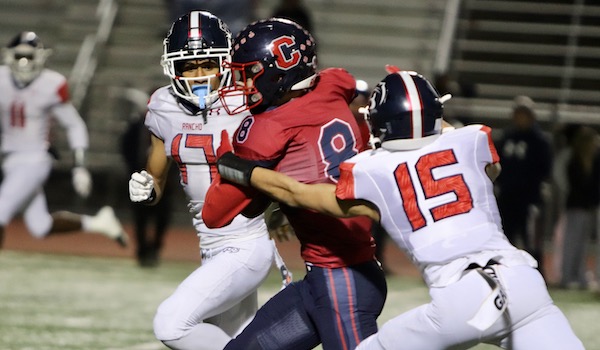 After a time out gave all involved a quick breather, Rancho Cotate ran a play designed for Pruitt to find Vadrawale yet again. This time though, Murrin got a hand up near the line of scrimmage, and the ball caromed harmlessly to the ground to keep Campolindo in the lead.
_______________________________
CONNECT WITH US:
Follow SportStars on Twitter & Instagram | Like us on Facebook | Subscribe!
_______________________________
"He has been the biggest playmaker in the most silent mode. He almost looks like he's invisible out there and then he's making plays," Campolindo football coach Kevin Macy said. "He's not showy, he's going to blend into the woodwork, and next thing you know, he just keeps making the big plays for us. He's been doing it all year."
Murrin's heroics represented the biggest defensive plays in an incredible night of offense by both teams. Weaver accounted for six touchdowns – four on the ground and two through the air – passed for 336 yards and rushed for 60. Pruitt got Rancho Cotate to paydirt four times, with a pair of runs and a pair of passes finding the end zone.
2 pt try knocked down! @campocougfb hangs onto 42-41 lead. 27 sec left. Onside upcoming. pic.twitter.com/1AiTOjDxls — SportStars™ Magazine (@SportStarsMag) November 19, 2022
"We watched film and all our coaches said they don't have cracks. They don't really have weaknesses," Murrin said. "They're such a good team. We're evenly matched. We play that game 10 times and I think you're going to have a really close game all 10 times. A lot of respect to them. They're really good."
As both players and coaches celebrated the victory, they did so with the understanding that what lies ahead represents perhaps an even greater challenge. No. 1 seed San Ramon Valley-Danville rolled to a 42-13 win over Foothill-Pleasanton, which sets up a matchup between the division's top two teams on Friday night at Dublin High.
What it also means is there will be Campolindo football over the Thanksgiving week on the Moraga campus. That's a big deal for Macy and his players, because recent alums who come home for the holiday will get a chance to watch and support the newest group of Cougars as they add their names to the program's storied history.
"All of our alums count on it. It's just been a tradition. Every kid that has played in our program has always watched the alums on the sideline for years," Macy said. "It's always a little bit of pressure because the kids don't want to let down the alums. We don't have to win next week, we just have to be there next week."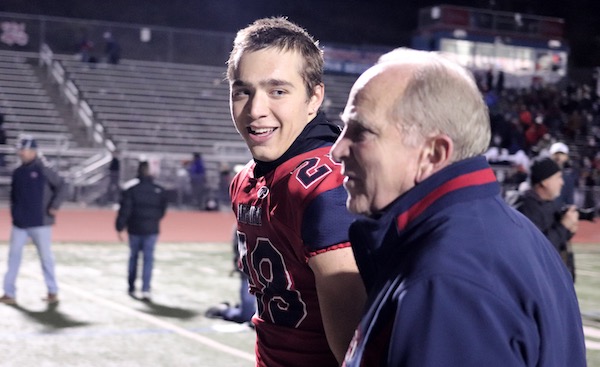 It's that type of tradition that breeds consistency, and one of the many reasons that this year's bunch continues to believe in one another.
"We don't push for one more week so we can go win another game or win NCS," Weaver said. "That's a plus, no doubt, but the main idea is one more week of practice, one more week of hanging out with your friends, one more week of making memories with these guys. High school football, especially at Campolindo, is special. I couldn't be luckier to be part of this program."
30 FOR 30: De La Salle Makes It 30 Straight NCS Crowns
After all the obsessive hand-wringing and external noise suggesting its local dominance was near an end, the De La Salle football program is back to doing what it always does this time of year — winning North Coast Section titles.
Quarterback Toa Faavae threw for 125 yards and rushed for 101 and a touchdown as the Spartans (9-3) outlasted a scrappy Pittsburg effort 30-23 to claim the NCS Open Division crown at Dublin High. It was De La Salle's 30th consecutive NCS championship.
The win qualifies the Spartans to be the NCS's top-rated team when the CIF regional bowl matchups are drawn up a week from Sunday. And if favored teams hold across other sections, De La Salle may be getting a second shot at the Folsom Bulldogs team that beat it 24-20 back in mid-September.
"I'd love to play Folsom again," De La Salle senior offensive lineman Derek Thompson said. "I know they want to play us just as much as we want to play them. It's always a great game when we play them."
Folsom is one win away from that potential rematch. It will play Oak Ridge-El Dorado Hills in the Sac-Joaquin Section Div. I championship next Friday. A rematch with Folsom would also be contingent on Serra-San Mateo winning the Central Coast Section Div. I championship and presumably becoming NorCal's CIF Open Division representative. The Padres have a semifinal with Salinas on Saturday.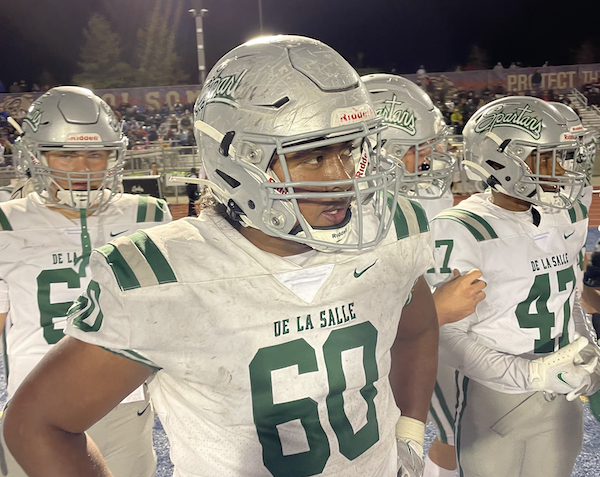 When it came to taking care of their own business, De La Salle didn't have its cleanest effort — but it also never trailed. 
The Spartans built a 13-0 lead after one and a half quarters, and were up 16-7 at halftime.
Pittsburg (10-2) opened the second half with the ball, but Colton Seastrand intercepted Pirates quarterback Jaden Rashada on the fourth play of the half and returned it 22 yards to the 3-yard line. Charles Greer punched it in for the first of his two touchdowns just one play later.
Buoyed by the presence of Chase Tofeano in his second game back from an injury that forced him to miss the entire regular season, De La Salle's defense had Rashada on his heels — and his back —  for much of the night. The University of Florida commit was intercepted twice and sacked six times.
Rashada still managed to throw for 152 yards and a touchdown, and rush for 53 yards and another score. His TD pass to Khai Taylor with under a minute and a half left in the game made it 30-23. He'd get no chance at a tie though as De La Salle recovered Pittsburg's ensuing pooch kick.
"That was a physical hard-fought game," De La Salle coach Justin Alumbaugh said. "I'm proud of the fight, and (Pittsburg) should be proud of their fight too."
The Pirates' season remains very much alive as they will get to face Clayton Valley-Concord in the NCS Div. I final Friday at Heritage High in Brentwood.
"I'm proud of my guys," Pittsburg coach Victor Galli said. "We gotta just keep going. It's not over yet."
— Chace Bryson