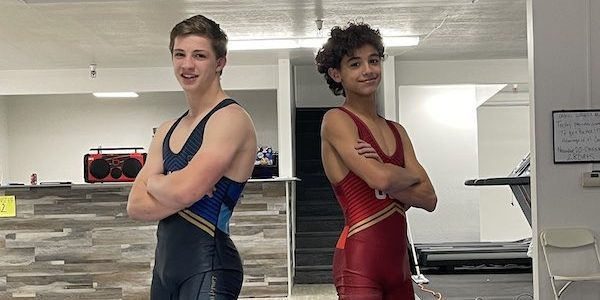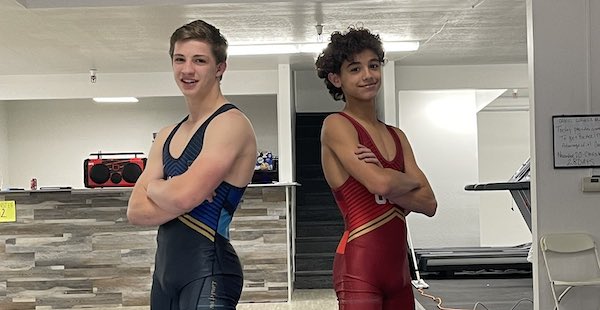 If The Roster Stays Healthy And Fully Eligible, The '22-'23 Gilroy Wrestling Team Could Change History Over a month of California prep wrestling has...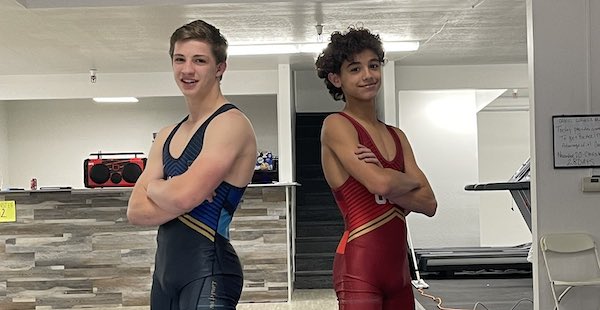 If The Roster Stays Healthy And Fully Eligible, The '22-'23 Gilroy Wrestling Team Could Change History
Over a month of California prep wrestling has cleared the way for five of Northern California's best boys wrestling programs to represent the true power of NorCal grappling. This five-part series takes a close look at the teams and wrestlers expected to amass the most hardware at section and state finales in February 2023. It concludes here with Gilroy Wrestling. PREVIOUSLY: Oakdale | De La Salle | Vacaville | Los Gatos
PICTURED ABOVE: Travis Grace, Left, And Isaiah Cortez. (Daniel Cormier photo/Twitter)
Gilroy Mustangs
Head coach: Daniel Cormier
Projected Lineup:
106: Dominic Bozanic, Fr.
113: Moses Mondoza, Fr.
120: Isaiah Cortez, So.
126: Elijah Cortez, So.
132: Daniel Zepeda, So.
138: Moses Mirabal, Jr.
145: Maxximus Martinez, Sr.
152: Zach Fierro, Sr. / Ruben Le, Sr.
160: Travis Grace, Fr.
170: Doug Porter, Sr.
182: Oscar Alfaro, Sr.
195: Cody Merrill, Jr.
220: Coby Merrill, Fr.
285: Jose Guerrero, Jr.
These days, nobody is banging off walls while wrestling former UFC champion Khabib Nurmagomedov inside the Gilroy wrestling room (as far as we know).
Instead of viral videos via now-Michigan State-star Chase Saldate, Gilroy is gaining notoriety through more traditional means — a lineup worthy to challenge six-time defending state champion Buchanan-Clovis.
Freshmen stars could power that success at state for five-year coach Daniel Cormier, if everyone is eligible when the postseason begins.
As of now, Gilroy's returning state and national champion, Cody Merrill, and his national champion freshman brother, Coby Merrill, are awaiting eligibility as they transition from online learning to classes on campus.
Cormier said he expects the two to be cleared to compete when Gilroy's second semester begins, before the CIF postseason does. The two will anchor perhaps Gilroy's best lineup in history, loaded with national and state accolades and state medal-winning transfers.
"This is a very exciting team, one we built for years, with young kids who competed together their whole lives," Cormier said. "Gilroy has never had a team with this much talent, but so far they don't possess as much toughness and durability as some of our teams in the past."
A lot of that talent tangled with Buchanan's at the season-opening Clovis West Shootout. Gilroy fired the first shot, winning the tournament by a 260.5-258 margin.
Buchanan captured three brackets, but Gilroy took five and placed 11, all within the first 10 weights. Isaiah Cortez (120), Elijah Cortez (126), Daniel Zepeda (138), Moses Mirabel (145) and Travis Grace (160) snared gold.
"Winning that tournament doesn't mean all that much, as both teams were missing starters, but it's good for the kids to see," Cormier said. "There is so much more to be done, especially against a team of (Buchanan's) caliber, one of the best teams in the entire country.
"But I believe we are, too. When we are full strength, we can compete with anyone in the state."
Grace is one of four potential CIF medal-winning freshmen on the Gilroy roster. He didn't face Buchanan's returning state runner-up, Sloan Swan, but he did beat Buchanan's No. 4-ranked (TheCaliforniaWrestler.com) Leo Contino, who was eighth at least year's state meet.
Even without the Merrill brothers, Gilroy has nine wrestlers ranked inside the top 10 in California at their weight. Buchanan has 13, and is still a big favorite to win another title. Pins in the upper-weight divisions will be difficult to overcome when the Bears are at full strength.
It's a marker Gilroy has to reach to compete with the state's best. The Mustangs filled only 10 of the 14 weight classes at the Reno Tournament of Champions Dec. 17, and placed fourth behind Poway-San Diego, St. John Bosco-Bellflower and Pomona. Isaiah Cortez, Dominic Bozanic (106), Moses Mendoza (120), Elijah Cortez, Zepeda (132), Mirabel (138) and St. John Bosco-Bellflower transfer Maxximus Martinez (145) found the podium.
Isaiah Cortez, ranked top-20 in the country at Flowrestling.org, has lost only one match in his prep career, 3-1 against Isaiah Quintero of El Dorado-Valencia. The defeat came in the semifinals of last year's state tournament.
Though just a sophomore, he's embraced a leadership role in the Gilroy wrestling room.
"You have to hold people accountable as a leader, put in the work and show everyone what it takes to be a leader," Isaiah Cortez said. "We have grown a lot together."
Cortez thanked his father (Jesse Cortez), coaches and teammates and said both individual and team goals are to win a state title. He said his training partners like his brother, Elijah, and Mendoza will be key to achieving those goals.
Gilroy's collective success across the weights will grow as the lineup does. A rise at the right time could change history, as the Mustangs have never won a state title, but have finished top-10 every year since 2005.
Opportunity seems just a few points away.