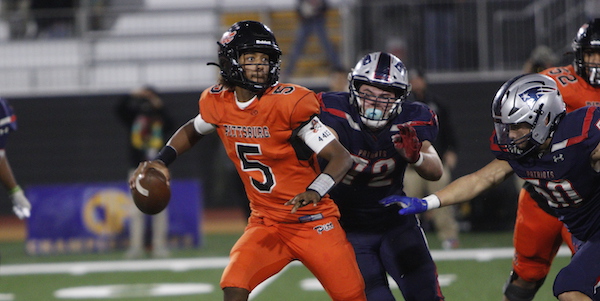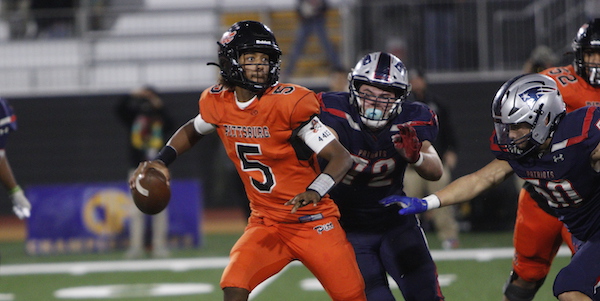 Liberty-Bakersfield Tops Pittsburg Football In The CIF 1-A State Bowl As The Sun Officially Sets On Coach Galli's Excellent 21-Year Career Sometimes the storybook...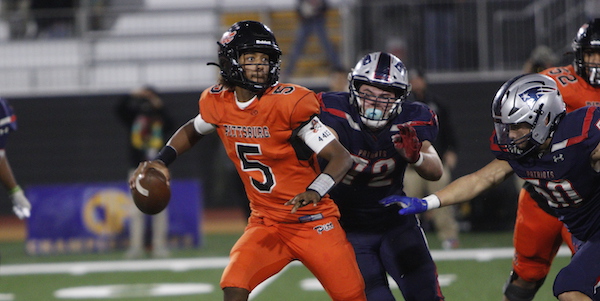 Liberty-Bakersfield Tops Pittsburg Football In The CIF 1-A State Bowl As The Sun Officially Sets On Coach Galli's Excellent 21-Year Career
Sometimes the storybook ending isn't a happy one. Sometimes the final chapter delivers a cruel twist. And that's the ending the Pittsburg football team was dealt on Saturday evening in Mission Viejo.
Liberty-Bakersfield scored on offense, defense and special teams in a complete performance that delivered a 48-20 CIF 1-A State Championship Bowl win.
Pittsburg was seeking to win its first state bowl championship, send Galli out on a win, and avenge its season-ending loss to the Patriots in the regional round just a season ago.
It was all just a bit too much to ask for. It was a lot of Kesean Kizzy too.
Liberty's two-way star scored three different ways for the Patriots, scoring on an interception, a kick return and hauling in the second longest scoring pass in CIF State Bowl history. An 85-yard grab on the second play of the fourth quarter.
"The difference was they capitalized on our mistakes and we didn't capitalize on theirs," Pittsburg senior received Zack Card said. "I still love my team. We fought hard to the end. I'll ride with them any day."
By the time Liberty quarterback Cole O'Brien capped a second-half opening drive with a 1-yard run, it was a 34-6 lead and the writing seemed on the wall.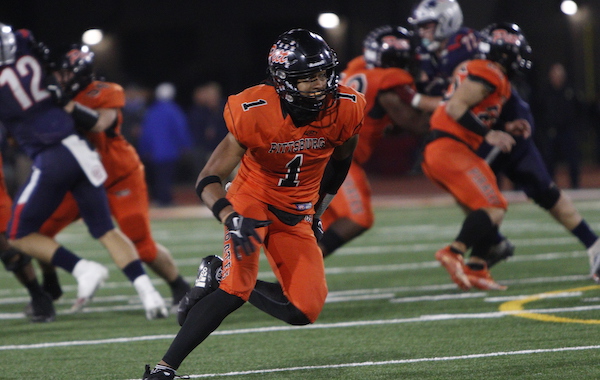 Pittsburg never gave in, however. Rashada tossed a pair of touchdown passes to Khai Taylor and Card for 57 and 20 yards, respectively. The latter pulled the Pirates to within 41-20 with a little less than 8 minutes to play.
The Pirates were dealt another blow just a few plays later when sophomore defensive back Jadyn Hudson went down with an apparent head or neck injury. He had movement in his limbs, but was held on the turf for more than 30 minutes and taken to a local hospital out of extreme caution.
After the injury delay, Liberty quickly finished off a scoring drive and Pittsburg threw in up the white flag and began to play some of its backups.
"Nothing is going to tear away 21 years of memories," Galli said. "It was a lot more good memories. … They were the better team tonight. They played tough and we just didn't have it tonight. It wasn't our best game. Our team kept fighting and we didn't quit. It just wasn't our night tonight."
The first sign the storybook ending might not have been in the cards came very early as Rashada made a late, regrettable decision to throw the ball on the run. Kizzy read the quarterback's eyes and jumped in front of it for a 47-yard pick six and 7-0 lead.
After both teams traded punts, Pittsburg found a rhythm on its third possession as Rashada connected with Williams on a couple of big first-down passes. That preceded a long 29-yard pass to Zack Card that was ruled in bounds (when TV replays showed otherwise). That gave the Pirates a 1st-and-goal, and Card scored on a 3-yard pop pass on the next play.
After that, it was all Patriots.
Kizzy took the ensuing kickoff 96 yards to the house, pushing the Liberty lead to 14-6. Kizzy became the first player to score in all three phases of the game since the current CIF Bowl Era began in 2006.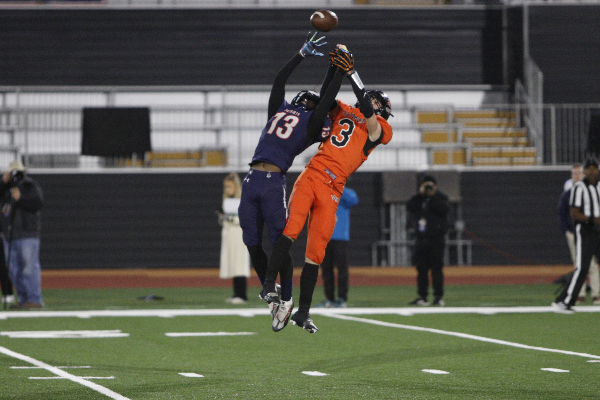 "He burned us in last year's game, too," Pittsburg defensive coordinator Charlie Ramirez said of Kizzy. "We knew what he could do. And he did it."
Meanwhile, the Liberty defense really turned up the heat on Rashada. The Pirates quarterback was sacked five times in the half and Pittsburg had it's last three possessions of the half end in punts.
O'Brien and Xander Chisholm connected for a pair of touchdown passes of 51 and 4 yards over the final five minutes of the half to send the Patriots into the intermission with a 27-6 advantage.
Rashada finished with 20 completions for 320 yards, three touchdowns and two interceptions. Williams caught seven passes for 124 yards and Card grabbed six for 100.
"Last week we probably played our best game of the season," Galli said. "It was an awesome experience. It sure would've been nice to put the cherry on top, but it doesn't define the whole 21 years."