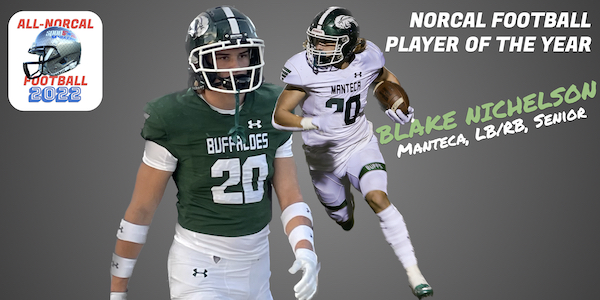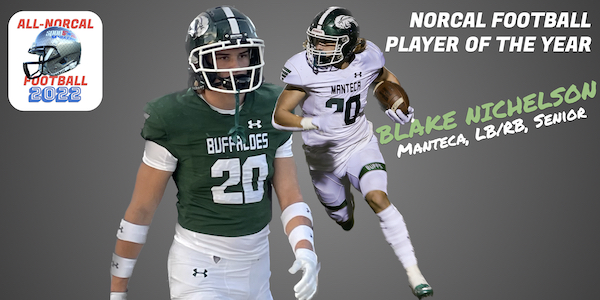 With His Biggest Moments On The Biggest Stages, Manteca's Blake Nichelson Completed A Legendary Prep Career With An Epic 2022 Season • _______________________________ MORE...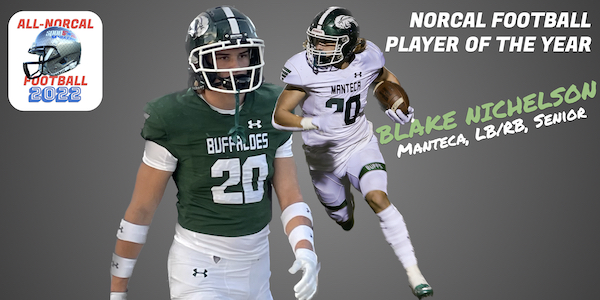 With His Biggest Moments On The Biggest Stages, Manteca's Blake Nichelson Completed A Legendary Prep Career With An Epic 2022 Season •
_______________________________

MORE SPORTSTARS 2022 ALL-NORCAL FOOTBALL:
Coaches Of The Year | All-NorCal Defensive Roster | NorCal Defensive Player Of The Year | All-NorCal Offensive Roster | NorCal Offensive Player Of The Year | #7FridayNight Podcast Season Finale
_______________________________
If Blake Nichelson was a living room decoration, he wouldn't be giant white letters spelling F-A-M-I-L-Y. Or any basic item at your local Hobby Lobby.
He's just different — and as opposing defenses found out this season, he's just faster and stronger too.
It's how Nichelson scored 43 of his 90 career touchdowns and tallied 2,541 of his 5,486 career all-purpose yards during a thrilling and fulfilling senior season for the Manteca Buffaloes.
It's why, after a Sac-Joaquin Section Div. II championship and NorCal bowl game appearance, Nichelson was the obvious pick for recognition as the SportStars 2022 NorCal Player of the Year.
Nichelson's drive to succeed and stand out powered a remarkable prep career.
"I don't like to lose," Nichelson said Tuesday, from Honolulu after a Polynesian Bowl practice. "Whenever my team needed me, I knew I needed to step up and do well. I feel like coaches helped me throughout the week, and my natural abilities like speed helped a lot to go out there and make plays."
The Ripon native, son of Nicole and Donald Nichelson and brother of former Ripon Christian athlete Wyatt Nichelson, will represent the 209 with Florida State football later this year.
His impact at Manteca will live through more than just his rushing records.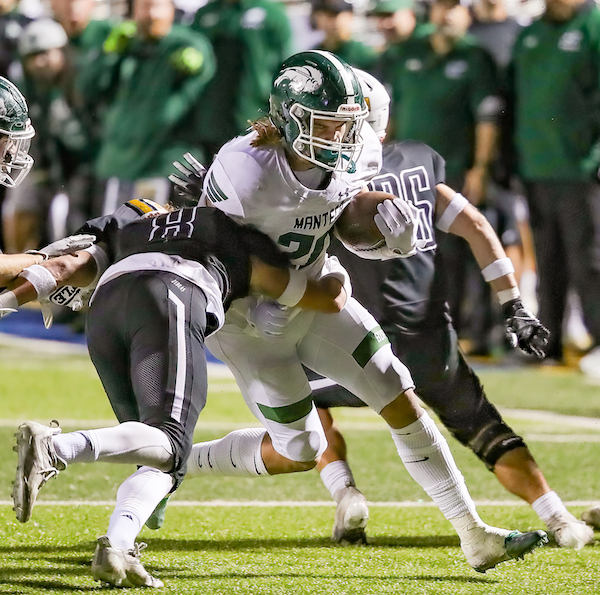 "He's a great kid who loves playing football and enjoys the whole process," Manteca coach Mark Varnum said. "He is just a solid kid and I am pretty excited for his future, though we are going to miss him around here."
Miss doesn't quite cover it.
When the Sac-Joaquin Section vaulted Manteca into Div. II after winning three of the last four Div. III titles, Nichelson was the biggest reason the Buffaloes stayed successful.
It's because heightened difficulty seems a little less challenging when you can fly.
"When the stage was the biggest and lights the brightest, that's when he would show out," Varnum said. "He wasn't running up stats against lesser opponents, but rising to the occasion every time against our best ones."
Lets look at those big moments:
• In a 59-22 win over Div. I semifinalist Turlock, Nichelson rushed 23 times for 207 yards (nine yard average) and six touchdowns.
• Nichelson broke his own school record for rushing yards in a single game during a showdown with league champion Central Catholic. He ran 24 times for 409 yards (16.7 yards per carry) with seven touchdowns.
Well, that was quick. @NichelsonBlake takes it 57yds to the house on the game's second play. Buffaloes lead Central Catholic 7-0. pic.twitter.com/BIrtCYS21W

— SportStars™ Magazine (@SportStarsMag) October 22, 2022
• During the SJS Div. II semifinals, he took 29 touches (including five catches) for 251 total yards and two scores to aid a 34-28 win against Rocklin.
• Facing Granite Bay in the SJS finals, Nichelson used 31 carries and three catches to amass 308 yards and six touchdowns, doing the most important work in Manteca's 51-48 shootout victory.
• In the NorCal defeat to Pittsburg, Nichelson still managed over five yards a pop with 33 rushes for 172 yards and a score — with rain falling during all 60 minutes of play.
It's a wildly effective big-game resume for an offensive stalwart who is projected to play defense at the next level.
He had 4.5 sacks and an interception in his senior campaign, but he quickly began to pad that prestige in the offseason. According to 247sports.com, Nichelson led all players with 7.5 tackles in the All-American Bowl in San Antonio, Texas in January. He was also seen picking off a pass from Oregon signee Austin Novosad during the game's series of practices.
Some in Tallahassee see dual purpose usage for Manteca's star recruit.
"Another major recruiting victory for the Seminoles, Nichelson is a true two-way standout player for his high school," FSU's Tomahawk Nation reported in December. "He'll be stopping touchdowns from happening in Tallahassee, but you can bet he'll score a couple as well in a goal line back type of role. It'll be hard to keep Nichelson off the field for long, and I expect he'll be a special teams demon quickly.
"Do we gush about Blake Nichelson every time we talk about him? Yes. Is it warranted? Very much so. This kid gets it done in all three phases."
The appreciation is shared by many. Nichelson is one of the state's most recognized players, landing about as many after-season accolades as he had touchdowns. In addition to ours, here is a list of some others:
Adidas All-American
Maxpreps.com SJS Co-Player of the Year
Scorebook Live California All-State Team
Valley Oak League MVP
FrontRowPreps.com Player of the Year
Manteca Bulletin All-Area MVP
KCRA All-Star Team
49ERS Sac High South Fall All-Around Football Player of the Year
Black Hat Football MVP
"I feel like it's great (to be recognized) and to see all my work paying off," Nichelson said. "It's a dream come true to have all those awards and it has been a long time coming for all that stuff, since I was a little kid."
The hype has done little to detriment Nichelson's status as a team player.
_______________________________

CONNECT WITH US:
Follow SportStars on Twitter & Instagram | Like us on Facebook | Subscribe!
_______________________________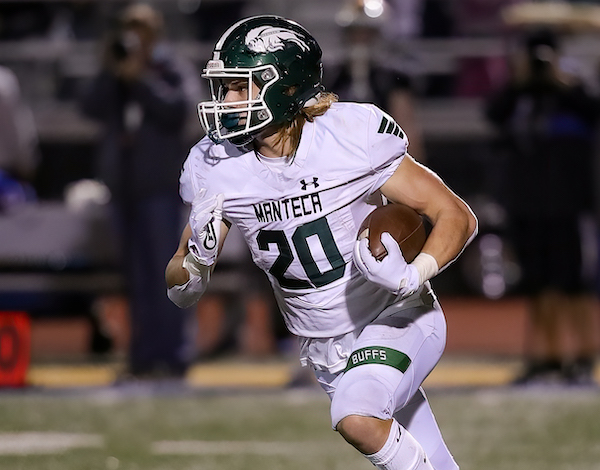 "I think the big thing is, as he got bigger, with more hype, publicity and honors, he became a better teammate, a more humble person and a better leader," Varnum said. "That's not always the case in players, and some get a big head, but he went the other direction and was a great example for everybody as the guy they looked to.
"He was a huge part of our success the past few seasons, and not only what he did individually. His presence raised the level of play on our team, and that will be tough to replace."
"I feel like I never have been the type to act different," Nichelson added. "I keep it the same as it was before recognition, just trying to be a better person and staying humble."
Nichelson will look to stand out when the Polynesian Bowl broadcasts live on the NFL Network Friday at 6 p.m. It's another step on his continuous journey for success with a specific, professional target.
"Making it to the NFL is probably my biggest dream," Nichelson said. "It will take a lot of hard work and dedication, showing up and working out and doing the extra stuff to set me apart from everybody else — separating yourself and being different."
It's why nobody is quite like Blake Nichelson.