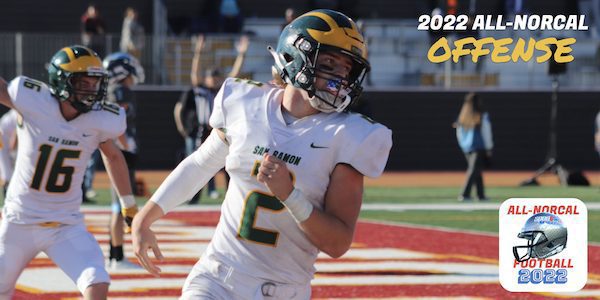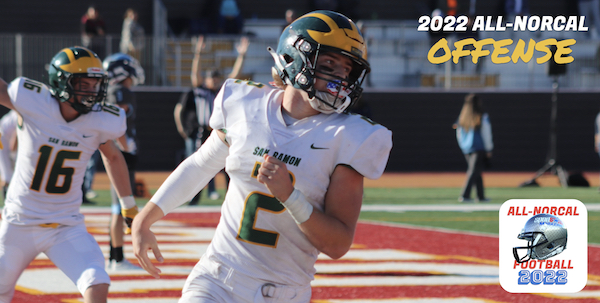 We Want The Ball, And We're Gonna Score — These Are The 27 Players We've Picked As The 2022 SportStars All-NorCal Offense • PICTURED...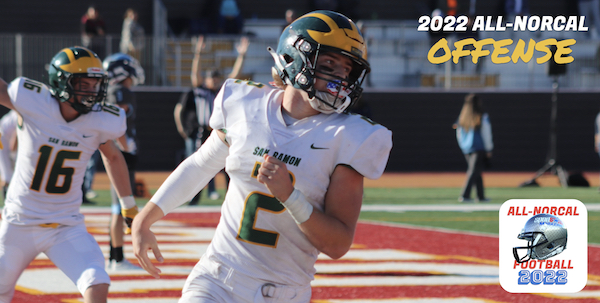 We Want The Ball, And We're Gonna Score — These Are The 27 Players We've Picked As The 2022 SportStars All-NorCal Offense •
PICTURED ABOVE: San Ramon Valley-Danville QB Luke Baker (Chace Bryson photo)
There are no first-teams or second-teams when it comes to the SportStars All-NorCal Team. We build it as one 54-man roster. If you're on the team, you're on the team. And that means these are the 27 players we're sending out to put points on the board — because they were really good at making that happen this season. Here's the 2022 SportStars All-NorCal Offense presented alphabetically within each position.
_______________________________

MORE SPORTSTARS 2022 ALL-NORCAL FOOTBALL:
Coaches Of The Year | NorCal Defensive Player Of The Year | NorCal Offensive Player Of The Year | All-NorCal Defensive Roster | NorCal Player Of The Year | #7FridayNight Podcast Season Finale
_______________________________
QUARTERBACKS
LUKE BAKER (San Ramon Valley-Danville) | Jr.
Considered heavily for NorCal Offensive Player of the Year, Baker shined both as a leader and a playmaker in helping SRV win North Coast Section and CIF NorCal titles. He passed for 3,733 yards and 46 touchdowns, rushed for 237 yards and five more scores, and led two fourth-quarter game-tying drives in the CIF 2-A State Championship bowl game to help the Wolves force overtime.
AUSTIN MACK (Folsom) | Jr.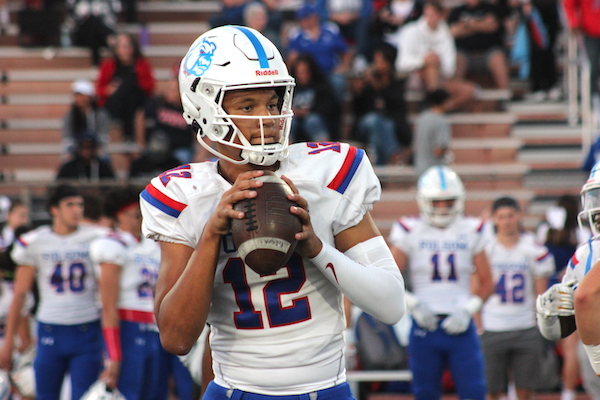 Austin Mack's breakout season was a symphony of efficiency. In leading Folsom to a 12-2 record and Sac-Joaquin Section Div. I title, Mack completed 269 of 382 passes for 3,498 yards with 40 touchdowns and only five interceptions. He saved his best game for the SJS semifinals, completing 34 passes for 460 yards and seven touchdowns in a win over Central Catholic-Modesto.
JOSEPH "JOJO" MCCRAY (Grant-Sacramento) | Sr.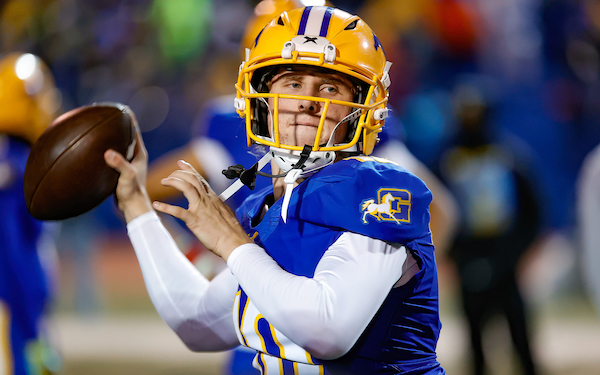 The top passer in the SJS led Grant to a CIF Division 3-AA State Championship just a year after the same program went 0-9. His prowess behind center had a lot to do with it. McCray threw for 4,009 yards and 51 touchdowns and six interceptions. He rushed for eight touchdowns and also had three passing scores in the state bowl game.
JADEN RASHADA (Pittsburg) | Sr.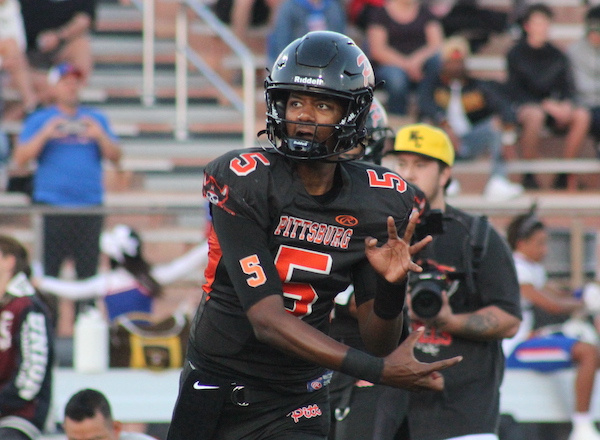 Shouldered the hype and expectations that come with a 5-star recruiting ranking as he helped lead the Pirates to NCS and NorCal titles as well as a trip to the CIF 1-A state bowl game. Passed for 3,055 yards and 32 touchdowns while also rushing for 419 yards and seven TDs.
DASHIELL WEAVER (Campolindo-Moraga) | Sr.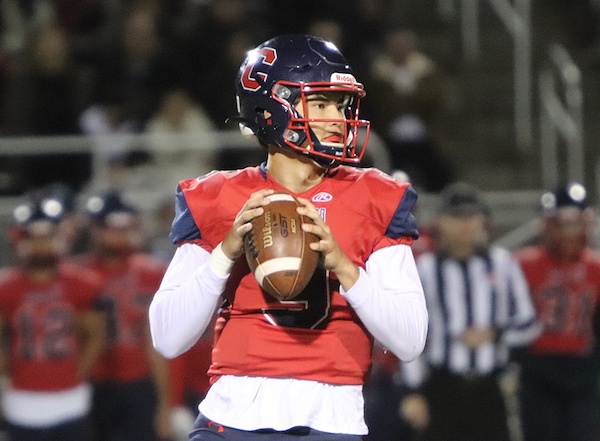 Led the Cougars to a Diablo Athletic League-Foothill title and a trip to the NCS Div. II final by passing for 3,239 yards and 32 touchdowns. He also finished with 543 yards and 11 rushing touchdowns, both team-highs. Delivered his signature effort in epic NCS Div. II semifinal, accounting for all six of his team's scores (4 pass, 2 rush) in a win over Rancho Cotate-Rohnert Park.
RUNNING BACKS
TYLER JACKLICH (Central Catholic-Modesto) | Sr.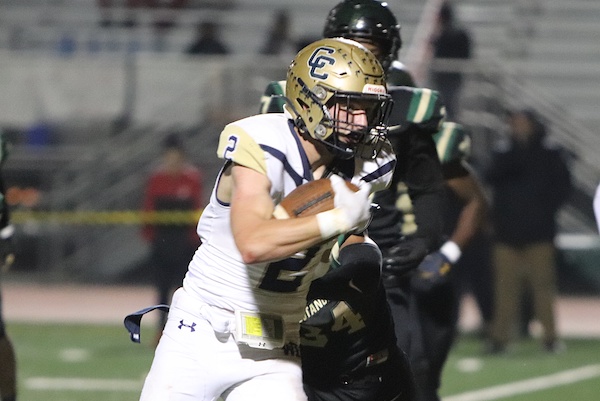 One of the most prolific athletes in NorCal, Jacklich amassed 2,529 all-purpose yards with 30 TDs . He ran for over 150 yards in nine games, including six straight to close the year. Jacklich tagged Folsom for 217 yards and two touchdowns in Central Catholic's season-ending defeat in the SJS semifinals.
RYKER PETERS (Escalon) | Sr.
The hulking fullback led all SJS backs with 2,208 rushing yards and tallied 31 touchdowns in Escalon's 13-3 state bowl championships season. He eclipsed 200 yards five times and averaged over 165 yards across section, NorCal and state bowl championship games. He was named CalHiSports.com's State Small Schools Player of the Year.
DEVON RIVERS (Heritage-Brentwood) | Sr.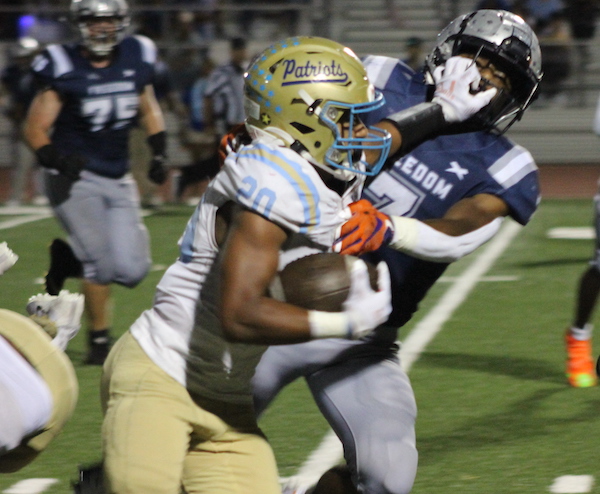 The Fresno State-bound back was No. 1 on any opponent's scouting report, yet still managed to rush for 1,759 yards and 24 touchdowns in a tremendous senior season in which he also had to spend time at quarterback due to injuries.
JAIVIAN THOMAS (McClymonds-Oakland) | Sr.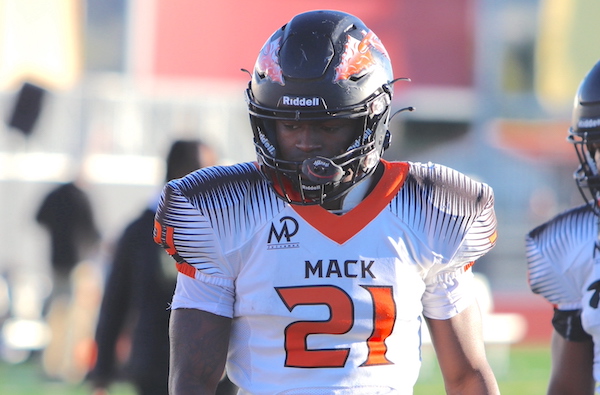 Our NorCal Offensive Player of the Year was one of the most dynamic runners in California. The Cal commit ended the year third in the state among reported stat leaders with 2,528 rushing yards. He also averaged a gaudy 14.53 yards per carry and scored 33 total touchdowns for the OAL champs and CIF state bowl participants.
CHARLES WILLIAMS (Marin Catholic-Kentfield) | Jr.
Marin IJ Offensive Player of the Year could change a game with one run for the NCS Division IV champs. He rushed for 1,239 yards and 23 touchdowns despite often not playing full games due to blowout victories. Williams rushed for 207 yards in a CIF 2-A NorCal playoff loss at San Ramon Valley-Danville.
WIDE RECEIVERS
PHILLIP BELL (Christian Brothers-Sacramento) | So.
Bell's big catches vaulted Christian Brothers deep into the playoffs. He ended the year with 73 grabs for 818 yards and 20 touchdowns, before an SJS finals loss to state-champion Grant. Bell's playoff opener was probably his best work, 11 catches for 151 yards and two touchdowns against Merced.
RICO FLORES JR. (Folsom) | Sr.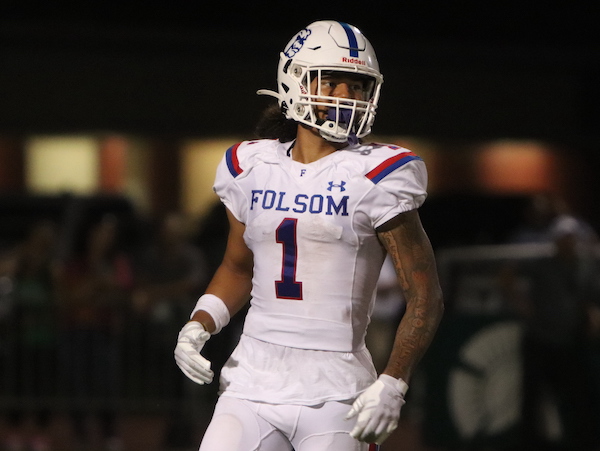 The Notre Dame-bound star receiver ended his prep career with 3,222 yards and 201 catches. He had 72 catches for 1,081 yards and eight scoring grabs in his twilight season. Flores may have made a difference in Folsom's season-ending CIF NorCal playoff loss to De La Salle, but he broke his foot after torching Central Catholic for 118 yards and a score in the SJS semifinals.
JACKSON HARRIS (Berkeley) | Sr.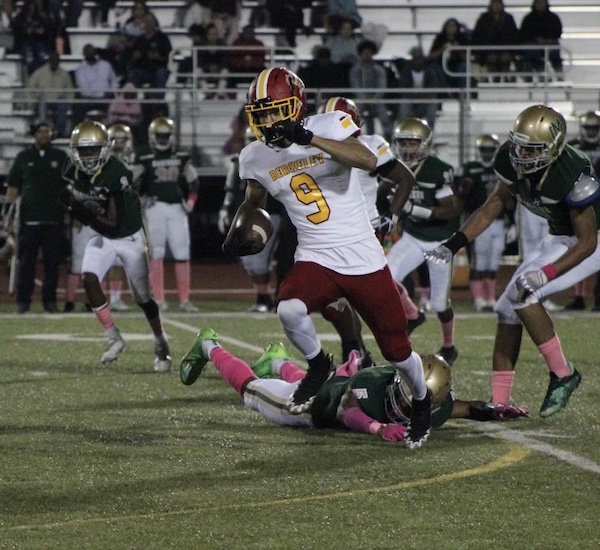 Stanford-bound wideout earned WACC-Mission Offensive Player of the Year honors and helped lead a resurgent group of Yellowjackets to a league title. His 1,492 receiving yards ranked fifth in the state among reported leaders, and he also finished with 73 receptions and 24 touchdowns.
TAESHAUN LYONS (Tennyson-Hayward) | Sr. .
WACC-Foothill Offensive Player of the Year accumulated 1,007 yards and 10 touchdowns through the air for the Lancers. The Washington-bound four-star recruit also displayed his playmaking ability in other ways, adding five rushing touchdowns and two punt return scores.
ROBBIE MASCHERONI (Campolindo-Moraga) | Sr.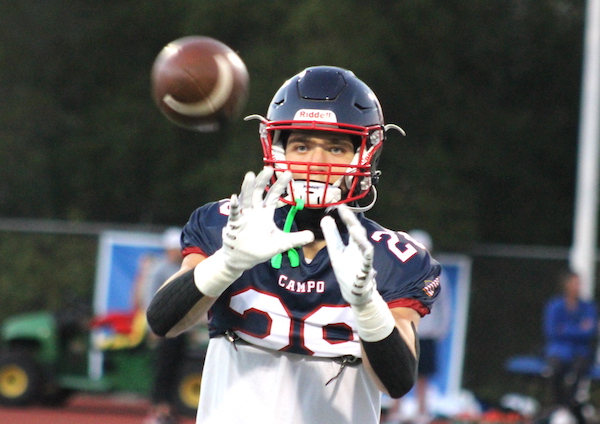 The primary target for a potent Cougars' pass attack racked up 66 receptions, 1,196 yards and 18 touchdowns. Scored at least one touchdown in 11 of Campo's 12 games and had multiple scores six times. Bound for UC Davis.
DANNY SCUDERO (Archbishop Mitty-San Jose) | Sr.
WCAL Player of the Year was a playmaker on both sides of the ball but his biggest offensive contribution came at wideout with 60 catches, 982 yards and 13 touchdowns. He also rushed for 309 yards and three scores. Also a threat in the return game, Scudero accumulated over 1,800 all-purpose yards and finished in the CCS' top 10 in scoring with 118 points.
RASHID WILLIAMS (Pittsburg) | Sr.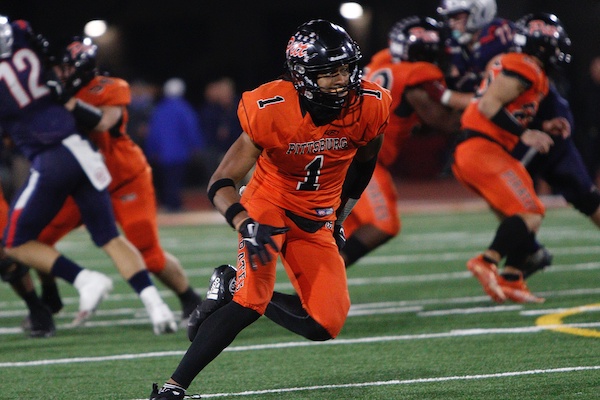 Washington commit wrapped up an unforgettable four-year varsity career by helping the Pirates win the NCS Div. I title and reach the CIF 1-A state bowl game. Stood out even in a receiver room that included multiple D-1 talents, catching 76 passes for 1,087 yards and 12 touchdowns.
TIGHT END
MASON NORBERG (Folsom) | Sr.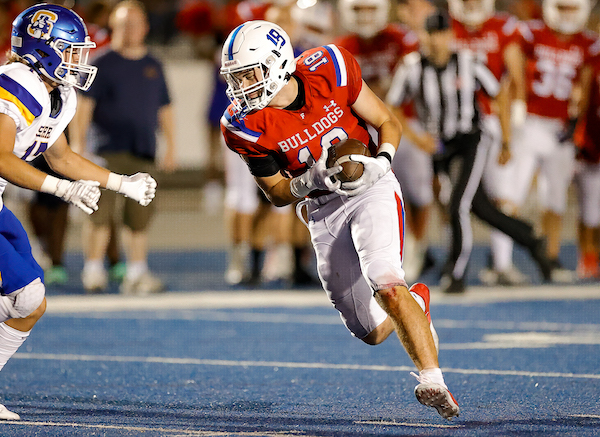 Norberg emerged as the top tight end in Northern California after a shocking season-ending injury to Stanford commit Walker Lyons freed up time in the spotlight. The heavily recruited senior was a blocking wunderkind and also caught 44 balls for 515 yards and eight touchdowns.
OFFENSIVE LINE
OLIVER BARI (St. Francis-Mountain View) | Sr.
Earned WCAL Offensive Lineman of the Year honors as one of the road graders who paved the way for a Lancers ground attack that rushed for 152 yards per game. 6-foot-3, 250-pounder helped St. Francis rush for triple digits in all but one WCAL game.
ZAIRE COLLIER (Granite Bay) | Sr.
The two-way stalwart on Granite Bay's line was a first team All Sierra Foothill League selection and plowed the way to the squad's 9-5 season. That included wins over Inderkum, Downey and Del Oro before an SJS finals loss to Manteca.
RICHARD MCKAY (Clayton Valley-Concord.) | Sr.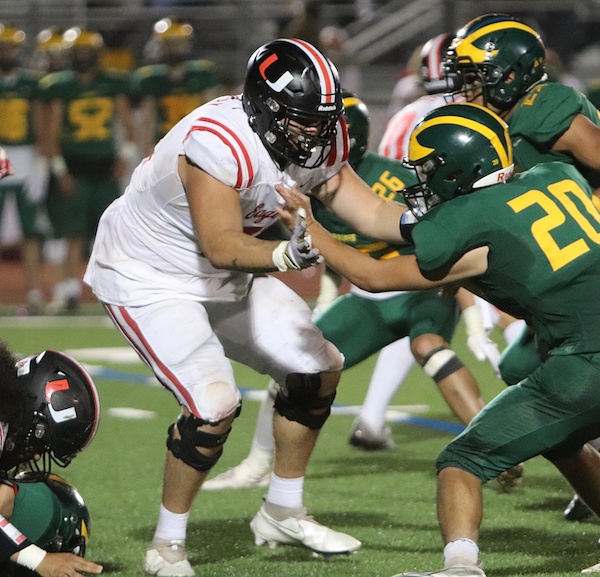 Even as the Ugly Eagles transitioned to a spread attack, McKay continued to epitomize Clayton Valley's hard-nosed approach up front. The 6-foot-7, 280-pounder earned first team All-East Bay Athletic League honors and helped the Uglies win the EBAL-Mountain Division.
ALANI NOA (Grant-Sacramento) | Sr.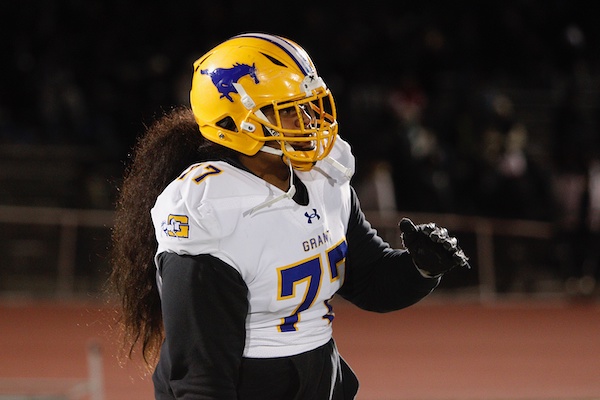 Bound for USC, Noa was considered one of the top recruits in all of Northern California, and for good reason. He has fast hands and feet, hulking size (6-4, 340) and an aggressive motor. He's the second offensive selection on this list for a Grant team that won a CIF 3-AA State Bowl Game over San Jacinto.
SIMIONE PALE (Elk Grove) | Sr.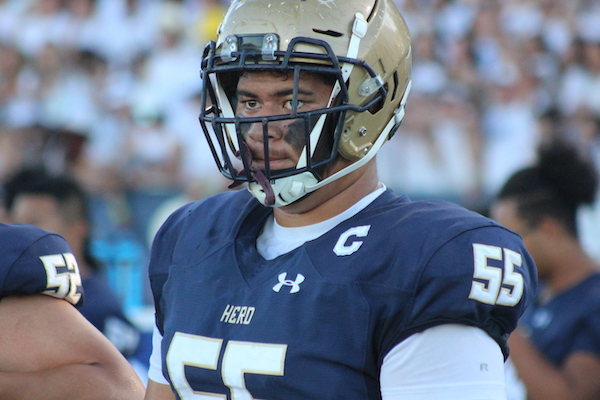 The Stanford commitment should shine at the next level after dominating the prep football trenches. His driving blocks have paved way for Elk Grove to amass a bewildering 7,963 yards of rushing in the past two seasons. He is a rare talent that the Thundering Herd will miss dearly.
COOPER POWERS (De La Salle-Concord) | Sr.
One of the latest to add his name to a long list of Spartan offensive line greats, Powers earned All-East Bay Athletic League first team honors and helped DLS reach the CIF 1-AA bowl game thanks to his physical play and stalwart leadership. Set to continue his career next year at national runner-up TCU.
AMOS TALALELE (Santa Clara) | Sr.
The 6-5, 330-pound behemoth will join Grant's Alani Noa in the fall as part of an impressive incoming class for Lincoln Riley and USC. Before becoming a Trojan, he starred as a Bruin and earned first team All-El Camino League honors on the offensive line in addition to being named Defensive Player of the Year
DEREK THOMPSON (De La Salle-Concord) | Sr.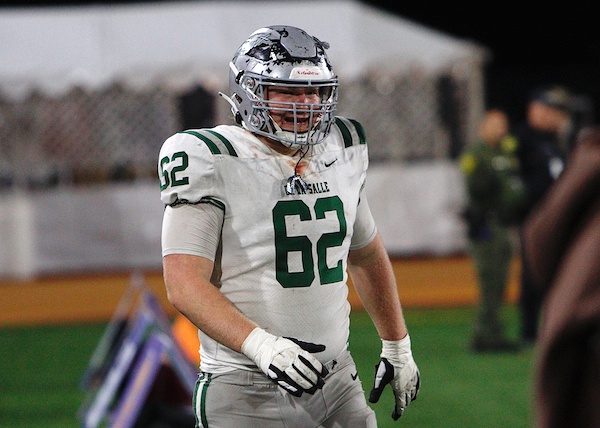 Left every piece of himself on the field and entered De La Salle lore as one of the Spartans' leaders, both on and off the field. Harvard commit displayed his tenacity and strength in helping DLS rush for 3,474 yards on the season and return to a CIF state bowl game.
KICKER
CARSON NICHOLS (Oak Ridge-El Dorado Hills) | Sr.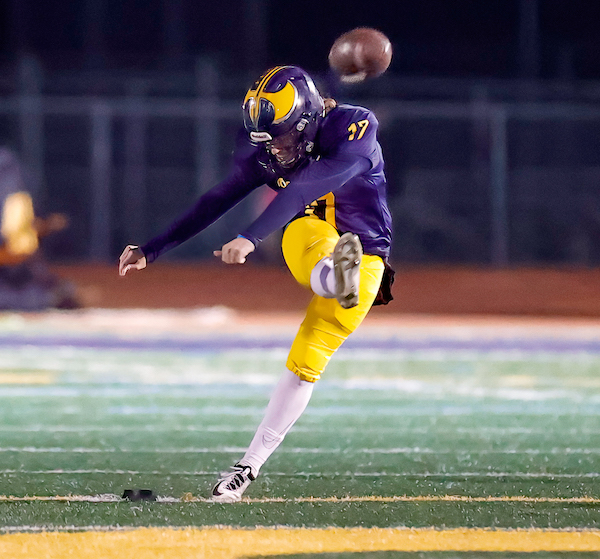 NorCals best kicker was much more than a PAT booter. Nichols finished his career with 18 field goals, and drilled 12 of them during a sensational senior season. His longest, 48 yards, came in an SFL loss to Folsom. He also made a 34-yard field goal in a playoff win over Turlock and his 41-yard make helped Oak Ridge edge Granite Bay, 17-16.