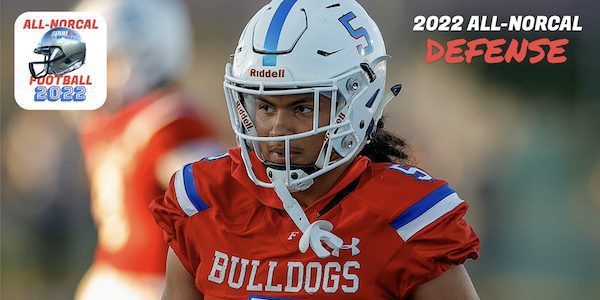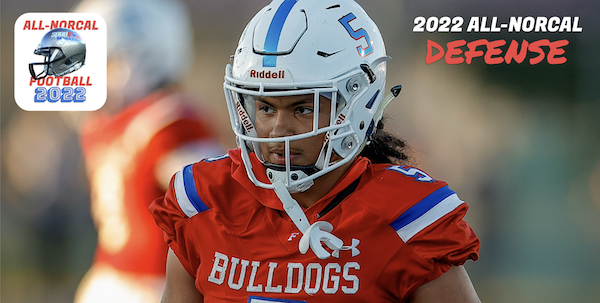 These Are The 27 Guys We're Lining Up Against Any Offense Who Dares — This Is The 2022 SportStars All-NorCal Defense • PICTURED ABOVE:...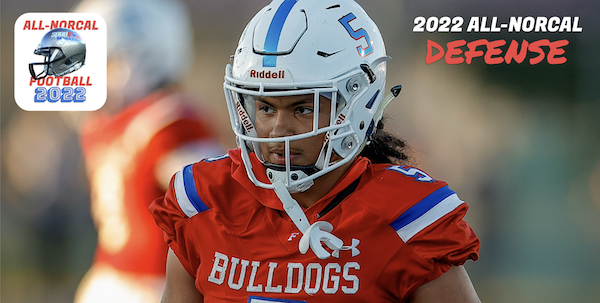 These Are The 27 Guys We're Lining Up Against Any Offense Who Dares — This Is The 2022 SportStars All-NorCal Defense •
PICTURED ABOVE: Folsom Senior DB, Greco Carrillo (David Gershon photo)
There are no first-teams or second-teams when it comes to the SportStars All-NorCal Team. We build it as one 54-man roster. If you're on the team, you're on the team. And the following 27 players are the dudes we're sending out for stops. Come at us! Here's the 2022 SportStars All-NorCal Defense presented alphabetically within each position.
_______________________________

MORE SPORTSTARS 2022 ALL-NORCAL FOOTBALL:
Coaches Of The Year | NorCal Defensive Player Of The Year | NorCal Offensive Player Of The Year | All-NorCal Offensive Roster | NorCal Player Of The Year | #7FridayNight Podcast Season Finale
_______________________________
DEFENSIVE LINE
ASIATA AUCKLAND (Sutter) | Jr.
The Huskies' speed rusher disrupted opponents' passing games, recording 9.5 sacks and 34 QB hurries to go with 84 tackles.
COLLIN BRAY (Placer-Auburn) | Sr.
The 6-foot-3, 240-pound Hillman dominated the trenches recording 10 sacks when he was not leading the way for Placer's vaunted rushing attack.
CONNER DASMANN (Oak Ridge-El Dorado Hills) | Sr.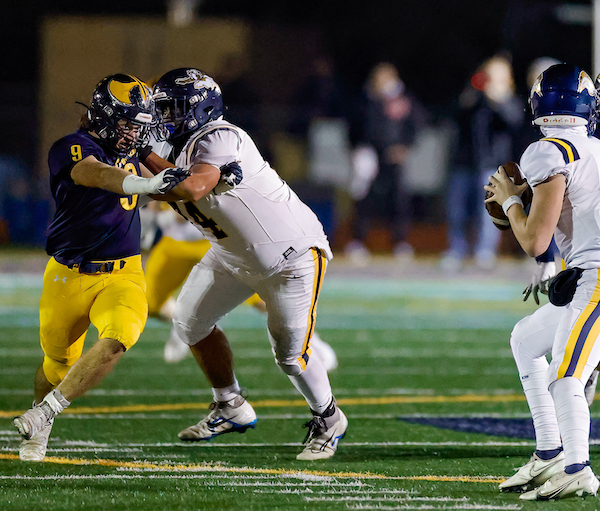 Edge rusher used his speed to record 10.5 sacks and force three fumbles, and added an interception for good measure.
BRADY NASSAR (Amador Valley-Pleasanton) | Sr.
The San Diego State-bound defensive end was a Co-Defensive Most Valuable Player of the East Bay Athletic League's Mountain Division after racking up 58 tackles (19 for loss) with seven sacks.
JAKE PEARCE (San Marin-Novato) | Sr.
An absolute force for the back-to-back CIF State Bowl champions, Pearce was selected to the All-NorCal Defense after recording 83 tackles (34 for loss) with 12 sacks and a whopping EIGHT forced fumbles.
JAE'VON REELS (Bellarmine-San Jose) | Sr.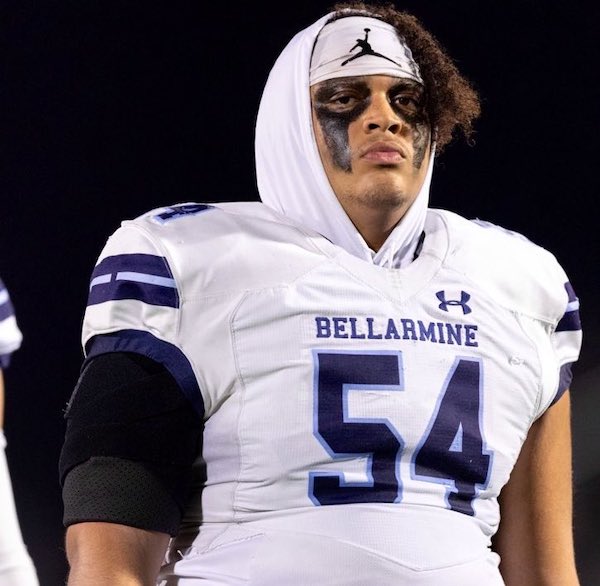 Nearly half of his 63 tackles went for loss, which included 9.5 sacks. The WCAL Defensive Lineman Of The Year was also credited for 10 QB hurries, two forced fumbles and one fumble recovery.
JEWELOUS "JUJU" WALLS (Pittsburg) | So.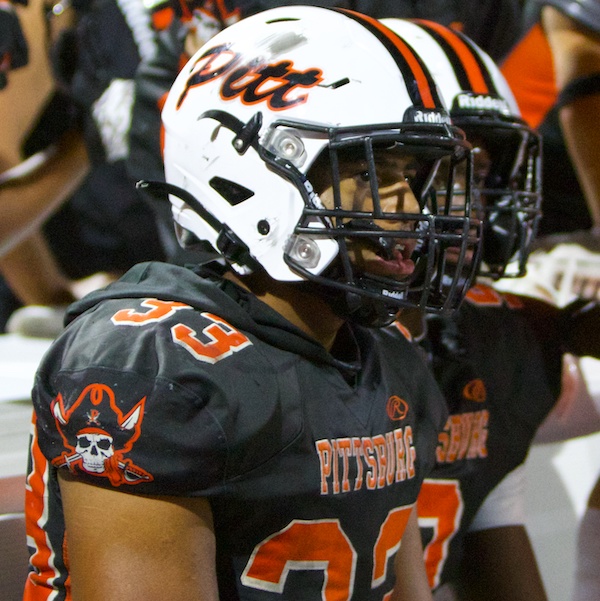 Only a sophomore, Walls was the Pirates' most impactful player down after down. He finished with 99 tackles (25 for loss), a team-best eight sacks, four forced fumbles and two recoveries.
LINEBACKERS
KAINOA ACIA (Del Oro-Loomis) | Sr.
The Golden Eagles' quick outside backer earned All-League honors in the mighty Sierra Foothill League, making 47 tackles and recording six sacks.
WILL CLEMENS (Marin Catholic-Kentfield) | Sr.
Clemens was the Marin County Athletic League Defensive Player of the Year and won the same award region-wide from the Marin Independent Journal. He led the 13-1 Wildcats with 82 tackles and added five sacks.
MARCO JONES (San Ramon Valley-Danville) | So.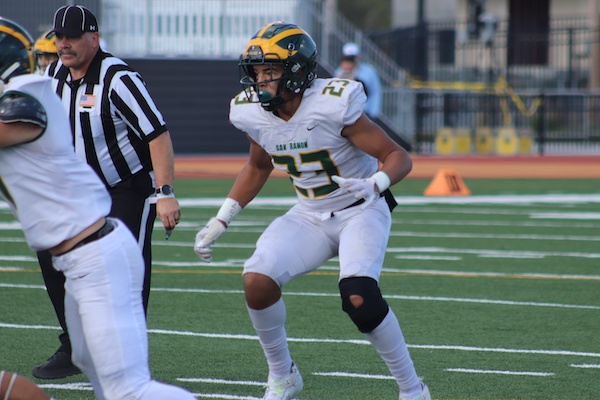 The 6-foot-4, 205-pound linebacker strikes an immediate presence on the field — and that's before he's flying around making one of his 149 tackles or forcing one his five turnovers for the section- and NorCal-champion Wolves.
JABARI MANN (Serra-San Mateo) | Jr.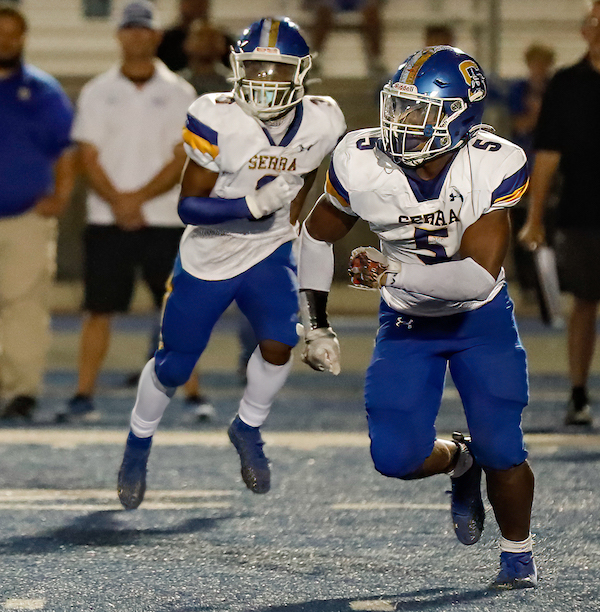 Our NorCal Defensive Player of the Year led the way for a dominant defense that helped pave the way to the CIF Open Division State Bowl Game. Mann had a team-best 87 tackles with five sacks and an INT.
JERRY MIXON JR. (Sacred Heart Cathedral-S.F.) | Sr.
Oregon-bound talent lands on the All-NorCal Defense after leading the Fightin' Irish with 79 tackles while also adding four sacks, two forced fumbles and a blocked field goal. He also contributed over 600 total yards of offense.
NICK AFATO (Yuba City) | Sr.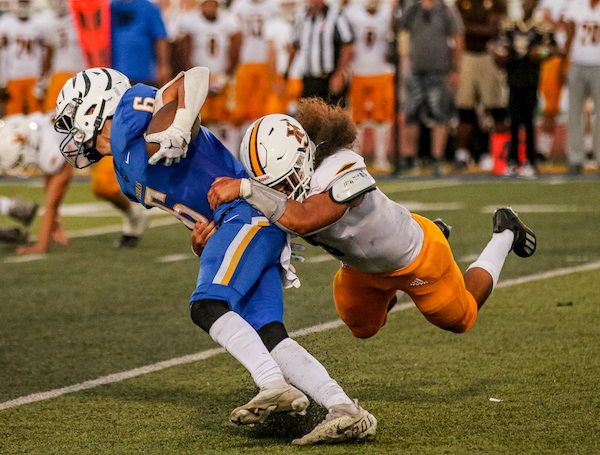 Afato quarterbacked the Honkers' defense with 100 tackles in just 10 games, including 11 tackles for loss, and picked off a pair of passes when he was not throwing them as Yuba City's signal-caller on offense.
SHAY O'KELLY (Sacred Heart Prep-Atherton) | Sr. .
O'Kelly was the leader of a defense that allowed seven points or less in seven of the team's 11 games. The only game in which the Gators allowed more than 14 was a 28-21 loss in the CCS Open Division playoffs. He had a team-best 135 tackles and three fumble recoveries.
DEFENSIVE BACKS
JOSEPH BEY (Serra-San Mateo) | Jr.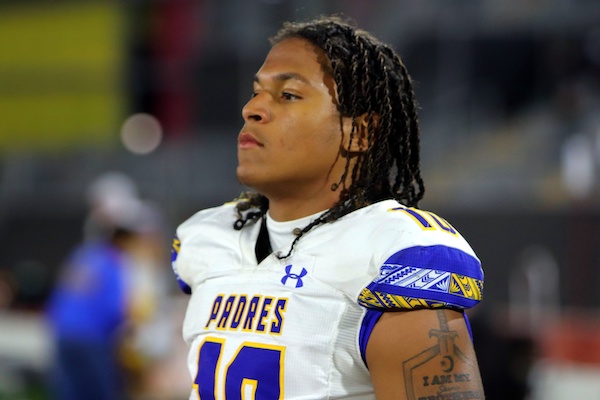 Bey followed up on his stellar sophomore campaign by delivering a junior season that won him West Catholic Athletic League Defensive Back of the Year honors. He was credited with 46 tackles, 20 of them solo.
GRECO CARRILLO (Folsom) | Sr.
San Jose State-bound safety shut down opposing receivers and had three interceptions when teams dared to throw the ball in his direction; recorded 75 tackles for Bulldogs' stout defense and had a scoop-and-score TD in the CIF 1-AA NorCal playoff against De La Salle.
OMARI GAYLES (St. Mary's-Stockton) | Jr.
The Rams' ball-hawking safety grabbed four interceptions and delivered an astounding 96 tackles (72 solo). Gayles also added five fumble recoveries, a forced fumble and four blocked kicks.
JONATHAN GUERRERO (De La Salle-Concord) | Sr.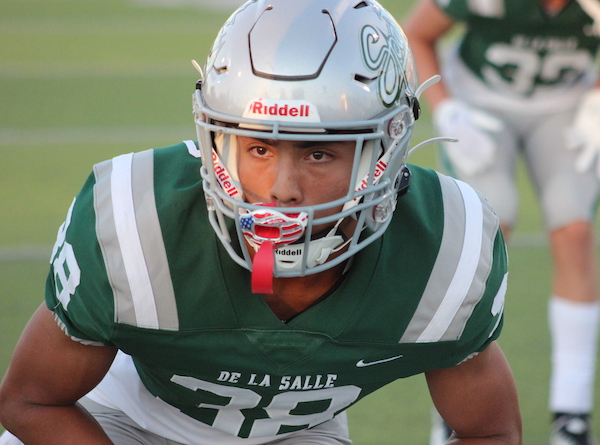 Guerrero was flat-out the most consistent member of the Spartans' secondary. He delivered a team-best seven interceptions, a pick six, a sack and 25 tackles. Guerrero's most impactful interception may have come in the final minute of the half during the CIF Div. 1-AA NorCal final at Folsom.
WARREN SMITH (El Cerrito) | Sr.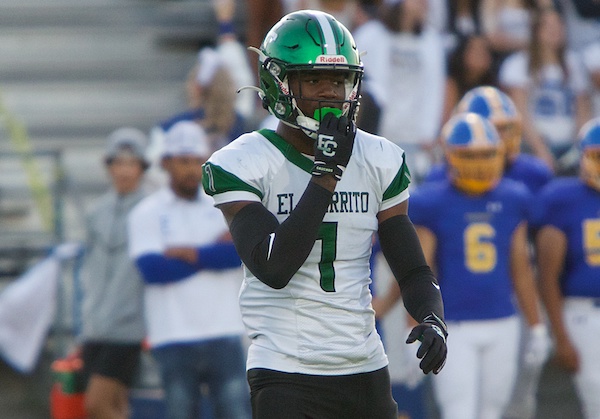 Smith spent time at safety and corner and was often avoided at all costs by opposing passing games. The Washington State-bound talent logged 36 tackles, six pass breakups and a forced fumble. He also had over 800 yards receiving with eight TDs.
SAILASA VADRAWALE (Rancho Cotate-Rohnert Park) | Sr.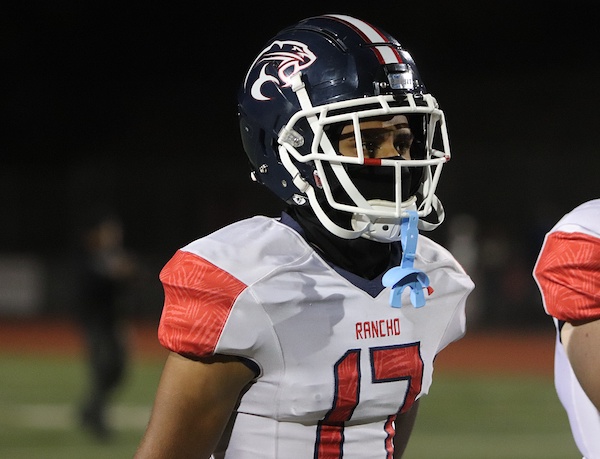 Arguably one of the Bay Area's best two-way players of 2022, the Cal-bound Vadrawale makes the All-NorCal Defense on his defensive back chops alone. He led the Cougars with 75 tackles (37 solo) and added an interception, blocked field goal and a fumble recovery scoop-and-score.
ALL-PURPOSE
GRANT FOSTER (Orland) | Sr.
As a run-first QB for the undefeated (15-0) CIF 5-A CIF State Bowl champions, Foster rushed for 2,082 yards and 32 TDs. He also completed 29 passes for 373 yards and 4 TDs (no INTs). On defense he logged 25 tackles, three interceptions, 1.5 sacks and a fumble recovery.
COOPER FLANAGAN (De La Salle-Concord.) | Sr.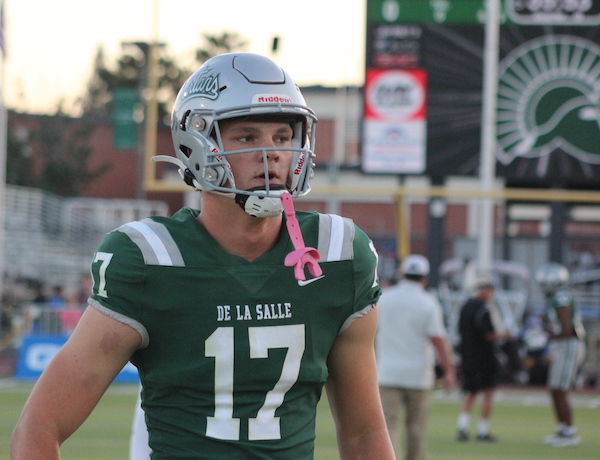 It's safe to wonder if the presence of Flanagan would've helped tip the scales in De La Salle's 33-28 CIF Div. 1-AA State Bowl loss to Lincoln-San Diego. The Notre Dame tight end commit missed both CIF games with an ankle injury. He had 38 tackles (10 for loss) with 3.5 sacks and an interception. He also caught 27 passes for 497 yards and three TDs.
CHRIS LAWSON (Foothill-Pleasanton) | So.
How does a player make his inclusion on this roster an easy choice for us? Being named both the Offensive AND Defensive MVP of one's league is a heckuva way to start. That's what the highly coveted 2025 recruit did this season. Lawson amassed more than 1,000 all-purpose yards with 16 total TDs. He also had 51 tackles with a sack and interception.
FERRARI MILLER (McClymonds-Oakland) | Sr.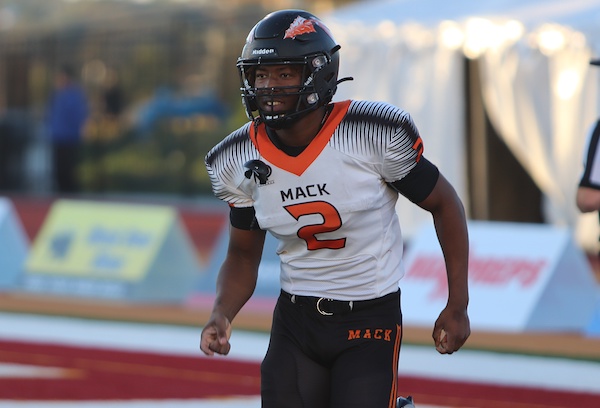 He did a bit of everything for the CIF 2-AA finalists, spending time at QB, RB and safety. He reached 1,073 yards rushing on just 79 carries (more than 14 yards/carry) with 15 TDs. Yes, that's a rushing TD once every 5.2 carries. He also had a pick six in the state championship game.
RL MILLER (Sacred Heart Cathedral-S.F.) | Sr.
Fresno State-bound star's All-NorCal Defense credentials begin with having scored five defensive touchdowns. He returned four of his five interceptions for scores and added a fumble recovery TD. He was also the WCAL Wide Receiver Of The Year with 32 catches for 687 yards and eight scores.
BLAKE NICHELSON (Manteca) | Sr.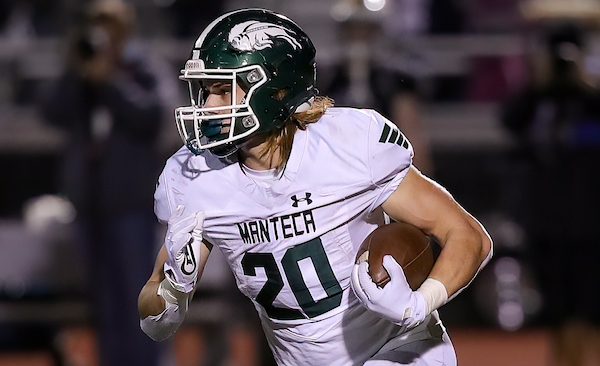 Florida State-bound star amassed 2,541 all-purpose yards and scored 41 offensive touchdowns (27 rushing; 14 receiving). On defense, the bruising linebacker recorded 44 tackles, 4.5 sacks, and an interception. Nichelson also returned two punts for scores to define "all-purpose."
SCOTT NIXON (Sheldon-Sacramento) | Sr.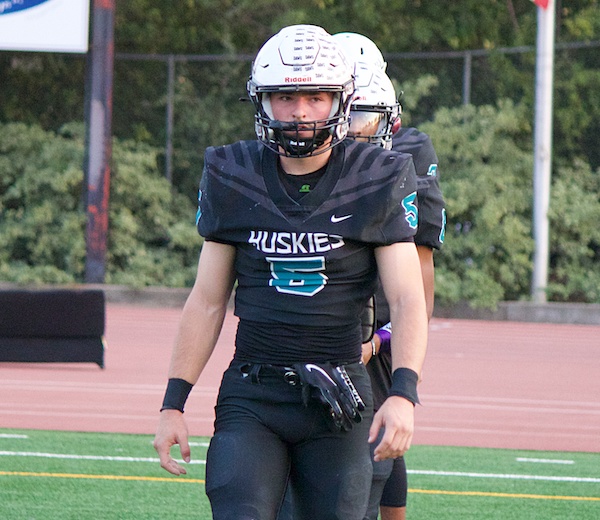 Nixon was a Swiss Army knife on the gridiron eclipsing 2,200 all-purpose yards (1,280 receiving; 858 rushing) and 27 offensive touchdowns. He added 48 tackles and four sacks on defense, and was the Huskies' punter too — he literally never left the field.