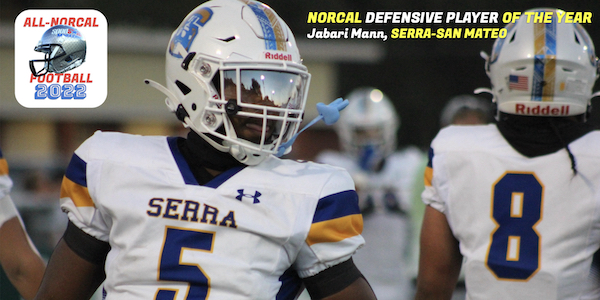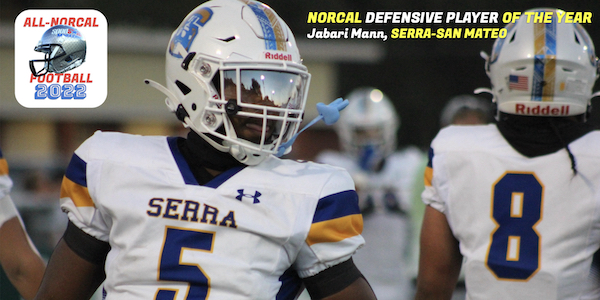 Junior Linebacker Jabari Mann Stood Out Amongst A Very Talented Defensive Huddle For CIF Open Division-Finalist Serra-San Mateo • Patrick Walsh can always rattle...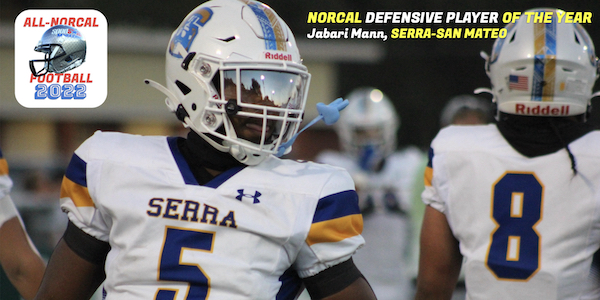 Junior Linebacker Jabari Mann Stood Out Amongst A Very Talented Defensive Huddle For CIF Open Division-Finalist Serra-San Mateo •
Patrick Walsh can always rattle off the measurables and the on-field highlights when asked what type of player Serra High linebacker Jabari Mann is.
But really want to get the Padres' head coach talking?
Ask about Jabari Mann as a person.
"Great person. Super gregarious. Very social. Great sense of humor. Great teammate," Walsh said. "Everything you want in a Serra football player."
Mann thrived as part of a tremendous ensemble cast for Northern California's top team in 2022, helping the Padres reach the California Interscholastic Federation Open Division bowl game without much debate.
That effort, along with his role as one of the major playmakers on a defense for the ages, led to Mann earning recognition as the SportStars 2022 Defensive Player of the Year.
_______________________________

MORE SPORTSTARS 2022 ALL-NORCAL FOOTBALL:
Coaches Of The Year | All-NorCal Defensive Roster | NorCal Offensive Player Of The Year | All-NorCal Offensive Roster | NorCal Player Of The Year | #7FridayNight Podcast Season Finale
_______________________________
Of course, the numbers jump off the page when it comes to Serra's defense. Playing in one of California's toughest leagues, the West Catholic Athletic League, the Padres didn't allow more than seven points in a league contest.
They finished the year 13-1, with wins over Folsom and De La Salle-Concord and the only loss coming at the hands of prospect-laden St. John Bosco-Bellflower in the Open Division bowl.
Mann's role on Serra's dominant defense can be explained statistically just as easily as it can through the intangibles. He led the team with 87 tackles and added 10 tackles for loss along the way. The junior linebacker also tied for team-high honors with five sacks and added one interception.
"He's very instinctual and he's explosive," Walsh said. "Obviously he's got speed. He kind of reminds me of Devin White with the Tampa Bay Buccaneers. He's an amazing athlete but tack on to that that he's got the instincts to play that position and that's what leads to a great 'backer."
As one member of a highly touted junior class, Mann didn't need to be a one-man wrecking crew.
Instead, he displayed his leadership on the field as a playmaker alongside other talented playmakers. Fellow juniors Marley Alapati, Danny Niu and Joseph Bey have also garnered plenty of accolades, and they'll all be back in the fall of 2023 to lead what should be another standout Padres defense.
"What's been interesting this offseason is there's kind of beauty in the eye of the beholder because they're all similar yet unique in their own way," Walsh said. "It's been funny to see the Linebacker of the Year, Player of the Year, Player of the County, it's kind of rotated between all these guys. And, everyone has it right. I don't know if you can say anyone has it wrong because they're all just fantastic players.
"Most importantly for me, they're all great human beings. I think they feed off each other in being humble yet highly competitive playmakers."
_______________________________

CONNECT WITH US:
Follow SportStars on Twitter & Instagram | Like us on Facebook | Subscribe!
_______________________________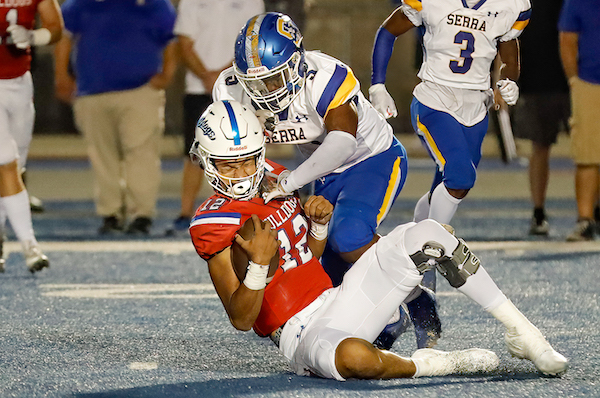 As an incoming senior, there is of course still room for growth when it comes to Mann's development on the field. With offenses at all levels of the game continuing to emphasize the pass, linebackers are tasked with an even greater role in helping to slow down opponents' aerial attacks.
"I think the game has changed so much that 'backers have to cover either really explosive running backs or they might have to exit the box and cover someone in the slot," Walsh said.
"I think he's good at it. I think he's a great pass rusher and great in the run game. This would be the next step for him to become great in the pass game. Not that he's not good, but this is an opportunity for him to be great and show that he can be versatile at the next level where he can play inside the box, out of the box, he can move around."
As the college coaches continue to come calling for Jabari Mann, they'll do so with the knowledge that they're not just getting a playmaker, they're also getting a standout off the field.
"Realistically, the sky is the limit for him," Walsh said. "He's definitely a Division I linebacker and I'm very excited to see where he lands."