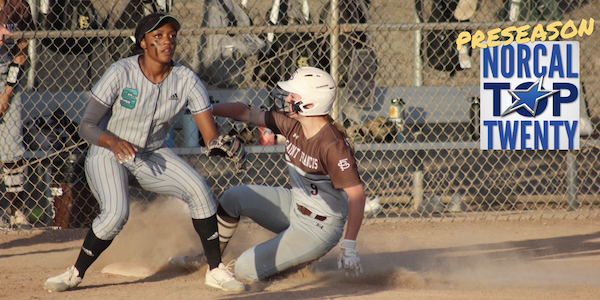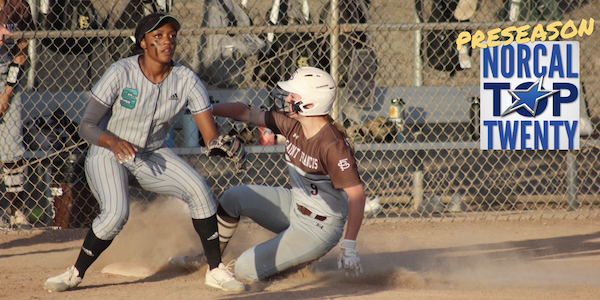 No More Jessica Oakland Or Sydney Stewart, But St. Francis-Mountain View Will Top Preseason NorCal Softball Rankings Nonetheless • PICTURED ABOVE: Lexi O'Gorman Of...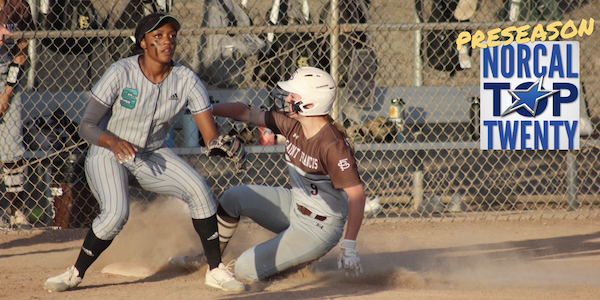 No More Jessica Oakland Or Sydney Stewart, But St. Francis-Mountain View Will Top Preseason NorCal Softball Rankings Nonetheless •
PICTURED ABOVE: Lexi O'Gorman Of No. 1 St. Francis Slides Safety Into Third Base During A Livermore Stampede Semifinal With No. 4 Sheldon-Sacramento Last April. (Chace Bryson photo)
As things transition from scrimmage to nonleague games during the last week of February, here's our take on Preseason NorCal Softball Rankings. Our first in-season rankings will come on March 8.
1. ST. FRANCIS-MOUNTAIN VIEW (31-2 last season)
Anyone who thought the defending CIF Div. I NorCal champion (and CalHiSports.com's 2022 State Team Of The Year) was going to skip a beat after graduating NorCal and State Player Of The Year, Jessica Oakland, was bound to be disappointed. In fact, Oakland only ranked third on the Lancers in hits last season. The two who finished above her — Lexi O'Gorman and Chloe Cummings — were both juniors. 
O'Gorman had 55 hits and 48 runs scored on her way to being a SportStars All-NorCal Outfield selection. Cummings had 54 hits, scored 44 runs and added 20 RBI. She's also part of a three-person pitching staff that returns in its entirety. Cummings, Kate Munnerlyn and Shannon Keighran combined to post a 1.04 ERA and strike out 262 batters over 195 innings. Munnerlyn and Keighran shouldered most of the load. 
The graduations of Oakland (now at Minnesota), Sydney Stewart (Washington) and Brooke Deppiesse (Boston University) did subtract significantly from the team's power and run-production numbers. Those three alone combined for 40 HR, 10 triples, 30 doubles and 156 RBI. That's a lot of production to make up for. Keighran will have a chance to expand on her six HR and 25 RBI from last season, but others will need to step up when O'Gorman and Cummings get on base.
Another 31-2 campaign might be a lot to ask for, but this program is still the region's best until another NorCal team proves otherwise. 
_______________________________

CONNECT WITH US:
Follow SportStars on Twitter & Instagram | Like us on Facebook | Subscribe!
_______________________________
2. GRANADA-LIVERMORE (26-5)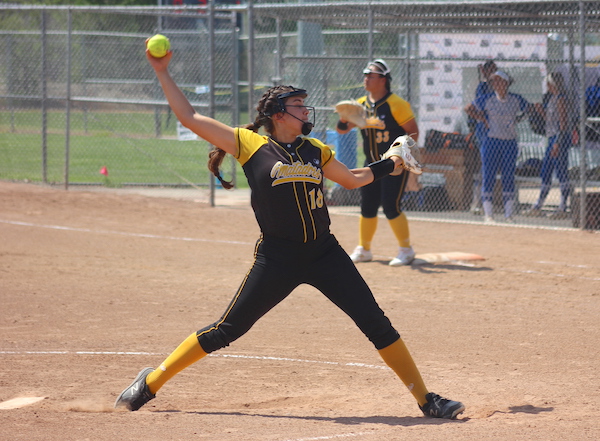 The Matadors are coming off one of the program's most successful seasons ever. Granada won 26 games, claimed the Livermore Stampede tournament title for just the second time (from a field that included No. 1 St. Francis and No. 3 Mitty) and reached the NCS Division I final for the first time. The championship game didn't go as they'd hoped (8-0 loss to Heritage-Brentwood), but there are several players returning and hoping for a do-over. Coach Johnny Heinz has seven of his top nine hitters back from 2022, including power-hitting sophomore first baseman Delaney Aumua (10 HR, 33 RBI last season) and junior catcher Saskia Raab (41 hits, 17 doubles, 26 RBI). Pitcher Alex Mello also returns to the circle where she went 9-0 with a 1.93 ERA last season. 
3. ARCHBISHOP MITTY-SAN JOSE (26-5)
Oklahoma-committed junior Corri Hicks (13 HR, 43 RBI last season) will lead a Monarchs team which starts 2023 in the same spot it finished 2022. Hicks is one of four key returning hitters, which also includes junior Mira Rodriguez (San Diego State) who had 37 hits and 36 runs scored. Of Mitty's five losses last season, three came at the hands of West Catholic Athletic League foil, No. 1 St. Francis. Ava Markert (7-0, 0.66 ERA) is the one returning pitcher of three who split the share of innings a year ago.     
4. SHELDON-SACRAMENTO (28-6)
We know that graduation took a toll on the Huskies team that was the lone NorCal squad to beat No. 1 St. Francis last season. We're still listing Sheldon as the top team from the Sac-Joaquin Section because we're just fine banking on the pedigree of Mary Jo Truesdale's program and its ability to reload. The cupboard certainly isn't bare, either. The Huskies success will start with their Jaylee Battery of catcher Jaylee Marshall and pitcher Jaylee Ojo.  
5. HERITAGE-BRENTWOOD (23-4-1)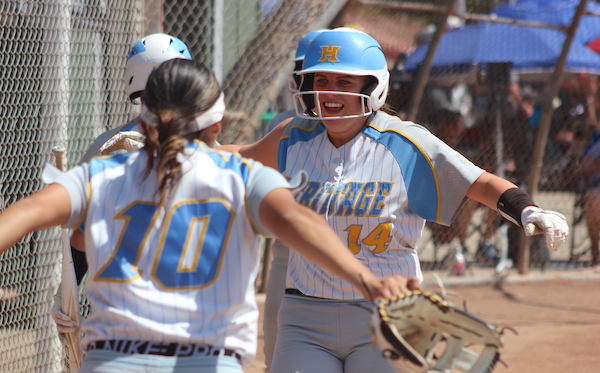 The defending NCS Div. I champions return plenty of firepower in the batter's box, as four of their top five hitters are back. They'll be led by Saint Mary's-bound first baseman Alex Cutonilli, who had 40 hits in 2022 with half of them going for extra bases (including 6 HR). Mikaela Mortimer and Skylar Stroh each tallied more than 30 hits and combined to score 56 runs. The Patriots big task will be replacing graduated pitcher Kasey Aguinaga.
6. CENTRAL CATHOLIC-MODESTO (27-5)
If No. 4 Sheldon gets off to a slow start, the Raiders may be ready and willing to take over the mantle of top team in the SJS. For Central Catholic, it all starts with Randi Roelling. The Cal-bound dual threat struck out 418 batters in just 183 innings last season. She also had six HR and 26 RBI. Jazmarie Roberts and Emorie Machado will be big contributors also.
7. NOTRE DAME-SALINAS (21-8)
Sammy Rey and Addison Amaral are as good a 1-2 offensive punch as any and lead a Spirits lineup featuring five of its top eight hitters from a season ago. Rey is a Central Florida signed senior who batted .577 with eight HR in 2022. Amaral is a junior Notre Dame commit who batted .418 last spring. 
8. OAKDALE (25-3)
Senior two-way, Mississippi State-bound star Delainey Everett is a big reason why Oakdale vs. Central Catholic will be appointment viewing in the Valley Oak League this year. Everett had six HR, 16 doubles and 35 RBI last season while also holding a 0.47 ERA in the circle. Juniors Bailey Peterson, Presley Barnes and Raegan Everett are also back after strong sophomore seasons. 
9. BENICIA (24-7)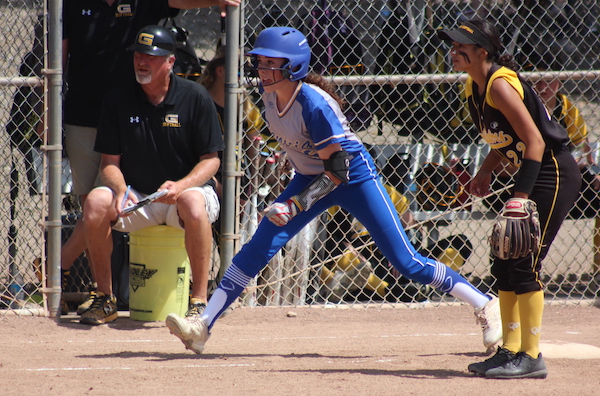 The NCS Div. II defending champions have a number of pieces back from their title squad. There's sophomore shortstop Emma French (44 hits and a team-leading 40 RBI last season), outfielder Kyra Mason (46 hits, 26 RBI) and pitcher/slugger Braxton Brown (6 HR, 23 RBI, 20-game winner)
10. SAN RAMON VALLEY-DANVILLE (18-9)
Playing in the East Bay Athletic League is hard enough. Try doing it without a single senior on the roster. The 2022 Wolves did just that and nearly won 20 games. Now an experienced, battle-tested group is ready to run it back. Two-way star Paige McLeod and speedy sophomore Sophia Jin are names to note. 
11. EAST NICOLAUS (29-3)
We're starting the Spartans six spots higher than where they finished in last year's final Top 20. That's because they graduated just two players from that 29-win team and they return the pitching duo of Meika Lauppe and Danni Farris. The two combined to go 28-1 with 341 strikeouts (and just 24 walks) in 166 innings pitched last season.
12. ELK GROVE (21-7-1)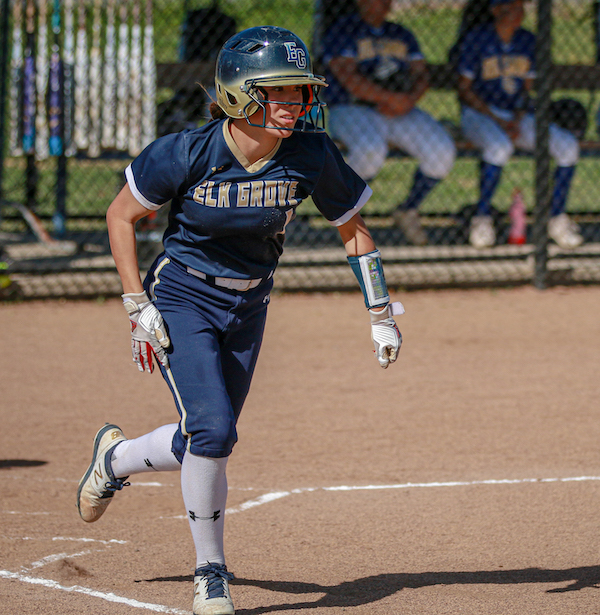 The early graduation of would-be starting pitcher Aissa Silva was a big blow for sure. However, the 2022 Thundering Herd were a team that was still powered mostly by underclassmen. Taylor Fitzgerald led them with 37 hits as a sophomore. Seniors Addy Buckley (29 hits, 21 runs) and Brooke Hanson (28 hits, 18 RBI) lead at last five other quality returning hitters. Junior Madison Carda likely takes over in the circle.
13. ARAGON-SAN MATEO (18-6)
Aragon is another team where one can get hung up on who's not there anymore (Megan Grant and Olivia DiNardo) rather than who is. Quite honestly, it's most of the 2022 roster. Senior Brooke Tran and juniors Janelle Lee and Rae D'Amato each had 30+ hits last season. Tran and D'Amato shared pitching duties as well.
14. VISTA DEL LAGO-FOLSOM (24-5-1)
The Eagles have got some pop. Vista returns at least six players who finished 2022 with double-digit RBI totals. Charlize Cai hit .486 with 26 RBI while also sharing pitching duties with Olivia Manchester (who also returns). Morgan Sweet is back after hitting 8 HR and collecting 31 RBI.
15. MARIN CATHOLIC-KENTFIELD (22-4)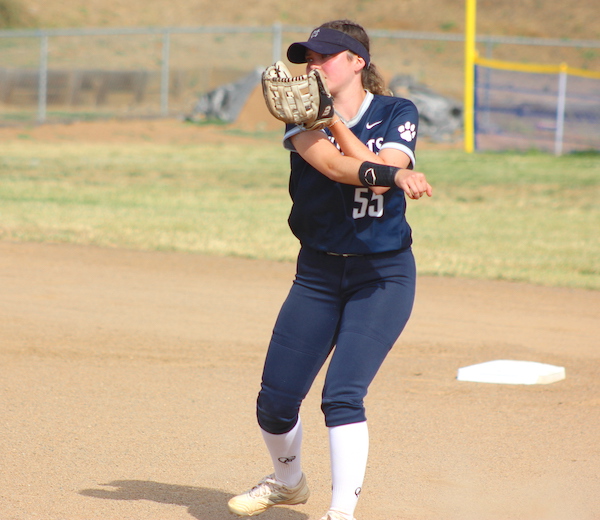 Seniors Sammy Horn (Boston College) and Lauren Osheroff return to anchor the middle IF and lead the offense. There's a ton of talented youth on this roster, some of which started as freshmen a year ago and helped the Wildcats to a NCS Div. II runner-up finish.
16. LIVERMORE (24-4-1)
As with many of the teams in the last quarter of these rankings, the Cowboys face a question mark in the circle after losing Taylor Rodriguez. The offense should be just fine though behind junior Jae Cosgriff (33 hits, 33 runs, 4 HR, 21 RBI) and senior Alizabeth Ruiz (32 hits, 22 RBI.)
17. LOS GATOS (22-4)
The Wildcats were a Central Coast Section Open Division playoff team a year ago, and welcome back star two-way player Anna Bean. She carried a 1.05 ERA in the circle and powered the lineup with nine homers.
18. SUTTER (31-1)
Last year's CIF NorCal Div. III champion begins a new era in 2023 with its move to the SJS. The Huskies bring plenty of firepower to the Pioneer Valley League, including at least four players who had 30 or more hits last season. Junior Olivia Bauer (3-0, 0.41 ERA, 25 strikeouts in 17 innings) takes over in the circle.
19. SAN RAFAEL (24-6)
Thomara Drummer (48 hits, 17 doubles, 35 RBI) and Sophia Everett (47 hits, 44 runs, 5 HR, 28 RBI) return in 2023. They posted those numbers as freshmen last season, leading the Bulldogs to an NCS Div. III title. Drummer pitches too (1.08 ERA).
20. PINOLE VALLEY (24-3-1)
The Spartans' season ended in a 3-1 playoff loss to San Rafael. The four senior leaders on this team — Aneesa Brewer, Kailani Tatro, Melina Mendoza and Vanessas Castaneda — would love another crack at the Bulldogs.