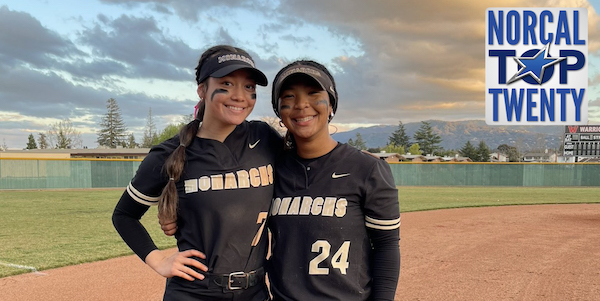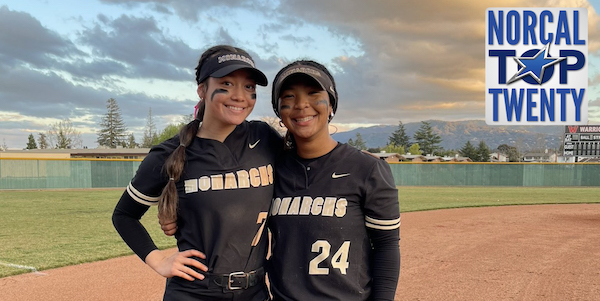 It's St. Francis And Mitty Together At The Top Of The NorCal Softball Rankings. Stop Us If You've Heard This One Before • NorCal...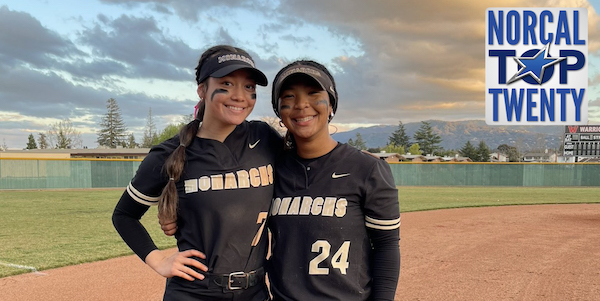 It's St. Francis And Mitty Together At The Top Of The NorCal Softball Rankings. Stop Us If You've Heard This One Before •
NorCal Softball Rankings
All records are through Monday, March 21 (via MaxPreps). Previous rank is in parenthesis.
PICTURED ABOVE: Keira Brady, Left, And Alyssa Onyeagwa Of No. 2 Mitty-San Jose. (Archbishop Mitty Softball photo/Twitter)
1. (1)  St. Francis-Mountain View   3-0
2. (3)  Archbishop Mitty-San Jose   4-0
3. (2)  Granada-Livermore   5-1
4. (4)  Central Catholic-Modesto   6-1
5. (5)  Oakdale   4-2
6. (6)  Benicia   1-0
7. (8)  Heritage-Brentwood   2-1
8. (9)  San Ramon Valley-Danville   4-0
9. (17)  Foothill-Pleasanton   6-0
10. (NR)  Hollister   9-1
11. (11)  East Nicolaus  4-0
12. (7)  Notre Dame-Salinas   4-2
13. (13)  Vista del Lago-Folsom  3-0
14. (NR)  Granite Bay  5-1
15. (15)  Sutter   4-0
16. (16)  College Park-Pleasant Hill   2-0
17. (10)  Del Oro-Loomis   2-1
18. (18)  Pinole Valley   9-0
19. (19) Whitney-Rocklin   2-0
20. (12)  Sheldon-Sacramento   1-2
DROPPED OUT:
No. 14 Marin Catholic-Kentfield and No. 20 Dixon.
5 TEAMS KNOCKING:
21. Livermore (4-2), 22. Ponderosa-Shingle Springs (3-1), 23. Oak Ridge-El Dorado Hills (4-2), 24. Folsom (3-1) and 25. Sacred Heart Cathedral-S.F. (7-0).
AROUND THE HORN
It took less than a month and we've got West Catholic Athletic League rivals St. Francis-Mountain View and Mitty-San Jose alone at the top of the rankings again. Just like old times.
Mitty was able to rise up to the second spot after preseason No. 2 Granada was upset 13-7 in an East Bay Athletic League contest with previous No. 17 Foothill-Pleasanton. The win shot the presently undefeated Falcons up eight spots and into the Top 10. Meanwhile, Granada — which has beaten its other five opponents by a combined score of 40-1 — dropped only one spot with the loss.
_______________________________
CONNECT WITH US:
Follow SportStars on Twitter & Instagram | Like us on Facebook | Subscribe!
_______________________________
Also rocketing into the Top 10 was previously unranked Hollister. The Haybalers went 5-0 last week, which included a win over then-No. 7 Notre Dame-Salinas. Hollister remains unbeaten against NorCal opponents with its lone loss coming against Foothill-Santa Ana. The Balers had a game scheduled with Mitty for March 21 that was undoubtedly rained out. Hopefully it can be rescheduled.
Granite Bay is the other new team to crash the rankings this week. The Grizzlies debut at No. 14 with a win over an Oak Ridge-El Dorado Hills team that upset previous No. 10 Del Oro-Loomis last week. Granite Bay's lone loss came in a 2-1 defeat to No. 11 East Nicolaus. Del Oro's loss to Oak Ridge dropped it seven spots to No. 17.
Sheldon, which has losses to both Del Oro and Oak Ridge, still slid eight more spots even though it didn't play last week. The Huskies had to move down as others needed to move up. With no ranked opponents on the schedule for the rest of this month, Sheldon likely won't have a chance to play its way back up until the Livermore Stampede tournament that begins April 6.