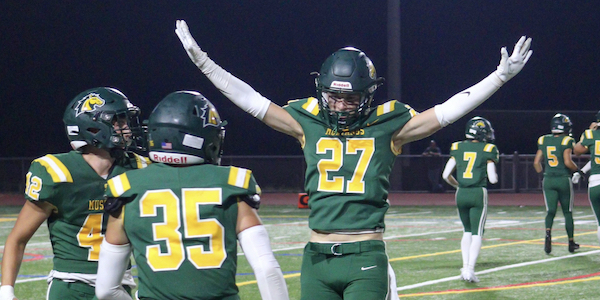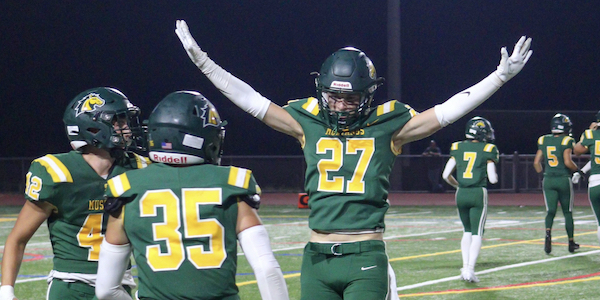 San Marin Football Knows That Winning Section & State Bowl Titles Is A Step-By-Step Process — And The Mustangs Cleared A Big First Step...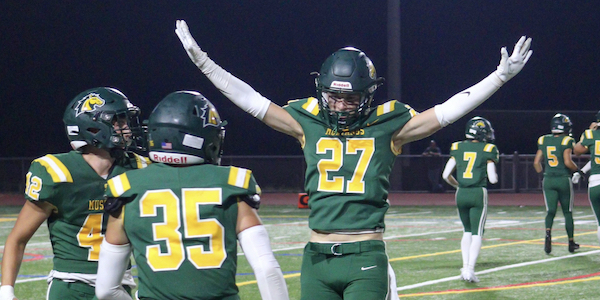 San Marin Football Knows That Winning Section & State Bowl Titles Is A Step-By-Step Process — And The Mustangs Cleared A Big First Step
PICTURED ABOVE: Brady Houlahan (27) Celebrates One Of His Two Interceptions With Teammates. (Ben Enos photos)
Step one.
That was the message San Marin Football head coach Dominic Dimare left his team with as it celebrated a season-opening 27-20 win over visiting Acalanes-Lafayette on its home field in Novato. The victory represents the first step forward in what the Mustangs hope is a season that lasts well into December.
Dimare and the Mustangs are in it for the long haul. But, just how big a deal could a win over a fellow North Coast Section Division 4 heavyweight be?
Some steps carry you further than others.
A chilly August evening in Novato figured to feature two of the most prolific offenses in the Bay Area, but as is often the case, it was a series of big plays on defense that made perhaps the biggest difference and offered a glimpse into what appears to be a bright future for the two-time defending California Interscholastic Federation bowl-champion Mustangs.
San Marin's returning firepower on offense garnered its share of notice entering the 2023 season with good reason. Quarterback Dominic Ingrassia returns as one of Northern California's top passers with a host of talented receivers, and the backfield duo of Charlie Singleton and Jonah Lozano could be one of the region's top 1-2 punches on the ground.
But facing an Acalanes squad featuring highly recruited prospects Trevor Rogers and Paul Kuhner at receiver, the San Marin defense faced its first test right out of the gate.
Senior defensive back Brady Houlahan provided the first indication that the Mustangs defensive backfield was up to the task, grabbing an interception that left San Marin up 3-0 after one quarter.
After Acalanes climbed into a 14-10 lead by halftime, San Marin used a 3-yard touchdown run by Lozano and a 17-yard run by Ingrassia to take a 24-14 lead. At the same time, the Dons' offensive approach shifted, and the speed of Kuhner began to emerge as a potentially game-changing weapon.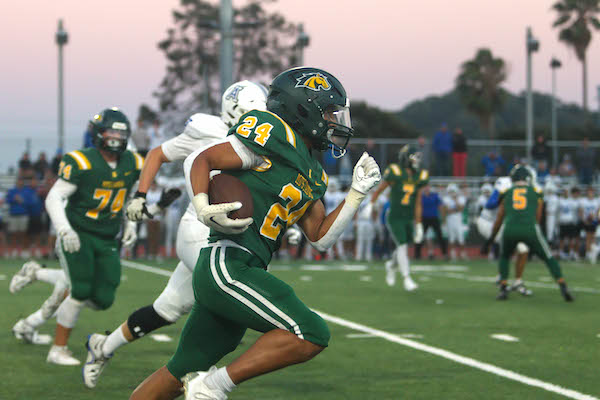 A 26-yard touchdown pass from Sully Bailey to Kuhner brought Acalanes to within four points with just over 10 minutes left, and after a 31-yard field goal by San Marin's Lars Rau, the Dons trailed by only one score.
_______________________________

CONNECT WITH US:
Follow SportStars on Twitter & Instagram | Like us on Facebook | Subscribe!
_______________________________
That's when the Mustangs' defense showed its nerve. When another deep attempt to Kuhner fell a little short, Houlahan was waiting to grab his second interception with under four minutes left. Acalanes would ultimately get the ball back twice more, but on those drives San Marin allowed the Dons to complete just two of 11 pass attempts, ending any attempt at a comeback.
"It shows a lot. Last year, we had trouble with (Acalanes),," Houlahan said. "This year, coming back and knowing that we need to accomplish what we did, that was a big factor for our defense. It was a weak point and now I think it's a strong point."
Houlahan stood out in part because of the scheme Dimare and the Mustangs chose to employ. In committing a double team to the Cal-bound Rogers, Houlahan drew the late-game assignment on the track star, Kuhner.
"Our base defense is a four-man front," Dimare said. "We went to a three-man front, kept five in the box and put six in coverage. We challenged them to run the ball, we double covered their best receiver going to Cal, and it worked."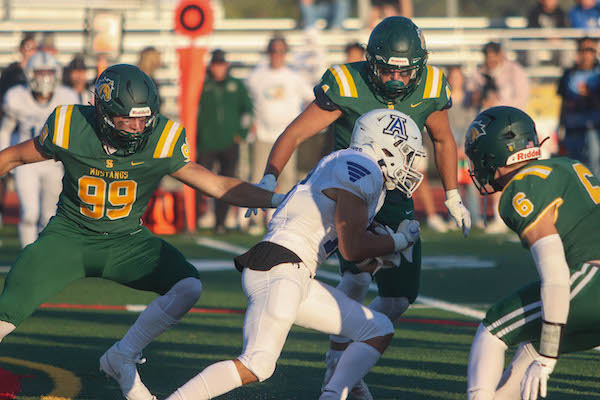 Ingrassia and the Mustangs offense also showed why they are so highly regarded. The 6-foot-3 signal-caller passed for 240 yards, threw for a touchdown and ran for another. An ankle injury sidelined Singleton in the first quarter, so Lozano took over and scored a key second-half touchdown. And Rau, playing his first varsity football game, nailed field goals of 40 and 31 yards.
For a group of seniors that began their junior season a year ago with a loss to these same Dons, the win carried a bit of extra significance.
"It's so important to play a good team first because it just sets the tone for the rest of the year," Ingrassia said. "Last year, we always said 'make that Acalanes loss the most important thing that happened to us all year' and we ended up winning the state championship. It's unreal playing a team like this because we're not going to see teams better than this. I'm sure we'll see them again."
Nobody in Novato is interested in making grand declarations about potential future matchups with the Dons. There's too much football ahead to put any sort of focus on the postseason. That reality begins immediately, as a trip to perennial Northern Section power Foothill-Palo Cedro awaits in week two.
But if things break right for the Mustangs this season and they do end up in the NCS title hunt, they fully expect the Dons to be waiting for a rematch come season's end.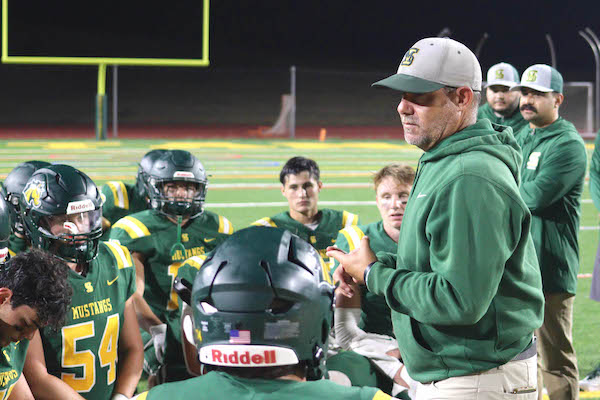 "​​Acalanes is going to win their games. That's a great football team. My hat's off to them," Dimare said. "I think it shows what kind of team we have. We're pretty deep, and barring injuries and (with) a lot of luck, we'll see them again in the playoffs."
In the meantime, the Mustangs will keep their focus trained on moving forward.
One step at a time.