4x State Medalist Caleb Flores Takes Reigns at Vanguard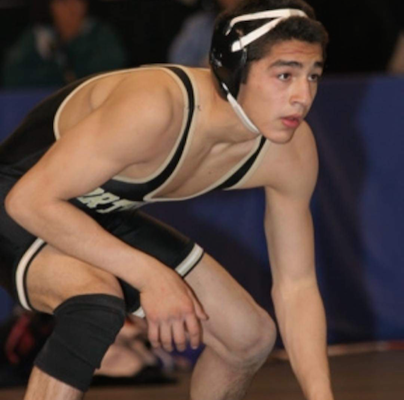 (Q&A) With New Vanguard University Head Coach Caleb Flores
This decade, the Golden State of California has experienced an increase of wrestling opportunities on the collegiate level, and specifically with programs in the NAIA Division. At the beginning of the new Millennium, we witnessed the fielding of Menlo College and not long after Cal Baptist University, which is now in transition to becoming an NCAA Division I program. More recently, Simpson University in Redding, and Life Pacific in San Dimas fielded programs. In short order these have made an impact on the NAIA scene with several wrestlers earning All-American honors. Enter 4x State Medalist Caleb Flores.
_______________________________
GET CONNECTED:
Follow SportStars on Twitter & Instagram | Like us on Facebook | Subscribe!
_______________________________
Prior to the implementation of Title IX in the late 1970s and 80s, which led to the dropping of many programs, California had a considerable number of DI, DII, NAIA, and JC programs. These offered opportunities for wrestlers to compete beyond the high school level.
Although there has been a recent, albeit slow increase on the national scene, it has been the NAIA that has seen an exponential growth in programs in the last several years. Especially in California.
In the 1970s, California fielded programs at the Bible Institute of Los Angeles (BIOLA), U.S. International, and Vanguard (discontinued after the 1975 season).
After nearly a four-decade absence, Vanguard returns to become the fourth NAIA program to field wrestling in California since the beginning of the new Millennium. Located in Costa Mesa (Orange County), Vanguard University is amid a large pool of talent in SoCal area and abroad.
The Streak at the Pit
Vanguard University has an acclaimed past, which includes the Vanguard gymnasium having the nickname, "The Pit."
From 1972-'75, Vanguard won three consecutive NAIA District III Championships and in 1975, the Lions tallied an undefeated 20-0 record. At one point they had a 35-match win streak.
The 1975 squad sent six wrestlers to the NAIA National Championships in Sioux City, Iowa, where Paul LeBlanc earned All-American honors in the 142-pound weight group. As a result of these achievements, the team was inducted into the Vanguard University Hall of Fame in 2007.
Taking the helm as new Head Coach is California native and University of Northern Iowa alumni, Caleb Flores. From Rosemead, CA, Flores was an accomplished wrestler at Northview High in Covina and the University of Northern Iowa (UNI).
Flores has an impressive resume.
While competing for Northview, he became the fourteenth wrestler in the state's history to earn a very rare four state medals at the prestigious CIF State Championships.
Flores was a 3x CIF Divisional and Southern Section Masters Champion and earned All-American honors at the NHSCA Jr. National Championships.
Moreover, he was a 5x California Freestyle State Champion, posted a career record of 226-17, and added another All-American honor in Freestyle at the FILA Junior Nationals.
After an exceptional career in high school, Flores took his talents to the collegiate level and competed for the UNI in the Big 12. There he earned redshirt of the year honors, qualified for the 2008 NCAA Division I National Championships, and was Team Captain of the squad during the 2010 – '11 season.
Since the completion of his competitive career at UNI, Flores immediately took his talents and passion for the sport and began his coaching tenure at his alma mater, Northview High and at Mt. San Antonio College in Walnut.
While at Northview, he was an integral part of coaching several wrestlers to the state and national levels and at Mt. San Antonio, coached 11 individual state champions, 28 All-Americans, and was award the California Community College Athletic Associate Southern Region Assistant Coach of the Year in 2013.
Academically, Flores earned a BA in Communications & Public Relations and a minor in Marketing.
More recently, he earned his Masters from Concordia University in Irvine in Coaching and Athletic Administration.
Caleb now resides in the Glendora, is married to Teresa and has four children, Caleb, Jr., Jacob, Elijah, and Evelyn.
This week, I had the distinct pleasure to discuss his new coaching position at Vanguard. His goals, and his outlook for the future of the wrestling program. Our Q&A session follows below.
ACADEMIC ACHIEVEMENTS
Bachelors of Arts Degree (University of Northern Iowa)
Communications & Public Relations/Minor in Marketing
Master of Arts Degree (Concordia University – Irvine)
Coaching and Athletic Administration
COACHING TENURE
Mt. San Antonio College (Assistant)
2011 – '19
11 individual state champions
28 All-Americans
CCCAA Southern Region Assistant Coach of the Year (2013)
Northview High School (Assistant)
2011 – '19
4x California State Medalist/Junior All-American (Northview HS, S)
WRESTLING CAREER HIGHLIGHTS
University of Northern Iowa
Qualified to 2008 NCAAs (125s)
Team Captain (2010 – '11)
2007 Redshirt of the Year Award Winner (Northern Iowa)
Northview High School (S)
4x California State Medalist – 6th, 3rd, 7th, 2nd (2003 – '06)
3x CIF Southern Section Masters Champion
3x CIF Division Champion
NHSCA Junior All-American – 3rd 2005
Posted a career record of 226-17
5x California Freestyle State Champion
Junior FILA All-American (Freestyle)
Q&A WITH HEAD COACH CALEB FLORES
TCW: How did you first get involved in the sport of wrestling?
Coach Flores: My father introduced me to sport of wrestling at the age of 8 while he was the head wrestling coach at Rancho Cucamonga High School.  Through my father I was able to see the everyday grind of what it takes to be successful in this sport.
TCW: How long have you coached the sport of wrestling?
Coach Flores: I graduated from University of Northern Iowa in 2011 and was fortunate enough to be hired by David Rivera at Mt. San Antonio College. I have been coaching there since, while also helping out at Northview High School.
TCW: Who was your biggest influence in the sport?
Coach Flores: That's a tough question, it's hard to just limit it to one. I've been blessed to be around great leaders and mentors in the sport. Of course, my father who introduced me and made countless sacrifices for me and other people throughout his life. He's shown me that leadership is getting into the fight with your athletes, not standing on the sidelines. David Ochoa, talk about selfless. He does whatever he can for anyone to help promote the sport of wrestling. Bobby Bellamy, a great motivator and mentor and his insight into wrestling and life has helped myself, along with many others. Doug Schwab was so passionate to tackle the everyday challenges. His persistency to be great, no matter what the current situations was, and the belief in himself and his ability to pass that to other people to believe in themselves.
TCW: What do you enjoy most about coaching?
Coach Flores: The impact that I am able to have on the athlete; not just on the mat but off the mat. Coaching is so much more that "x's and o's," but it's training good men and qualities that make the athletes better as they move along in life.
TCW: When were you first approached about applying for the head coaching position at Vanguard University?
Coach Flores: About a month ago, through the recommendation of people in the wrestling community.
TCW: What was attractive about the opportunity to take on the Head Coaching position at Vanguard University?
Coach Flores: I felt like it was the next step in my career. I've been under the leadership of great men who have prepared me for this role. It was time to take a step of faith and move forward in my career. Also, the Christian values of the school align with my personal faith.
TCW: What is the timeline for Vanguard University? When will you first compete in the NAIA?
Coach Flores: We are rollin'. We are actively recruiting athletes to compete in the '19-'20 season in the NAIA; so October of 2019 we make our debut.
TCW: What are your plans from this point until the beginning of the 2019 – '20 season?
Coach Flores: Obviously recruiting the right fit for the university and the culture of Vanguard wrestling. Next, we want to excite the fan base here in the OC and the state of California and get support for this program. This area is rich in wrestling history and hopefully start getting the support for another, much-needed, program in southern California.
TCW: When it comes to recruiting, what type of student athlete are you looking for in a wrestler?
Coach Flores: We are looking for student-athletes who are looking to grow in every area of their life, even beyond the mat. We are looking to develop good men and leaders in their community; along with a commitment level that helps them reach their highest potential.
TCW:  What are your short and long-term goals for the program?
Coach Flores: Short term is to get the right athletes to build the proper foundation. Just like building a house, the foundation is the most important part. Everything that goes along after that, relies on the foundation. Next, we need to gain nationwide recognition as a program and put Vanguard on the map as a place for the top wrestlers to compete at the NAIA level. Of course, long-term goal is to be National Champions and consistently put wrestlers on the podium.
TCW: In your opinion, what can the California Wrestling Community do to grow support of College Wrestling?
Coach Flores: It starts with supporting their local schools: high schools, community colleges, and university programs. We have a lot of great wrestling athletes and are gaining options to stay in their home state of California to compete collegiately.
TCW: What do you foresee happening with college level wrestling in California in the next several years?
Coach Flores: I think and hope that it continues to grow. California is one of the powerhouse states for wrestling and it only seems logical that they would be able to see an expansion of college level wrestling in their home state.