Acalanes Softball | Here Come The Dons – Fences Beware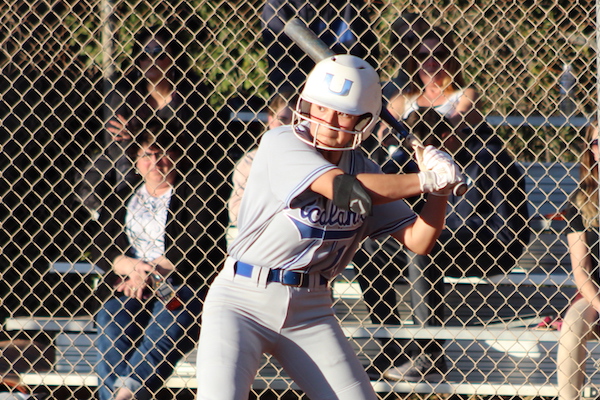 A Dynamic Incoming Freshman Adds To An Already Fierce Lineup That Has Acalanes Softball Aiming For Its First NCS Title •
Freshman prospect Hailey Stripling made a big impression in her first live action as a high school player. Literally. Just look at the fence on the Acalanes High softball diamond.
Stripling hit the wall in each of her first two at-bats on her new home field in Lafayette in the Dons' Feb. 18 scrimmage with Berean Christian-Walnut Creek, bashing in an imprint in the outfield fence tarp in her first plate appearance and almost clearing the wall her second time.
"You can see the dent she put out there," Acalanes softball coach Victor Silva said afterward, in amazement. "She's got a work ethic that is off the charts. At the very first practice we had, we were hitting the girls ground balls and she is diving out there. So she earned the respect of everyone the very first day."
These are exciting times at Acalanes, which has never won a North Coast Section softball championship. Now armed with three legit NCAA Division I-caliber players, optimism is at a fever pitch that the Dons just may break through that NCS glass ceiling.
Stripling is already on the collegiate radar, and combined with Iowa State signee Kaylee Pond, junior Santa Clara commit Morgan Salmon and a host of others, they are setting a standard for hard work that was evident from the first week of practice. 
_______________________________
CONNECT WITH US:
Follow SportStars on Twitter & Instagram | Like us on Facebook | Subscribe!
_______________________________
"This might be the best first week I have ever had since I have been there," Silva said.  
"I can't ask for any better work ethic; it's excellent. Fortunately I've got a couple girls in Kaylee and Morgan who are not going to let the girls slack. Even if I can't get them motivated, they will get them motivated." 
Stripling, who is playing second base, adds to a stellar infield anchored by Salmon at shortstop. Pond, who is switching back to softball after an NCS playoff run with the Dons basketball team, will play third base and catcher. She was league MVP in both sports as a junior.
"Kaylee is going to a D-I school, I've committed to a D-I school and Hailey is going to be committing when she can, when the rules allow her," Salmon said. "So I think we have three strong D-I players and we have other players who are looking to go to college. This year I think we have a really strong chance to make it." 
Pond, who plays travel ball with Universal Fastpitch out of Martinez, wanted to make her signing day in November something special, hosting the ceremony on the same Junior Optimist Baseball League field in Concord that she began her softball days on at age 4.
Salmon, whose father is from England, plays on the British National Under-22 team and is on the Cal Nuggets travel team in Los Gatos. She committed this fall to Santa Clara.
Stripling, who is with Universal Fastpitch, already has collegiate attention. She's zeroed in on the Pac-12, and Stanford in particular, though the recruiting process must wait until her junior year.
"I like the Pac-12 a lot," she said. "I want to keep it here (on the West Coast). It's kind of in the back of my mind, but that is my main goal really, in this sport, so that I can get a great education."  
She already has earned the respect of her teammates.
"She is definitely one of the best, if not the best, freshman we have had and that we probably will have," Salmon said while being interviewed with Stripling.
Hearing Salmon's praise, Stripling, in her modest freshman way, quietly responded, "Thank you, Morgan."
Even with her reserved manner, Stripling lights up when talking about starting her high school softball career.
"This team is very friendly and welcoming," she said. "And I love the environment. It's just a great experience so far." 
There's already plenty of returning offensive firepower. Last year, Salmon hit .679 with 37 RBIs, 13 doubles and six home runs. Pond hit .680 with 47 runs scored, 32 RBIs and seven home runs. Center fielder Amy Schwing is back for her junior year after batting .381, with  33 runs scored and 24 RBIs. All three were 2019 All-Bay Area News Group softball team selections.
Getting Pond back on the softball diamond puts Dons at full strength.
"I have never been around a girl who is so competitive," Silva said. "She is the type of girl who will race you to the end of the block. She loves to compete and loves basketball, and I am happy to see her get to play in NCS."
The Dons, who were NCS semifinalists in 2010 and 2013, had title aspirations during their 18-4 season a year ago. They were 10-0 in winning the Diablo Athletic League-Valley championship and built a 14-game win streak as the postseason neared. Earning the No. 7 seed in the NCS Division III playoffs, everything ended with a thud in a 9-0 first-round loss at home to Analy-Sebastopol. 
"We basically were a young team and we played our worst game; I think we made something like five errors in the first inning," Silva said. "It was like a funeral after that game."
Salmon said the performance was not representative of the Dons.
"It wasn't us," she said. "We were very nervous for that game. We really wanted to win and were really looking to keep going. It was more of a choke moment."
This year, the Dons have everyone back but graduated captains Bailee Takano and Madeleine Fink.
"Our leadership this year is really focused on winning," Salmon said. "Our captains, Riley Nicosia and Jennifer Evaristo, are really keeping us focused and pushing us to work harder and that is also instilled from the coaches as well." 
There's a strong example of time and dedication by Silva and his staff. 
"He's such a great person," Pond said. "If he's not running the practice he is always working on the field. If you drive by his house and his truck is not there, I guarantee he'll be at the Acalanes softball field."
Silva's Acalanes softball teams employ a rotation at pitcher, and doesn't look for complete games. Allison Fink, Ellie Palma and Evan Mirabella will combine in the circle once again.
"All we need is for our pitchers to hit their spots," he said. "They don't even need to overpower anyone, just hit their spots and keep the ball down low, because we will make the plays in the field. What we tried to do last year, and it worked, was let them go once through the lineup, and then switch, and then we might have to bring another one back. It worked and we are going to try to do it again."
Silva has put some tough matchups on the schedule, with a rematch at Analy on March 16. The Dons also play at defending NCS Div. II champion Bishop O'Dowd-Oakland on April 8, and close the regular season at NCS Div. III semifinalist St. Joseph Notre Dame-Alameda on May 15. There are plenty of challenges that can be big confidence builders.
"We can try to help motivate players into wanting to succeed, but you have to believe in yourself," Pond said. "It comes down to motivation within yourself. Anyone can tell you are great and can win, but you have to believe it.
"When you play with competitive people who live and breathe softball, good things are going to happen," she added. "I think this year is going to be great."