All-NorCal Wrestling Honors: Ike's Ironmen & Ironwomen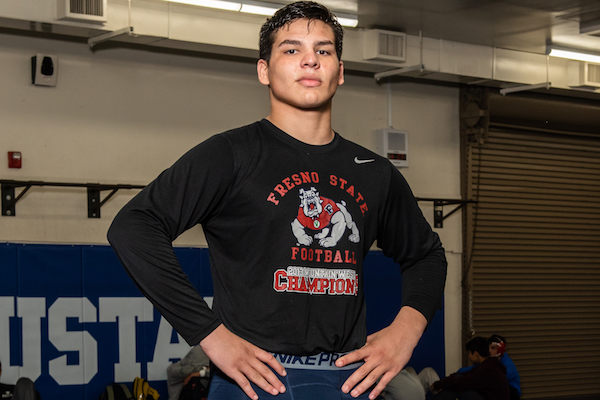 Gilroy, Oakdale And Turlock All Score Big As Ike Dodson Offers Up SportStars' Second Annual All-NorCal Wrestling Honors •
Girls, girls, girls.
They were the talk of the CIF State Wrestling Championships after swarming the first-ever three-day coed title event at Rabobank Arena in Bakersfield.
They also rightfully invade the 2019 All-NorCal Wrestling Honors after a sterling performance on the state's biggest stage. Northern California girls won 48 of the 112 available medals in all 14 weight classes at Rabobank. By comparison, only 35 NorCal boys stepped onto the CIF awards podium.
It helps that despite earning No. 1 seeds in only five of 14 weight classes, NorCal girls snatched nine state titles. NorCal boys won only three championships.
Below is a look at the top performers from last week's CIF championships, and four recipients of special "Most Valuable Wrestler" and "Breakout Wrestler" recognition.
Note: SportStars NorCal coverage includes the Central Coast, North Coast, Sac-Joaquin, Northern, Oakland and San Francisco Sections.
BOYS MOST VALUABLE WRESTLER (PICTURED ABOVE)
Ryan Reyes, Sr., Gilroy (CCS)
Capturing the same recognition awarded to Gilroy's Antonio Andrade (Northeastern) at the same weight class last year, Reyes picks up the highest honor among boys for his dazzling senior season. He only lost matches to nationally-ranked wrestlers from other states and captured CCS and CIF gold this year. Reyes will compete for a rising NCAA program, Fresno State, next year.
GIRLS MOST VALUABLE WRESTLER
Amit Elor, Fr., College Park-Pleasant Hill (NCS)
The top two candidates here were freshmen. Earning the honor is Elor, who capped her perfect 32-0 season by winning her last nine postseason matches by first-round pin. The Olympic hopeful spent only 2 minutes and 19 seconds on the mat at state, pinning her opponents in 15, 30, 17, 48 and finally 29 seconds to win CIF gold. She was simply untouchable, delivering one of the most dominant performances in state history.
BOYS BREAKOUT WRESTLER OF THE YEAR
Reagan Dahle, Sr., Big Valley-Bieber (NS)
An unheralded wrestler from a tiny school of just 52 students, Dahle became Big Valley's first state qualifier and first state medalist in the same thrilling weekend. After losing his second match at state, the No. 15 seed at 195 won five matches by pin in the consolation bracket. He beat four seeded wrestlers, including the No. 4 to guarantee a medal, the No. 9 to reach the consolation semifinals and the No. 5 to finish fifth.
GIRLS BREAKOUT WRESTLER OF THE YEAR
Lilly Freitas, Fr., Pitman-Turlock
Overlooked throughout her dazzling 33-0 season, Pitman freshman Lilly Freitas never earned the top seed in a prep tournament. Not at the Women's West Coast Tournament of Champions or the Napa Valley Classic and certainly not at the CIF championships, where she was seeded third. Perhaps seeding committees just weren't paying attention, because she won them all. Freitas pinned the tourney's top seed in the state finals in just 54 seconds to announce her CIF arrival.
ALL-CIF CHAMPIONSHIPS TEAM
101 POUNDS (GIRLS)
Hailey Ward, So., Turlock (SJS)
Ward, the SJS champion, secured the top NorCal billing at state and avenged a 9-1 loss to Amador Valley-Pleasanton's Mikayla Guevarra in the state semifinals and by beating her by pin in the bronze medal match. Ward won four straight matches in consolation to end with the most wins in the bracket (six).
106 POUNDS (BOYS)
Brayden Abell, So., Oakdale (SJS)
After losing a surprise match at the SJS Masters, Abell soared to the CIF semifinals by beating NorCal foe and NCS champ Devin Garcia (James Logan-Union City) in the quarterfinals at Rabobank. Abell ended fourth after losing to state champ Richard Figueroa and ultimately Andre Gonzalez (Poway) in the bronze-medal match.
106 POUNDS (GIRLS)
Adrienna Turner, So., Davis (SJS)
Turner rebounded from an upset-loss in the quarterfinals by winning four matches in the consolation bracket to finish third. She pinned LA Section champion Viviana Garcia in the third-place match.
111 POUNDS (GIRLS)
Jennifer Soto, Fr., Orland (NS)
The superstar freshman from Orland won five matches by pin to stick her way to CIF gold. Her last pin, a fall in 1:39 against Mikayla Vega of Escalon, left her just short of NorCal MVW status.
113 POUNDS (BOYS)
Izzy Tubera, Jr., Pitman-Turlock (SJS)
Tubera bagged his second CIF medal in two state tournaments after missing the 2018 postseason. He went 5-1 this year to take third at 113 pounds, beating NorCal foe and NCS champion Blake Fredrickson (Windsor) 4-2 along the way.
116 POUNDS (GIRLS)
Desinee Lopez, Jr., Folsom (SJS)
A CIF runner-up, Lopez earned her No. 2 spot on the podium by outlasting Alisha Narvaez (Arroyo) 2-1 in the semifinals. She was pinned by state champ Monica Garcia of Norte Vista in the finale, but bagged four total wins in Bakersfield.
120 POUNDS (BOYS)
Adam Arenas, Jr., Lincoln-San Jose (CCS)
The only weight class without a NorCal medal dropped two NorCal wrestlers from the round of 16 and two more from the round of 12. Arenas and Gilroy freshman Donte Lopez were both eliminated in the round of 12, but Arenas beat Lopez in the CCS finals 7-2 to earn a spot on the NorCal team.
121 POUNDS (GIRLS)
Adriana Lopez, Sr., Upper Lake (NCS)
Now 30-3 on the season, Lopez won four straight thrilling decision victories to close out her senior campaign with a state championship performance. Lopez outscored opponents 38-20 in the final four rounds and beat top seed Ashley Venagas of Mt. Whitney 9-5 in the gold-medal match.
126 POUNDS (BOYS)
Victor Jacinto, So., Gilroy (CCS)
He upset the No. 2 seed Jason Miranda of Poway 5-2 in the tournament quarterfinals and ended fourth after Miranda came back to beat him 6-4 in the bronze-medal match. Jacinto was easily NorCal's top wrestler at this weight, as the rest of the field was eliminated in the round of 12.
126 POUNDS (GIRLS)
Emily Se, Sr., Oak Ridge-El Dorado Hills (SJS)
Se, a No. 4 seed, repeated her SJS finals victory over Bear Creek-Stockton's Niya Gaines to win the third-place match at state. Se had reached top 12 at state in 2015 and 2016, but returned from a 2017 hiatus to snatch CIF hardware for the first time in Bakersfield.
131 POUNDS (GIRLS)
Mary Lopez, Sr., Liberty-Brentwood (NCS)
Lopez won four straight matches by first-round pin to reach the CIF finals, where she succumbed to a third-round pin against No. 1 seed Cheyenne Bowman of Rowland. Lopez was also the NCS champion.
132 POUNDS (BOYS)
Kyle Parco Sr., De La Salle-Concord (NCS)
One of only three NorCal state champions, Parco excelled in a stout weight class, winning six straight matches to make his first state medal a gold one. He beat NorCal rival Jose Fernandez of Upper Lake 6-2 in the semifinals and bested returning CIF runner-up Ryan Franco of Clovis North 1-0 in the finals.
137 POUNDS (GIRLS)
Dalia Garibay, Sr., Freedom-Oakley (NCS)
The sensational senior won her first match by 18-3 technical fall and pinned four more opponents on her path to CIF gold. She was the CCS champion and pinned top seed Line Drury of Westminster in the finale.
138 POUNDS (BOYS)
Chase Saldate, Jr., Gilroy (CCS)
The only California wrestler better than Saldate was the one he faced in his finals draw, three-time CIF champ Jesse Vasquez (Excelsior Charter-Victorville), Intermat National No. 2. Vasquez won the meeting 6-3 to force Saldate to settle for runner-up CIF honor.
143 POUNDS (GIRLS)
Lilly Freitas, Fr., Pitman-Turlock (SJS)
The runner-up to Elor in the NorCal MVW chase, Freitas had the second-fastest finals pin when she stuck No. 1 seed Gianna Anaya of San Fernando. Freitas is the first state champion in Pitman history.
145 POUNDS (BOYS)
John Fox, Sr., Gilroy (CCS)
The four-time state qualifier earned his first CIF medal by taking sixth at 145. He crashed into the medal round by beating Daniel Magana of Servite in the round of 12 and made top six by ousting Jacob Hansen of Royal-Simi Valley in the consolation quarterfinals.
150 POUNDS (GIRLS)
Amit Elor, Fr., College Park (NCS)
Elor locked up the NorCal MVP by pinning her finals opponent in just 29 seconds under the dual spotlights. The freshman delivered easily the most dominant performance of any wrestler at the CIF tournament.
152 POUNDS (BOYS)
JT Stinson, Jr., East Nicolaus (NS)     
The Del Oro transfer, who was seventh at state last year, upped his CIF prestige by placing fifth in the state this season. He won an all-NorCal showdown in his final match by out-pointing Gilroy's Daniel Vizcarra 6-1.
160 POUNDS (BOYS)
Noah Blake, Sr., Del Oro-Loomis (SJS)
The first four-time state place-winner in Del Oro history fell just short of his quest for a CIF title. He ended runner-up at 160 after losing 8-0 to Matthew Olguin of Buchanan-Clovis (National No. 5). Blake won three straight decisions to reach the finals, including an 8-2 victory over Frontier-Bakersfield's Max Aguirre in the semifinals. Blake was also fifth at the Walsh Ironman.
160 POUNDS (GIRLS)
Yelena Makoyed, Sr., Bella Vista-Fair Oaks (SJS)
The Broncos senior prevailed in a 13-6 finale to win the 160-pound CIF bracket. She upset No. 2 seed Jerzie Estrada of Birmingham to make the gold medal match. Makoyed was also the SJS champion.
170 POUNDS (BOYS)
Gabe Martinez, Sr., Oakdale (SJS)
Unable to repeat his state finals appearance, Martinez still landed on the CIF podium after taking eighth at state. He lost to the wrestlers who placed first, fourth and seventh, but won a crucial showdown with No. 9 Joseph Barnes (Gilroy) and No. 11 Sean Myles (Oakmont) to stay best in NorCal.
170 POUNDS (GIRLS)
Alia Abushi, Jr., Arroyo-San Lorenzo (NCS)
The tournament's third seed pinned her first three opponents before upsetting Gregori's Liliana Vergara 3-0 in the semifinals. She followed that feat by beating top seed Adelina Parra of San Fernando in the gold-medal match.
182 POUNDS (BOYS)
Jack Kilner, Sr., Granada-Livermore (NCS)
Ranked behind Franklin-Elk Grove's Malik Lewis for most of the season, Kilner benefited from a comfy consolation bracket draw opposite No. 1 seed Trent Tracy (Frontier), who lost his quarterfinal atop the bracket. Down in consolation, Tracy pinned Lewis to send him to the seventh-place match and beat Kilner in the bronze-medal meeting, 3-. Kilner beat seeds No. 9, 7 and 8 on his path to fourth.
189 POUNDS (GIRLS)
Folashad Akinola, Sr., Menlo-Atherton-Atherton (CCS)
After runner-up honor in 2018, Akinola made her senior season a golden one by winning five straight matches by pin at Rabobank. She stuck unseeded NCS runner-up Jasmin Clarke of Kelseyville in the CIF finals.
195 POUNDS (BOYS)
Ryan Reyes, Sr., Gilroy (CCS)
State champion Ryan Reyes rolled up four pins and a technical fall to reach the CIF finals, where he cautiously controlled Jadon Martin of Buchanan 4-2 to win his bracket. Reyes never lost a match to a California wrestler this season, the main reason he took MVW status.
220 POUNDS (BOYS)
Kyle Richards, Sr., Folsom (SJS)
The showdown for No. 1 in NorCal came down to the fifth-place match at state, where No. 7 seed Richards pinned No. 6 Jacob Christensen of Durham. Richards also upset the No. 3 seed, Southern Section runner-up Erich Osteen (Chaminade) on his podium path.
235 POUNDS (GIRLS)
Tavi Heidelberk, Sr., McClatchy-Sacramento (SJS)
The three-time CIF medalist and two-time state champion defended her 2017 title by securing a 10-1 major decision over Cristina Santoyo of Monroe in the 235-pound finale. Heidelberk reached the finals with four pins.
285 POUNDS (BOYS)
Mike Jeffus, Sr., Turlock (SJS)
A state champion and NorCal MVP candidate, Jeffus completed his undefeated postseason run by resolving any lingering issues with SJS rival Justin Ramos (Vista del Lago-Folsom) by beating him 5-2 in the semifinals. Then Jeffus beat the No. 1 tournament seed ranked No. 14 in the country when he bested Gilroy's Nicholas Villarreal 3-2 in the finale.