Angel Jackson: Salesian's Steady Force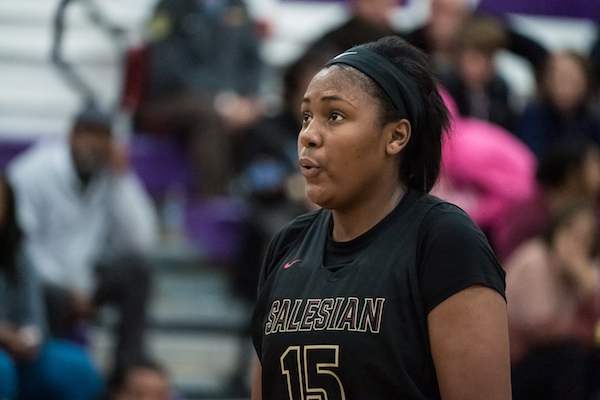 Her 6-foot-4 Presence Is Half The Battle, But The Salesian Star Has Developed Into A True Girls Basketball Talent •
Angel Jackson has always been the tall girl. So it wasn't a problem for her to have her way with basketball opponents in the paint.
At the same time, because it was relatively easy for her to do well, she didn't have to work on offensive moves or other subtleties of the game — until she got to Salesian High.
Upon arriving to the Richmond school, she met Justin Reid. The 6-2 former college player is an assistant for head coach Steve Pezzola, and all of a sudden life wasn't that easy any more.
"He doesn't let up on me," says Jackson, a senior who will play for USC next year, "at any time."
So for the past four years, every Salesian practice has been a learning experience for Jackson. Even more so than most games. Reid's strength, leaping ability and experience make him her toughest opponent.
The result?
Jackson's improvement since her freshman year has been impressive. She has blossomed into an elite post player at both ends, a dominant defender and a quality scorer who is the focal point of one of the top teams in Northern California.
Jackson, though, is quick to deflect credit. "It's a team effort," she says. "I help them and they help me."
Still, having a 6-foot-4 post in the middle of the defense definitely makes it easier to guard on the perimeter. "It helps to know that your big has your back," says senior guard Bianca Camello.
Pezzola's shapes his defensive scheme to take full advantage of Jackson's presence. "There are little gaps," he says, "but those gaps feed to Angel."
Still, it's been a process, and Pezzola recalls one play when he could see the work pay off.
"We were playing Archbishop Mitty in NorCals and we had a two-point lead with just a few seconds left. We had been working on blocking shots. I had told her, 'You don't have to knock it out of bounds, you can grab it'."
Sure enough, a Mitty guard got into the lane and Jackson stepped forward to contest the shot — and instead of blocking it, just grabbed it out of the air and held on to secure the win.
"It all came together at that moment," says Pezzola.
In the modern game, though, the plan is always to get the posts away from the basket by using the pick-and-roll out by the 3-point line, and Jackson has improved there as well. Of course, her guards do their best to not allow the screen that forces Jackson to switch onto a smaller player.
"All of our guards have that in us," says Camello. "We're going to get through that screen."
If they don't, however, Jackson has gotten much better, and Pezzola says "Angel has really improved when she has to defend a 3-point shooter."
But there's still that other half of the game to work on.
"The biggest improvement has been on offense," says Pezzola. "She's worked hard on her balance and her core, and her shooting form is now among the best around. As a freshman, she couldn't make a free throw; now she's at 80 percent."
Don't ignore her beyond the arc, either. She's made three of six 3-pointers this season.
Jackson's real advantage is close to the rim. She's steadily improved in that area. "I make sure to take my time," she says. "I used to rush."
"Her brain was working faster than her body," says Pezzola. "She had to learn to take the time to think things through."
Kelly Sopak, who coached Jackson with the Cal Stars this summer on the Nike circuit, says "Probably the most unnoticed attribute in Angel's game is her interior passing," and even though she's almost always the tallest player on the floor, Pezzola uses her as the passer in a high-low set, with Makayla Edwards becoming the target on the block.
Of course, Jackson is a target in another way, as tall girls routinely get pushed around by smaller, usually frustrated, players.
"At first, it bothered me," says Jackson, "but I got used to it."
It helped that her older brother Trezon was a basketball player as well – "He helped guide me through it."
One part of getting through it for a player like Jackson is dealing with college recruiters. "I got my first official offer in eighth grade," she says, and after she went back to the prestigious Boo Williams tournament with the Orinda Magic just before high school, the college coaches were out in force.
"They sort of swarmed the court," says Pezzola, and from then on, he helped Jackson navigate the often confusing process of college recruiting. After sifting offers from dozens of schools, Jackson settled on USC. "It felt like a home," she says. "I felt welcome."
One reason was that Minyon Moore, part of the Salesian tree of talent, plays at USC along with older sister Mariya, which echoes Jackson's high school experience.
"We're very close," says Camello, "it's like a family."
Of course Jackson is the most prominent member of the family, but there's no jealousy of her starring role. She is the player most people talk about when they talk about Salesian, but it's not an issue given her hard work and acknowledgement of her teammates' role in her success.
"She represents us well," Camello said. And that might be even more important than how much she's accomplished as a player.