SoCal Cycling 2017 Season-Ender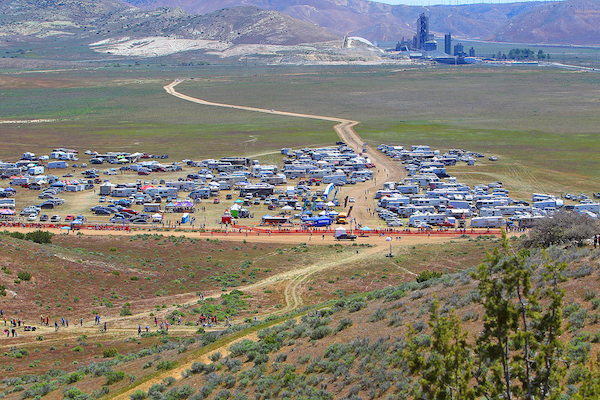 Another season in the books for SoCal High School Cycling League
SoCal Cycling 2017 Season-Ender means another season is in the books for the High School Cycling League.
Last weekend 730 of the best, brightest, and fastest high school and middle school mountain bike racers in the country tackled the windy winding single track of the Tehachapi's.
SoCal Cycling Mix'n it Up at Lehigh
This was the SoCal League's second event at the venue and once again racers were, as we titled our previous season's newsletter, Mix'n it Up at Lehigh.
We knew coming into the event that there was a lot on the line, especially on the team side of things as most of the overalls were up for grabs.
As spectators gathered for each of the race starts their anticipation was mirrored perfectly in the faces of each of their riders. This was it, the culmination of a whole seasons worth of training and plotting, the last chance to pass that one rider they had been chasing all season long, the chance to make that one final move in the Series Overall standings.
This was their chance to chance to finish up strong and judging by what we saw and what they had to say about the race we think it's pretty safe to assume that they did just that. In fact its pretty clear to us that overwhelmingly our student athletes were beyond satisfied with their results and we think it's accurate to say that regardless of placement they all felt like winners at the end of the day.
We hope to see many of our riders at State Championships in a few short weeks and would like to congratulate everyone that participated in #SoCalSeason9.
Teams
Division One competition ended with a bang this season as all three of our top teams brought their best efforts out for Finals. Tehachapi High School proved that hard work off the bike pays off come race day taking 1st on the day and 3rd in the Series Overall. Newbury Park High School, our most consistently performing boys team, was as always, a force to be reckoned with. They took 2nd on the day but won the Series Overall for Division One. Redlands Homeschool who was also in the top 3 for the Series Overall came in at 3rd on the day.
Newbury Park's Head Coach Mike Legge said "the day and season went as hoped. Our focus for the day was staying ahead of Redlands Home School, since they were only 50 points behind us in the overall, and we did that. That secured 1st for the season. The team (riders, coaches and volunteers) have worked hard for five years now and for us to go back to back as League Champs means we have been able to put together a solid program that should be around for generations to come. Going into states this year is a complete unknown. I know as a league we have been getting more competitive with NorCal. This year, with three conferences, none of the conference top riders have had a chance to compete against each other, so that is strange. We will not only be testing ourselves against NorCal but against our fellow SoCal riders in other divisions. It will be fun to watch. There are so many great memories from this weekend: outstanding team meals by Chef Renee and crew, Luna Cerulla finishing 2nd in her last SoCal race (she has to move back to Germany), the Weyman brothers finishing 5th in their respective races, and of course the team podium."
Redlands Head Coach Michael Fuller said "race day went fantastic! Kudos to the Tehachapi teams, TMTA, and Lehigh Cement for providing such a fantastic venue for SoCal Finals! For this final race, we were down to ten riders, our Freshman girl having broken her wrist after Victory at Vail. We had solid performances from all of our riders, with one of our JV girls having her first top ten finish, as well as putting three JV Boys on the podium again. All of the riders in the league have gotten super strong and fast as the season has progressed; I believe our 3rd place on the day was our hardest fought for podium spot of the season. Taking 2nd place overall in D1 was well beyond any hopes I could have held for SoCal Season 9. Before the start of the season, we lost our fastest JV rider (Freshman State Champion Seth Hampton) to injury for the season. With twelve kids left, I had to decide whether to continue as a D1 team or switch to D2. I thought that we might have a shot at winning the top spot as a D2 team, but decided to buck the "win at all costs" attitude and stay D1 knowing that our chances of doing well against the fierce competition and deep rosters of the big teams was slim. The kids themselves prefer to be D1, both for the challenge of competing against large teams and because they want as many riders as possible to score for the team. For us, 2nd place overall in D1 is just as sweet as a D2 win would have been, especially knowing that we did it with only ten racers at SoCal Finals. I am so proud of each and every one of my riders! I have so much respect for the D1 teams we competed against! Newbury Park was so consistent and solid season, they could have fielded two podium worthy D1 teams. Tehachapi really gave us a scare with their late season push. Yucaipa has one of the oldest programs out there with their amazing squad of girls, and Great Oak has another fine program with a stable of talented riders. We are honored to simply be in the same division as these fantastic programs! Going into States I can only ask my riders to keep doing what they have been doing; consistency has been their strength this year, along with their strong dedication to each other as a team. We aren't sure how many riders we'll have racing, but even if it is just ten again we will give it our best effort!"