Crack The Code: Inside Look At Area Code Baseball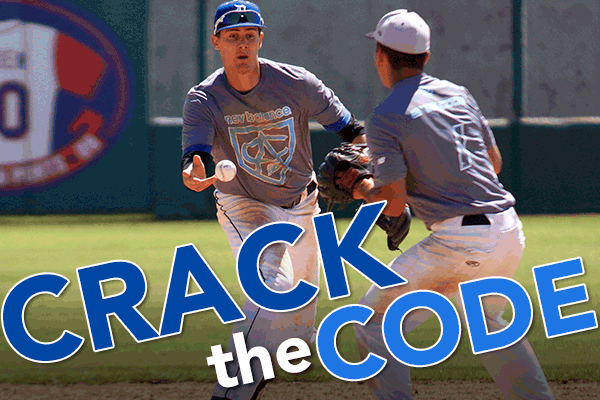 With A Rich History Of More Than Two Decades, There May Not Be A More Prestigious Amateur Baseball Event Than The Area Code Games •
Imagine everything you've been working hard for the last 10 years was standing just 60 yards away. And all you had to do was run as fast as you could. 
At the 2018 Oakland A's Area Code Team Tryouts on July 7 at Banner Island Ballpark in Stockton, a hand-selected group of Northern California high school baseball players began their day with the 60-yard dash.  
The players, all 2019 graduates, lined up on the left field line. More than 65 professional scouts and Division I coaches, with raised stopwatches, stood at the end of the running lanes. 
The players also took on-field batting practice and participated in a position-specific defensive evaluation, followed by a 15-inning game. The workout was designed to give the more than 80 players an ample chance to display their talents. All in the hopes of being selected to the A's roster for the 2018 Area Code Games.
Easily the West Coast's most respected annual showcase, the 2018 Area Code Games occur August 6-10 in Long Beach. The event includes players from all over the country broken down into eight regions. Each region is associated with a Major League baseball organization with the Northern California region is run by the A's.
"Just being an Area Code tryout invitee is a big deal," said Joe Tourville, Manager of Baseball Operation for the event. "You have to be recommended by a Major League scout and then you are vetted by the Major League team running the event." 
Now in his third year, Tourville has seen steady growth in the level of talent at this event. He attributes the growth to the on-field success of so many players who have gone through the program.
"We were around 68 million dollars in combined signing bonuses in the 2017 draft," said Tourville. He was referring to the players who participated in the 2014 and 2016 AC Games before getting drafted out of high school or after three years of college. "We also had 14 first round picks in this year's draft and 60 draft picks in rounds 1 through 10."
In an era where players routinely pay thousands of dollars to attend showcase events, the Area Code Games are free. Along with being arguably the most exclusive amateur baseball event, the Area Code Games help to level the economic playing field in the pay-to-play culture of competitive youth sports.  
"The numbers reflect the value, and that's why these players don't have to pay for the event. It has become such a sponsor driven event because these players are literally one step away from becoming professionals," added Tourville.
College coaches also see the value of the Area Code Games. Certainly, they appreciate having the cream of the crop altogether in one place at one time.
"You're looking for that impact player. These are Northern California's best players, including the Fresno area, all here in one day," Fresno State assistant coach Jermaine Clark said.
Clark is a former Oakland A's player and scout with deep ties to Northern California. He graduated from Will C. Wood High in Vacaville and attended the University of San Francisco.  
"Everybody is here looking for that blue chip player. Obviously there are a ton of guys who could fit into any type of program. From Stanford all the way to Delta Junior College," Clark said. "From 4-year schools to junior colleges, I feel there is somebody for everybody here. And that's the beauty of this event."
Although only 25 players are selected to represent Northern California, all players at the tryout event are considered prospects. This isn't the first time many of the players have been seen — and won't be the last.
"I'm just looking to see some of the guys that we have already seen in Northern California, then guys we are going to continue to follow for the summer," Cal-Berkeley coach Mike Neu said.
Another Northern California product, Neu graduated from Vintage-Napa and attended Sacramento City College. He eventually reached the big leagues, pitching in 32 games for the 2003 A's. He's also coached at Diablo Valley College in Pleasant Hill and University of Pacific in Stockton.
"You really want to get to see guys more than once," Neu added. "This event gives you a really good look at some of the best guys in all of Northern California."
Neu understands the importance of paying attention to all the players and not just the top guys. As an undersized pitcher, he was not highly recruited out of high school. He also knows what it takes for players to make it to the AC Games Team Tryout.
"It means that you are a professional prospect," Neu said. "And even though I got a chance to play in the big leagues, I didn't make the Area Code team. So there are a lot of good players that don't make in this event. The 2018 Golden Spikes winner Andrew Vaughn didn't even make it." 
Vaughn attended Maria Carrillo-Santa Rosa and just completed his sophomore season playing for Neu at Cal. The Golden Spikes Award is presented to the nation's top amateur baseball player. He was the first Golden Bear to even be a finalist for the honor.
With more than two decades to draw from since the first AC Games in 1996, it's not hard to trace the ripple effect of the event 
"At the start of the 2018 season, 70 percent of North American born players on Major League 40-man rosters were on Area Code rosters," said Tourville. He is also responsible for alumni research and tracking AC Games alums from high school through the professional ranks.
Tourville added: "As we move toward the future, we want to be able to serve more than just the elite players through developmental camps where the players get to work with major league scouts. We have a big push to do more fall and winter stuff too because the talent is at an all-time high right now. It's becoming more difficult to identify all of the quality players with just this tryout alone."
For now, the players only get one chance. 
It starts with 60 yards.