Ashley Hiraki | Fan Choice NorCal Girls Hoops Player Of The Year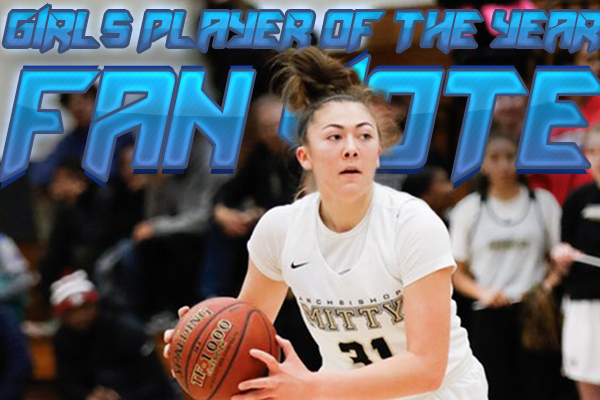 After Garnering More Than 10,000 Votes Over Nine Days, Archbishop Mitty Veteran Leader Ashley Hiraki Was The Fans' Choice For NorCal Player Of The Year •
On its way to compiling a 26-3 record and going wire-to-wire as Northern California's No. 1 team, the Archbishop Mitty High girls basketball team was a wave of black and gold consistency. 
Like so many of Sue Phillips' great squads at the San Jose school, the strength of the 2019-20 team was its collective. Four players on the team were named first-team All-West Catholic Athletic League. The Monarchs had at least five players eclipse 200 points on the season.
It's not exactly easy to stand out. But even teams without bonafide stars need a heartbeat. Ashley Hiraki was the one who made things tick for the Central Coast Section and CIF NorCal Open champions. 
"She was the one that dictated our tempo and kept the troops together when the wheels got a little wobbly," Mitty coach Sue Phillips told the San Jose Mercury News for a story which named Hiraki the paper's Bay Area Player of the Year. "She's the worker bee."
Hiraki, who will take her game to Cal State Northridge in the fall, led the team in scoring (12.4 ppg.) and steals (3.4 per game). She also grabbed over four rebounds per contest despite her 5-foot-7 size. She was the WCAL Player of the Year and an All-Tournament selection at the Nike TOC.  
_______________________________
STAY CONNECTED:
Follow SportStars on Twitter & Instagram | Like us on Facebook | Subscribe!
_______________________________
Her efforts didn't go unnoticed among NorCal basketball fans and SportStars readers, either. 
We launched our NorCal Girls Basketball Fan Vote on March 31. When it closed on at 11:59 p.m. on April 8, more than 28,000 votes had been cast. 
Ashley Hiraki received 10,349 of them. That total cleared the second-place vote getter, Mia Mastrov of Miramonte-Orinda, by more than 2,000. Mastrov, a junior with an all-around game similar to Hiraki's, finished with 8,296 votes. Capital Christian-Sacramento senior Maile Williams came in third with 5,191 votes. 
Makena Mastora (St. Joseph Notre Dame-Alameda) and Abby Muse (Heritage-Brentwood) each finished with more than 1,000 votes. 
Hiraki was one of just two seniors on the Monarchs this past season, which means the 2020-21 fan vote could look very similar for the next heartbeat of Mitty girls hoops.