Bella Vista Boys Soccer | Three For 16: Broncos On Emotional Quest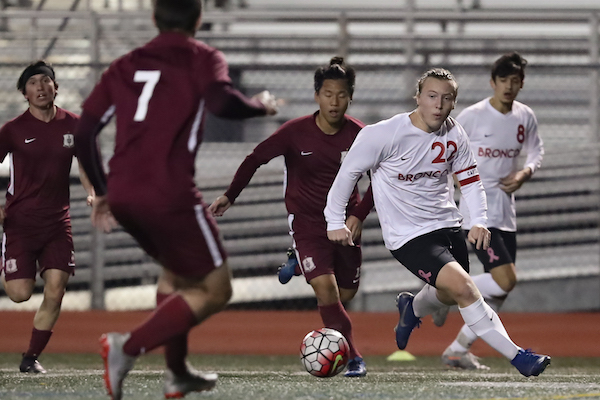 Bella Vista Boys Soccer Dedicates Its Quest For A Third Straight Sac-Joaquin Section Title To Fallen Former Teammate •
Look around at any Bella Vista boys soccer game and you'll notice one number is missing on the field. Number 16 used to be included in the team's mesh bag of roughly 30 red and white jerseys, but this year that number is gone. 
Led by the suggestion of senior goalkeeper and team captain Andrew Bimson, the Broncos retired 16 following the passing of former teammate and close friend Brenden Nichols. 
Nichols, who graduated from the Fair Oaks high school in 2018, passed away in his apartment while he was away at school at Cal Poly in San Luis Obispo back on Sunday, Nov. 10. 
"It was heartbreaking to hear of the tragedy. A lot of these boys grew up with him and were close to him," Bella Vista boys soccer coach Matthew Contreras said. "He was such a positive kid. He was always smiling, always happy – a true inspiration to the boys."
Nichols was entering his fall quarter of his sophomore year, studying agricultural business, when he passed. The cause of death was not released at the time, according to reports from the San Luis Obispo County Coroner and university newspapers. 
_______________________________
CONNECT WITH US:
Follow SportStars on Twitter & Instagram | Like us on Facebook | Subscribe!
_______________________________ 
Back at his alma mater, the current Broncos soccer team carries his memory. Bimson symbolizes his legacy every way he can. 
"His name is on my gloves, and his name is on the back of my practice jersey," Bimson pointed out. "So that's important to a lot of us. We're (trying to win) for him and his family, and for those he was close to."
Looking back on their time together, Bimson recalls the impact Nichols had on himself and his teammates. 
"He was incredibly important to this team. He was the most positive person in the world," Brimson stated. "I mean, it was insane, we could of had an awful game and he'd come back to the sideline just beaming. He was inspirational to a lot of us."
Bimson still struggles from the loss of his friend. Dealing with tragedy is never easy, especially when a young person is involved, but the senior goalie is dedicating this Broncos' season to Nichols.
"I knew him since I was very young, because I went to school with his sibling for a long time," Bimson said. "So we want to win another title for him."
A two-time section champion in 2018 and 2019, Bimson is one of the top players in the section. He was named last year's Capital Valley Conference MVP — a rare feat for a goalkeeper in any league. 
"That's something I'm incredibly proud of," he said. "To me, there's nothing more I'm really hoping for (personally). I feel like I proved myself and now it's just about the younger kids who are up here (on varsity) who didn't get to go through those experiences. Trying to get them to go through those same experiences — it's the greatest feeling."
Contreras calls Bimson a cat in the goal. He's agile, versatile and quick to snatch crosses out of the air. His reflexes jump off the page and he allowed just four goals through the Broncos' first nine league matches.
"I'm good at reading people, so I can predict some of those shot attempts," Bimson explained. "It's just one of those things. I probably got it from my dad, who played football at Cal. So sports have just been integral in my life."
Christian Powel, another team captain and Sacramento State commit, headlines the backline for the Broncos and is part of that stingy defense.
On offense, Aaron Farnan led the team in goals during the regular season. 
"He's a gunslinger. Every time he gets the ball, he's looking for the goal and he's going to shoot," Contreras explained. "He just has an eye for the goal."
Last year, Farnan was critical to the team's section title run, scoring on free kicks and corner kicks in the Broncos' postseason. 
"What makes a team dangerous is that any player on the field can score, and that's what we have this year," Contreras acknowledged. "So defenses can isolate one player because someone else will beat you."
With Bimson, Powel and Farnan leading the way, the Broncos got off to another fast start and never really looked back. 
Bella Vista clinched the Capital Valley Conference title outright before the calendar had turned to February. The Broncos owned wins over Antelope and River Valley-Yuba City. The team's lone blemish was a 1-0 loss to Woodcreek-Roseville. It came in a game where BV struggled to get good looks, taking just six shots all game. They were also denied a goal that night due to a goalkeeper interference call. 
But their coach thinks that loss might have been helpful.
"That was like the bump in the road," Contreras admitted. "If our boys thought they were really good, that showed them that anyone can win on any given day. I remind them every once in a while that, 'Sometimes the best team doesn't win, but good teams always win.'" 
They've been a good team for a while now. 
Bella Vista's 2019 season ended in double-overtime in the semifinals of the state regional playoffs. That team also only lost a single league match. Coincidentally, it was against Woodcreek, but they enacted revenge in the playoffs. They defeated the Timberwolves 3-2 before winning the section title.
"They know what it's like to be in those intense, competitive games," Contreras pointed out. "Out of all my players, only five haven't played in a playoff game."
Contreras has a wealth of experience, too. He led the program to back-to-back championships in 2010-11 and 2018-19. He's been at Bella Vista so long that he can recall coaching most of his current players' siblings through the years.
In 2010, Aaron's older brother Devin Farnan led the Broncos to a section championship. Drew Bimson's sister, Karly, was another one of Contreras' standouts, as was Haleigh Yang, the older sister of current senior Isaac Yang. 
It's a family tradition for Contreras, who has coached his son at Bella Vista and watched his brother in the program, too. From 1974 to 1978, Matthew Contreras suited up in the red and white Broncos' jersey before returning in 1983 to start his coaching career. Aside from a sabbatical in 1997, he's been coaching ever since. 
"It's been 30-plus years, but I've been lucky with good Bella Vista families," he said. "It's special to see them stay involved, maybe come back and watch a game or two."
This season, fans and players got to appreciate a true home turf. Poor field conditions forced the Broncos to play home games at neighboring schools in recent years. 
"Some of the kids on this team that were with me when they were sophomores have travelled with me for two years because we didn't have a single home game," Contreras said. "Our home stadium was grass – we didn't have turf – and it wasn't playable, so we had to travel to other schools for our home games."
The program celebrated its first senior night at Bella Vista stadium, on the new turf field, against Roseville High on February 7.
"That's going to be emotional," Contreras said in early February. "We've never played under the lights and had a senior night like this, so that's going to be great."