Ben Dillard: Oak Ridge Swim's Speed Racer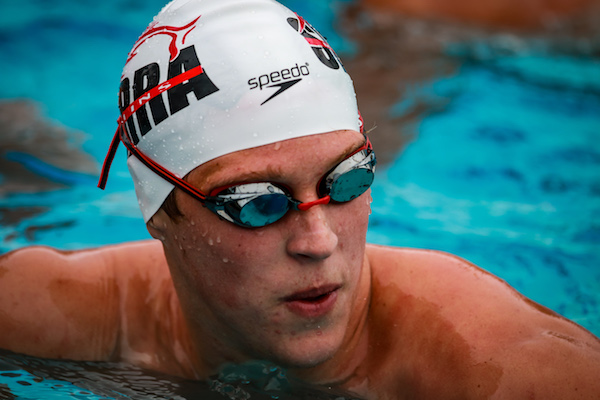 Just A Junior, Ben Dillard Leads The Oak Ridge Boys Swim Team At A Torrid Pace •
Amphibious Oak Ridge-El Dorado Hills junior Ben Dillard has an insatiable thirst for high-speed races inside 25-meter pools.
The lanky, shaggy-haired USC-commit set a CIF State Championship meet record in the 100-meter breaststroke during CIF prelims on May 10 at Clovis West-Fresno.
A day later, he broke his own record by winning the finals, and set the new gold standard at 52.74 seconds — a full second and a half faster than the runner-up.
In swimming, that's an eternity.
"I just remember diving off, and for the first 50 meters, I couldn't even feel my body," Dillard recalled. "I was just in the moment.
"The next 50 started to hurt, and the last 25, I just held my body line and maintained my speed in the water."
Dillard, a year-round swimmer since he was 12, loves the outdoor pool. He chases the gleam of the sun and the thrill of racing on and under water. He thrives when his teammates and rivals push him to his limits.
"I just like to race a lot," Dillard said. "That's why I come to the pool every day. I like to get away from everything here."
At state, Dillard also ended runner-up in the 200 individual medley in 1:46.14 and anchored a 400 freestyle relay (with Colby Mefford, Evan McCormick and Kyle Garcia) that won the finals with another CIF meet record, in 2:59.77.
Dillard, Mefford, McCormick and Jonathan Chu were also runners-up in the 200 medley relay in 1:29.80, losing by only two-hundredths of a second.
It was also the difference in a team championship, as Oak Ridge boys (174 points) ended just three points shy of state champion San Ramon Valley-Danville (177).
"I have a group of swimmers who are just phenomenal," Oak Ridge coach Tim McCormick said. "We just have a group of athletes who swam against each other in this area for a long period of time."
Coach McCormick credited the career-best marks at state to a training method that stretched grueling training throughout the season and didn't taper until after the Sac-Joaquin Section championships, which the Oak Ridge boys won.
Rostering a superstar in relays and individual races didn't hurt either.
Ben Dillard has now reached the finals of seven CIF events in two seasons, and boasts four state championships and two second-place finishes.
"I think the success at state is because of my teammates and coaches, because they got me there and they hyped me up," Dillard explained. I get really excited when my team is cheering me on in the background."
Dillard said he is also aided by the support of a swim family. His parents, Ernie and Tracy Dillard, champion the rigors of a year-round swim lifestyle. Ernie is president of Ben's swim club, the Sierra Marlins. Ben's older brother Ethan, once a CIF champion for Oak Ridge, is a redshirt sophomore swimmer for the University of Utah.
Coach McCormick has watched both boys work through his programs. He is also on the staff for Marlins head coach Rob Collins.
Coaches highlight Ben's attention to detail during training and his focus to accomplish the small things that transform good swimmers into great swimmers.
But it's not something you will hear Ben say.
"Ben is very humble," Coach McCormick said. "You wouldn't know about any of the things he has accomplished, because he never talks about his success. I think that makes him an amazing person.
"He will also give you the shirt off his back."
That is, when he's wearing one. It's a year-round sport after all, and Ben has a full year of prep competition left.
In 2021, Ben could face Ethan in the Pac-12 Championships. Ethan was 21st of 24 finals qualifiers this year in the 100 breaststroke. Ben's CIF finals record would have been good enough for eighth in the same meet.
That fast-time pedigree is why Dillard's impact on the USC swim program should be immediate. The reigning 100 breaststroke Pac-12 champion, USC senior Carsten Vissering, completed his final year of eligibility this season. The five-time All-American and USC record holder in the event (50.30) was also runner-up in the NCAA Championships.
"I'm just super excited to get to USC and be a Trojan (again)," Ben Dillard said. "I just have to keep trying to get better. I want to make it to the NCAA Championships and score points for my team."
Ben also mentioned aspirations to perform well at the United States Olympic Trials. Representing Team USA at the Games is his ultimate goal. It's what's kept him laser-focused on the pool and year-round practices with the Sierra Marlins. He plays a little basketball — he is 6- foot-3 after all — and enjoys music, but he doesn't let it invade his routine.
Before heats you can usually find Ben quietly getting his mind right, waiting to explode off the starting platform.
The race is over in a flash, but Ben's drive never ends.