Berean Christian Football: Size Advantage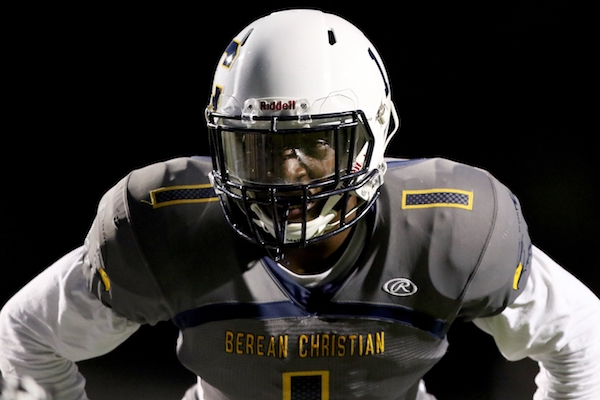 With A Roster Of Less Than Thirty, The Berean Christian Eagles Are Happy To Play Underdogs In A Much Larger League — And Prepare For A Real Run At A Division V Section Crown •

As an outsider looking in, it would be perfectly understandable to argue a small high school such as Berean Christian shouldn't be held to the same high standards as the bigger schools in the Diablo Valley league.
Yet athletes and staff on the Walnut Creek campus not only welcome it, but wouldn't have it any other way.
The school's enrollment is approximately 400-500 students with a football roster that rarely exceeds 30 players. The Eagles are firmly a Division V team within the North Coast Section. Meanwhile, their DAL-Valley Conference schedule will include four Div. II and two Div. III schools. This season will mark the second consecutive year the school fills just a varsity team.
To say the numbers are against the Eagles would be an understatement. However, if you ask anyone inside the facility they would insist the concern is misplaced.
"I don't think having less guys is a disadvantage, it forces us to play with a chip on our shoulder and be more mature student athletes," senior UC Davis-bound fullback and linebacker George Udo said. "Creating the bonds we have now at a young age allowed us to know we have one another's back on the field".
High school football coaches with NFL experience are rare. Even more unlikely is one with a Super Bowl championship ring sitting in his trophy case.
But that's exactly what the Eagles have in their head coach, James Hodgins of the 1999 Super Bowl champion St. Louis Rams — nicknamed by the media and known by most as "The Greatest Show on Turf."
"I try to pull lessons from all of my old coaches," Hodgins stated. The star studded cast of coaches includes Dick Vermeil, Mike Martz, Lovie Smith and Eric Mangini. Hodgins credits Vermeil for the tight-knit, family-first attitude he expects from his players — stating his method of coaching is commonly accepted by today's athletes.
"Our size and low numbers have always put us behind the 8 ball," Hodgins said. "But our size has become our rallying cry. You won't hear any complaints on our sidelines, we love to be the underdogs."
These Eagles may be young at key positions and lack the typical depth most teams enjoy, but Hodgins and staff vow this team will make up for its youth with hard work, character and checking egos at the door.
Every great team faces adversity throughout a season — the biggest hurdle this season for the Eagles may be at the QB position. The 2017 starter, Quincy Rhone, is still recovering from a broken leg suffered at the end of last season. Expect the team to rely heavily on the run until Rhone is medically cleared. The team also awaits the clearance of two transfer quarterbacks, Payton Little and Kyle Davidson, who become available to suit up after week four.
Coach Hodgins describes this group of young men as the complete package, ranging from young guys hungry to learn mixed with four-year varsity players who can take the lead when needed.
One of those guys poised to make an impact is three-time first-team all-league receiver Jayden Jackson. Jackson led the team with 412 receiving yards and seven touchdowns last season.
"This being my senior year, I want to be a role model for the younger guys," said Jackson. "Coach pushes us to a new level every day, demanding we challenge ourselves."
Many balked at the idea of a retired NFL athlete deciding to coach at a small school such as Berean Christian, but that small town vibe and dedication to education is exactly what attracted Hodgins when deciding to take the position six seasons ago.
He describes the school as the perfect place to do more than just win football games. But beginning this Saturday, that's what Berean Christian will turn its focus to.
The Eagles, who should be among the early favorites for an NCS Div. V title, will attempt to put it all together this year. The journey begins Friday night with a road game at Kelseyville. The Knights, also a Div. V team, lost their opener to Stellar Prep-Hayward 40-32 on Aug. 17.