Bishop O'Dowd Volleyball: Dragons Look To Set NCS Ablaze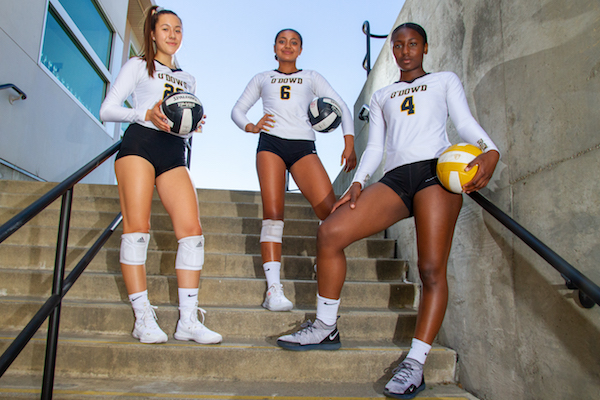 POWER TRIP: A Senior Core Stocked With Heavy Hitters Looks To Lead Bishop O'Dowd Volleyball Back To The State Finals •
Aggression. Intimidation. These are not words usually associated with girls volleyball  —  after all, there's a net separating the two teams, and contact is not only infrequent, it's forbidden. But it's how some tend to discuss Bishop O'Dowd Volleyball.
The Dragons, a defending North Coast Section and CIF NorCal champion, are all about power, and all about attack.
"We're always swinging," senior outside hitter Annabella Pirotta said. "We don't like to tip."
"We have a lot of power, a lot of big hitters," said setter Alexandria Hoglund, another senior (one of seven on the 13-girl roster).
_______________________________
GET CONNECTED:
Follow SportStars on Twitter & Instagram | Like us on Facebook | Subscribe!
_______________________________
The most powerful, though, and the biggest hitter, is UC Santa Barbara-bound senior Michelle Ohwobete.
"Her power and strength set the tone," Bishop O'Dowd volleyball coach Nova Bramed said. "She's one of the best players in Northern California."
"She's all power," said Campolindo-Moraga coach John Vuong, who saw that courtside in a loss to O'Dowd in last year's NCS Division II final.
Ohwobete, though, is just 5-11 and in fact, the Dragons roster has just one player taller than 6-0, so they lack the size of some opponents. "Big teams can smother you on the block," said Bramed, so he emphasizes attacking in different ways. "It's all about speed and getting faster at the net," he says. 
Of course, volleyball teams must defend too. Bramed, a former Moroccan national team player with plenty of professional and international experience, doesn't want his team to get too focused on just smashing the ball at every opportunity.
"Every single ball should be returned," he says. "We are after every ball — we hustle every single play."
That too is part of the O'Dowd aggressive mentality. "We're all about digging balls — we're not big in the middle," said Bramed.
That makes the margin for error a little smaller for the Oakland school than it is for other elite teams — and in the Division I state championship match against Temecula Valley, the Dragons lost 3-1 with every game decided by three or fewer points.
"It hurts to remember that," laughed Bramed when reminded of the scores, but it was O'Dowd's first trip that deep in the playoffs. "There are no regrets."
In his first season, when he co-coached with Lynn Hall, the Dragons won NCS but lost in the first round of NorCals.
Last year, again co-coaching with Hall, the team rolled through North Coast, defeating El Cerrito 3-0, Alameda 3-0, Carondelet-Concord 3-0 and Campolindo-Moraga 3-0 — that's right, without losing a game. 
In NorCals, the story was much the same with a 3-0 win over California-San Ramon, 3-1 wins over Archbishop Mitty-San Jose and St. Francis-Mountain View, and the only five-set match of the postseason, a 3-2 squeaker over St. Francis-Sacramento.
And then came Temecula Valley, and the 3-1 loss.
"Our team had never been that far, but we know what to expect now," said Hoglund. "We know what it takes. Our entire team is motivated."
"A lot of us still feel it," said Pirotta about the state championship defeat. "We have extra focus."
Bramed, though, sees the bigger picture, as coaches are supposed to do. "The journey's more important," he says. "The players may think 'If we don't win a state championship, the season's a failure,' but you can't go with that mentality.
"It's a process," he says. "You have to improve and get better every year. You have to enjoy the journey."
And this year the trip begins by replacing four graduated seniors, including Jasmine Powell, who's now playing at Portland State. The schedule, as usual, is loaded with NorCal powers such as Campolindo and Sacred Heart Cathedral-San Francisco, and there are tough tournaments on tap, including the Nike TOC in Arizona.
"My first year, we weren't prepared mentally (for NorCals)," said Bramed. "Last year, we played better teams, and it helped."
"Volleyball is a rhythm sport," said Bramed, "and it's mentally very challenging. You have to connect on the court — you don't have time to hold the ball and think."
And players have to build those vital connections during high-stress moments during the games. "Sometimes you have to let the kids go through it," said Bramed, "and challenge themselves."
And unlike basketball, say, there's less time for coaches to communicate during a match. "A 30-second timeout won't do much for you," said Bramed, and though coaches can signal to servers where to attack, after that the game becomes fluid and it's up to the players to react to whatever happens.
Which means integrating the new starters into the lineup and adjusting to new positions — this is Pirotta's first year on the outside — is critical if O'Dowd is to win its third straight NCS title and get back to the state championships.
"We're already starting to gel but communication can always get better," said Hoglund. "It's going to take some time to adjust."
That's a potential weakness that other teams will try to exploit. "You have to get them out of system," said Campolindo coach Vuong, "then they have to scramble. And you have to serve well."
But Vuong, whose program is consistently one of the best in Northern California, acknowledges O'Dowd's strength.
"They're a power team," he says. "That's what they're known for."
And as on all good teams, the O'Dowd players understand their strengths. 
"We're all physically strong," said Pirotta, and first in line in that regard is Ohwobete, who started lifting weights in seventh grade.
"We have a lot of power," said Hoglund, using that word again. "We can intimidate some teams."
"Once the other teams fear your hitting," said Bramed, "you're in a pretty good spot."
And coming off a 62-15 record in the past two seasons, with the experience of playing for a state title already in the bank, Bishop O'Dowd volleyball is in a pretty good spot as well, ready to take the next step on the journey to a California championship.
And they've got the power to make it happen.