Bryce Monroe | Fan Choice NorCal Boys Hoops Player Of The Year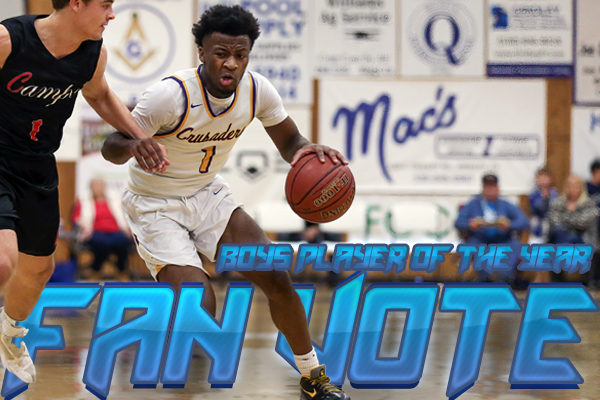 After Storming The SportStars Fan Poll Through The Write-In Process, Riordan Senior Bryce Monroe Gained Over 23,000 Votes •
Bryce Monroe has proven himself a player of many skills over the past two seasons at Archbishop Riordan in San Francisco.
The lightning-quick, 5-11 guard can play at a breakneck pace while dazzling in the open court with ball skills and court vision. Confine him to the half court and he'll rip a pull-up 3-pointer or cross over a defender and knife his way into traffic. 
"He's just so quick. He's dynamic in the open court," Riordan coach Joey Curtin said in a January interview with SportStars. "His body control is ridiculous. He's just one of those guys who's a nightmare to guard. You have to really pay a lot of attention to him because he'll score 10 points in a row in a two-minute span and you're like, 'What the heck just happened?'"
Monroe's skills led to a monster senior season that saw him average 20.2 points, 3.2 rebounds and 3.2 assists per game. All while playing in the Bay Area's toughest league (West Catholic) and section playoff field (Central Coast Section Open Division).
The Sam Houston State-bound Monroe also had a knack for saving his biggest performances for the toughest opponents. He scored 34 against CIF NorCal Div. II champion Weston Ranch-Stockton, and 44 against Norcal Div. I champion Campolindo-Moraga. 
_______________________________
STAY CONNECTED:
Follow SportStars on Twitter & Instagram | Like us on Facebook | Subscribe!
_______________________________
Campolindo was not the No. 1 seed in the Div. I NorCal bracket, by the way. It was Riordan. But concerns over the COVID-19 outbreak led to school officials removing the Crusaders from the tournament. Who knows what Monroe and his cousin, Riordan senior wing Je'Lani Clark, could have done together on one or two final big stages?
"They were one of the best tandems of all time, and you had to pick your poison," Valley Christian-San Jose coach Mark DeLuca said. "They intentionally shared with each other."
Yet, even after the season, Monroe wasn't done adding skills. Over the first week of April, he showcased his email server full-court press, and his poll-breaking prowess. 
Initially not part of our NorCal Boys Basketball Fan Vote — foolishly we might add — Monroe's fan base used the write-in option to flood our editor's inbox. He earned more than 100 votes from as many as 35 unique voters in the first 24 hours. But Monroe's Army, which includes over 11,000 Instagram followers, was just getting started. 
We added him to the click-voting portion of the poll and he gained over 10,000 votes in the first 12 hours. Caught off guard at the speed of his support, SportStars checked to make sure the total was correct. It very well may have been, but because a software error was spotted upon checking we began a second poll.
Monroe and his team dominated that one as well, also reaching over 10,000 votes. Our two boys fan votes garnered more than 73,000 votes and Monroe collected just over 23,000 of them.
Dublin senior Anthony Roy nearly cleared 20,000 votes between the two polls. He finished leading the first with 15,666 when it was closed. He was second to Monroe in the ensuing vote. Campolindo sophomore Aidan Mahaney had more than 11,000 votes across the two polls. Bellarmine's Quinn Denker used the write-in route to storm the second vote and reach over 1,200.