Bryce Monroe Riordan Basketball SportStar of the Week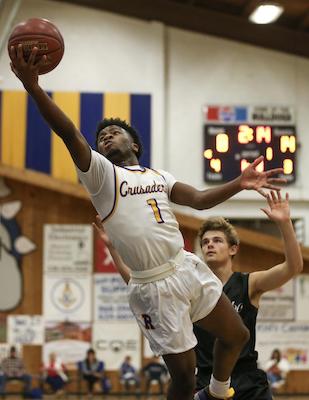 When SportStars Magazine launched a NorCal boys basketball Player of the Year fan vote on March 31, Bryce Monroe was not among the nine voting options. But after a relentless write-in campaign got him added, the Sam Houston State-bound guard landed more than 23,000 of the 73,000-plus total votes received over a 10-day span.
It earned the first-team All-NorCal Monroe the honor of People's Choice Player of the Year.
_______________________________
LET'S CONNECT!
Follow SportStars on Twitter & Instagram | Like us on Facebook | Subscribe!
_______________________________
Bryce Monroe is one half of a senior backcourt that's led Archbishop Riordan-S.F. basketball to No. 1 in NorCal.
On the court, Monroe delivered a monster senior season that saw him average 20.2 points, 3.2 rebounds and 3.2 assists per game. All while playing in the Bay Area's toughest league (West Catholic) and section playoff field (Central Coast Section Open Division).
Photo credit: David Gershon.
As always, our partners at SportsToday help spread love, running our SportStars of the Week in their Monday e-news letter! Check 'em out when you have a minute.