Rising Capital: D'Marcus Ross Leads Potent Capital Christian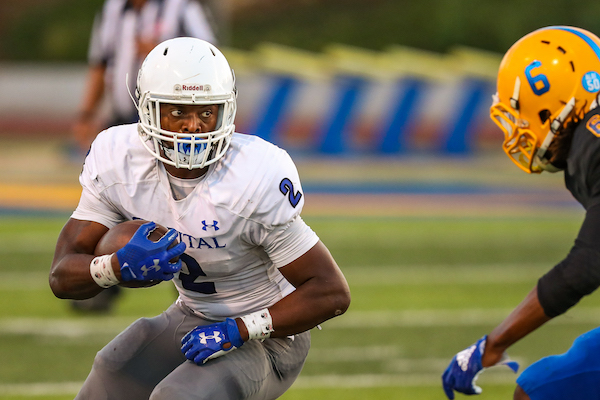 With Perhaps Sacramento's Best Two-Way Player Running The Show, Capital Christian Football Eyes A Deep Postseason Run •
Needing just six carries Friday night, senior tailback D'Marcus Ross led a potent Capital Christian-Sacramento offensive onslaught as he reached the end zone three times en route to a 56-13 shellacking of El Camino. His trio of scores helped the Cougars extend their win streak to six games and continue their unblemished 2018 campaign. 
Ross is one of many impressive standouts through six weeks of the Cougars' season. And he's produced big-time runs without many opportunites. 
One example came on Sept. 7 when Ross missed the entire second half of his game against Antelope High. Despite getting just six carries, he still averaged over five yards per touch before exiting the game on an ejection.
And regardless of his six carries last week, Ross is positioned in the top-ten in the section with 915 yards on the ground heading into week six of the 2018 season, according to MaxPreps.com.
The two-way standout racked up a career-high 320 yards rushing in a season-opening win over Cosumnes Oaks-Elk Grove before ripping off 233 yards against a storied Grant-Sacramento program in a 42-14 week-two victory. 
In fact, Ross is just 126 yards away from surpassing his rushing total from last year, and he's over halfway to his career-high total of 1,421 (2016) in five less starts. That's not to mention the fact that he still has four regular season games left this season.
"He's phenomenal – I think he's the best player in the city," Capital Christian coach Casey Taylor says. "He's a great player, great leader – someone who has a knack for the big play… a special one."
With touchdown runs from 11 and 76, plus a 17-yard touchdown pass against Grant – all in the first half – Ross showcased his big-play ability in front of a raucous crowd during the Aug. 31 meeting. But that game against the Pacers also brought added meaning for Ross, who had a massive family presence in the stands including aunts, uncles and cousins. 
"I grew up around this neighborhood, so I grew up watching (Grant) play," Ross explains. "I grew up watching Shaq Thompson, Devontae Booker, James Sample – watching them really inspired me to play football. And the harder they go, it makes me go harder.
"I see those guys in the League (NFL) and that's where I want to be, too." 
A senior this year, Ross has offers to continue his gridiron career at the collegiate level. He has offers from UNLV, San Jose State, Colorado State, Utah State and Sacramento State, and added interest from other programs. He also has the chance to shine and receive even more attention late in the 2018 season as the Cougars eye a playoff run.
With Div. I opponents like Grant and Cosumnes Oaks on the team's preseason schedule, as well as Div. II power Antelope, the Cougars have the strength of schedule and the wins for a top postseason seed.
"We scheduled those teams to simulate playoff games, section games, NorCal games, state games," Taylor said. "Grant is one of those places – if you can come into Del Paso Heights and play like we did, you've got a chance to win some games late in the season."
But after a disappointing first-round exit from the playoffs a year ago – Taylor's first season at the helm of the Cougars' program – the veteran coach is excited about this year's group come playoff time. 
He has a pair of strong-armed quarterbacks, both of whom can tuck the ball and run when they need a first down. Taylor has playmakers at running back and wideout, and he has a ferocious defense. There's so much talent that senior quarterback Cooper Crick's face lights up anytime his offensive weapons are brought up in conversation. 
As a big smile crosses his face, it's evident that he's privy to information the rest of the section will soon find out about.
"It's unreal. It's almost unfair," Crick admits. "It feels like (we're) playing on a 7-on-7 team with a bunch of athletes, just having fun while doing it.
"The kind of speed we have, the kind of physicality that D-Mar brings and (his speed), it's going to be hard for anybody to stop."
So far, that's true. 
Through six games, the offense is averaging just over 43 points a contest and the team has already faced its toughest competition of the season. The Cougars' remaining four opponents own a combined 5-16 record as the teams round out league play.
So despite the program's move to the more competitive Capital Athletic League this year, Crick and his teammates seem poised to make yet another title run.
"We come to practice every day knowing that we're a small school that no one takes seriously," Crick acknowledges. "So we play with that anger, we play with that intensity every single day and we come to practice ready to play, ready to prepare. And it shows. 
"We're out here to make a statement every week."
A strong win over Cosumnes Oaks to start the year, a key victory against Antelope without their best player in the second half, and most importantly, a dominant win against Grant has helped the Cougars make that statement this season. With four weeks left in the regular season, there's still plenty of football to be played. Coach Taylor is excited for what's to come.
"(That Grant victory) was a real tipping point for where we're going with our program," Taylor says. "And I'm so proud of these guys; we're going to celebrate (that) one. But there's more to do. We're real excited about where we're at, where we're going to and how the guys are playing. 
"We're changing the culture, and we can't thank our school and our support from parents and fans enough."