Center Football: Michael Wortham Jr. Is Stepping Out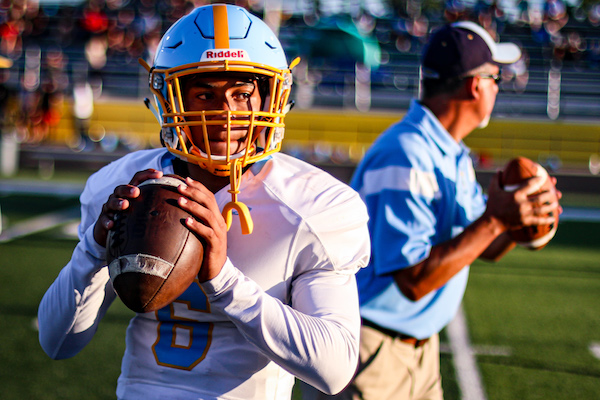 Michael Wortham Jr. Can Bust A Move And Spin A Football — And Center High's, Dance-Loving Quarterback Is Ready For The Spotlight •
Hidden in the bowels of the internet, still undetected by YouTube copyright infringement, is a 2009 home video that opens with a black curtain in the corner of a carpeted bedroom and Chris Brown's 'Wall to Wall' playing in the background.
"Introducing the young, the talented, extraordinary Michael Wortham," a woman's voice cuts in. "And heeeeere he goes!"
She was only prefacing Wortham Jr.'s latest dance video, but Chanel Amin couldn't have been more prophetic.
Though relatively unknown, the senior quarterback is a superstar of Northern California football who shreds Sac-Joaquin Section defenses with unnerving proficiency via his arm and legs — amassing nearly 5,500 yards of offense and 70 touchdowns so far.
Two weeks into the 2019 season, Wortham Jr. sported a 67 career completion percentage with 3,788 passing yards and 49 touchdowns. He's also rushed for 1,635 yards (nine yards per carry) and 21 touchdowns.
_______________________________
GET CONNECTED:
Follow SportStars on Twitter & Instagram | Like us on Facebook | Subscribe!
_______________________________
His talents are a dream for offensive coordinators and a nightmarish challenge for opposing teams, but at 5 feet, 9 inches tall, Wortham Jr. still can't spot any college offers over the heads of his offensive linemen.
"When you are undersized you have to really prove yourself and show all of your skills to get looked at," Wortham Jr. said on Sept. 2, three days after leading Antelope's Center High School to a 42-7 win over Liberty Ranch-Galt. "It's hard for everyone, but when you are short, you have to be great everywhere, and even then a lot of guys get positions switched when they get to college.
"I don't want to do that, but if I have to sacrifice to get where I want to go, I will."
Wortham Jr. is motivated by 5-10 Arizona Cardinals rookie quarterback Kyler Murray, the first signal caller under 6-feet tall selected in the first round of the NFL draft (No. 1 overall).
OK, he's a long way from Murray, but he does similar damage to an opposing game plan.
"He's a pain in the (butt)," Rio Linda coach Jack Garceau said. "He's outstanding, truly one of the rare talents in the area.
"If he was three or four inches taller, he would be an amazing D-1 prospect. He has big-time talent for sure."
Garceau knows all too well. Though the Knights are reigning CIF Div. 5-A State Bowl Champions, they have lost two straight games to Wortham Jr.'s Cougars, including a 48-40 thriller on Aug. 23. 
In three games against Rio Linda, one of the best defensive teams in the region, Wortham Jr. has completed 33-of-49 passes for 479 yards and five touchdowns, while also running for 392 yards and five scores. He has played five years behind center, dating back to youth football. The senior credits his progression at the position to his father, Michael Wortham Sr., and Center football coach Digol JBeily.
"He throws a great ball. His arm is awesome," Garceau said. "He can also escape the pocket, but one of the best things he does is show patience.
"He'll be the X-factor for them, and if he can stay healthy, they will have a great season."
Wortham Jr. was dogged by injuries in 2018. After a 5-0 start to the season, he left the Bear River-Grass Valley game with an ankle injury and a lead the Cougars lost in a second-half defeat. Center played the next game without him, and Foothill-Sacramento upset the Cougars. The losses hurt Center's playoff positioning, and the team limped out of the Div. V playoffs with a second-round defeat to eventual section champions, Bear River.
Center appears to be a more complete team in 2019. And though the team returns just seven offensive starters, four of them protect Wortham Jr. on the offensive line. The Cougars dominated the line of scrimmage against Rio Linda, opening massive holes for Wortham Jr. and aptly-named bruiser-back Legend Young.
Young sprained his ankle late and didn't play against Liberty Ranch, but he rolled up 155 yards and two touchdowns on 21 carries against Rio Linda. It was a game where the Cougars also held one of NorCal's top running backs, Cameron Skattebo, to just 206 total yards and only one touchdown.
The word "just" seems a little strange, but Skattebo bolted for 3,788 yards from scrimmage last year and is on a personal quest for 3,000 rushing yards in the first 10 games of 2019.
"Our guys know it's a rivalry and they are up for Rio Linda every year," JBeily said after the win. "We play them tough and we've been playing for the last 20-25 years. It's a good game every year."
It wasn't always a good rivalry. Rio Linda won 11 straight games from 2001 to 2011. Center has since won five of the last eight.
The Knights also earned a ton of notoriety by winning a state bowl game last year. It's the kind of attention Wortham Jr. feels Center deserves, and he's targeted five teams that Center could both beat and steal attention from.
"Placer (Auburn), Rio Linda, Lincoln, Del Oro (Loomis), Antelope … I know it sounds crazy, but those are my top five schools that get a lot of publicity that I feel like we can compete with and beat," Wortham Jr. said. "I would also like a chance to play Folsom, the best program that anybody has seen around here.
"The better competition we face, the better we play."
Tackling a perennial Div. I state power won't happen under the current playoff format, and Center has plenty of foes in its own division. The most pivotal transformation for Wortham Jr.'s squad will be bottling all that regular-season strength and success and unleashing it with consistency in the postseason.
Center has made the playoffs in eight consecutive seasons and seen three SJS semifinals and one SJS championship game in that span, but the Center football program has never won a blue banner. Galt defeated the Cougars 24-14 in the 1988 finals, and Placer won a 2017 championship meeting 42-32. Wortham Jr., then a sophomore, combined for 286 yards of offense and four touchdowns in defeat.
He now looks to write a new chapter in the SJS record-books this season. The talent is there for it, despite Center sporting just 23 players on the varsity roster. 
Latrell Harris, Brandon Fernandes and Cam Denham are serious receiving targets. The three combined for 10 catches and 130 yards against Rio Linda. Young will bully defenders with inside runs and Wortham Jr. anticipates breakout rushing games from other speedsters on the roster.
Center has a few stars on defense, like Harris, Fernando, safety Orion Bryant and defensive end Kelvin Jackson II. Wortham Jr. will also play some defense in pivotal situations. When you are all-in on football, there isn't much you won't suit up for.
"Effort and hard work is what my coaches preach and it's what I preach to my teammates," Wortham Jr. said. "You have to show more effort, work harder and show more heart than the opposing team.
"Those teams that have made it to state championship games, they put in more effort and hard work, heart than anybody."
It's the never-ending mantra that makes the Center football leader great at everything he does. And it's not just football-specific. He said he easily gets As and Bs in his classes, and his dance skills have greatly improved since he emerged from the black curtain with dynamic dance moves back in 2009.
He isn't embarrassed by the video.
"I have no shame in my dancing," He said with a laugh. "That's the part of me most people don't know. I learned to dance and do flips watching 'You Got Served.'" 
If Wortham Jr. makes it big à la Kyler Murray, he wants a shot at ABC's "Dancing with the Stars."
"I would need some good training to dance fast like that, but I could do it," he said.
His mom has the perfect introduction already rehearsed.