Charlie Wedemeyer All-Star Football: Two Gabes Lead North To Victory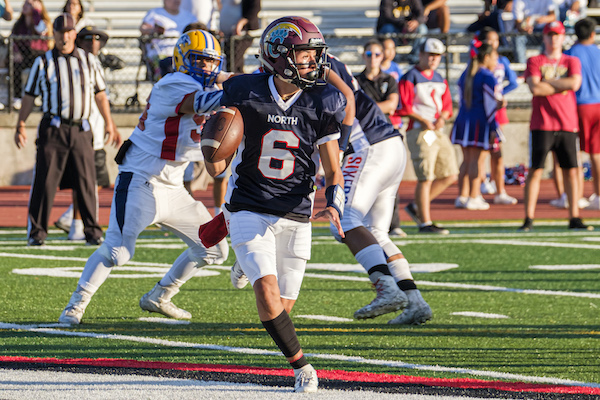 Gabriel Reclusado And Gabe Herrera Shine In 45th Playing Of The Charlie Wedemeyer All-Star Football Game Showcasing The Most Recent Santa Clara County Grads •
Between the Toronto Raptors and the Stark Family of Westeros, it's been a good year for the North. That didn't change in the 45th Annual Charlie Wedemeyer All-Star Football Game on July 18. 
Gabriel Reclusado (pictured above) and Gabe Herrera each had a pair of touchdowns as the North All-Stars defeated the South 34-17 in a showcase of the top graduated seniors from 46 Santa Clara County high schools. 
The game started with some early jitters as both squads struggled to get anything going on the offensive side of the ball.
The first quarter saw four consecutive possessions end on downs. The North attempted back-to-back 4th-and-longs on its own side of the field. Neither team found a rhythm and the game was still scoreless after the first frame. 
The South was able to strike first, opening the second quarter with a 38-yard field goal.
The North all-stars finally got on the board with a 79 yard catch and run from the Silver Creek-San Jose duo of quarterback Alejandro Flores and receiver Nnamdi Obilor. It made for a 6-3 lead after the point after was blocked. 
 "It was an amazing way to end my high school career," Obilor said.
Gaining momentum, the North successfully stopped the South for a third consecutive failed fourth down conversion. This time on the South's own 23-yard line.
The North made quick work of its friendly field position. Herrera, who helped Wilcox-Santa Clara to a CIF state bowl title in 2018, scored on a goal-line plunge to give the North a 10 point lead. 
Riding the momentum, the North defense put some points on the board with a pick-six by Reclusado. It was a 25-yard interception return that put his team up 17-3. Following another interception by the North defense, Reclusado showed his abilities on the other side of the ball. The former Piedmont Hills-San Jose star took over at quarterback and completed two passes for 81 yards. One of those passes went for a touchdown to his former Piedmont Hills receiver, Brandon Lowe. 
"He's a little baller," North head coach Burt Codera said. "He can do it all."
The South picked up its first touchdown late in the first half on a 15-yard pass from Austin Jobe (Pioneer-San Jose) to Laronn Chapman Jr. (Hill-San Jose).  The scoring sent the South into halftime trailing 27-10.
The South was able to cut the deficit to ten entering the final quarter, but the North answered quickly. Herrera picked up his second score of the night to push the lead back to 17. 
A late push by the South was stifled as they were stopped one more time on fourth down. 
"I remember watching great players in this game at home on TV when I was younger," Reclusado said. "And it made me really want to be a part of it. Now that I am it's pretty cool."