CIF State Wrestling: NorCal's Top Contenders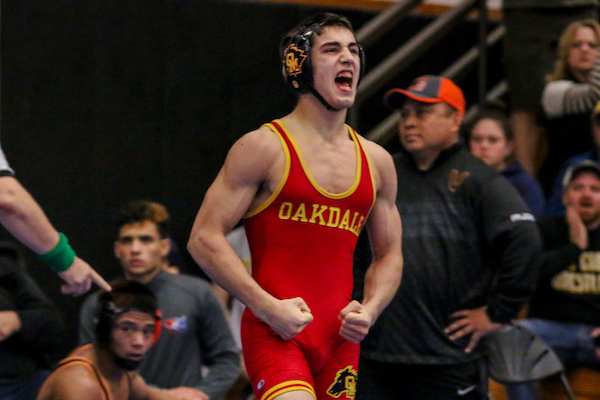 It's Our Annual Weight-By-Weight Breakdown Preview Of The CIF State Wrestling Championships. Who Is NorCal's Best Hope? Who Could Bracket-bust? •
Seeds schmeeds.
No matter where wrestlers landed in the 14 40-man brackets at the CIF State Wrestling Championships, they have the scrambler's chance to victory.
It's what makes the all-division state tournament so electrifying and why anointed stalwarts fall from the championship bracket every year.
The best 560 wrestlers from 10 scholastic sections will battle through 13 rounds at Rabobank Arena in Bakersfield across three days this week, starting Thursday.
Below is a special look at the weight classes, including a glance at the top wrestlers in every bracket and the best Northern California talent. Potential NorCal upsets are also highlighted.
106 POUNDS
Overview: Returning CIF state wrestling champion Richard Figuero of Selma is heavily favored here after a bevy of postseason accolades and wins over the No. 2, 4, 5, 7 and 8 seeds in this bracket. Figuero is undefeated this season and should stay that way when the dust clears at Rabobank.
NorCal's best hope: Freshman Ryan Luna of St. Francis-Mountain View should shine after a grueling season of elite competition. He's seeded seventh and should challenge second-seed Jack Gioffree of Buchanan-Clovis in the quarterfinals. Top-eight seeds were also awarded to Oakdale's Brayden Abell (No. 4) and Devin Garcia of James Logan-Union City (No. 5), who could meet in the quarterfinals. The winner of that match would make top six and guarantee a state medal.
Upset special: SJS champion Andrew Calvert of Franklin-Elk Grove only earned a No. 12 seed for his efforts at Masters, and can bust up the bracket by beating Garcia in his third bout. He's been nails this postseason. Dylan Maples of Bella Vista-Fair Oaks also snared the No. 16 seed by beating Abell last week and could find more heroics at state.
113 POUNDS
Overview: Seeding has set the table for a Central Section rematch with Tristan Lujan of Selma and Carlos Negrete of Buchanan, but this bracket is loaded with elite talent, and anyone could thwart that rematch with a big move.
NorCal's best hope: It's a NorCal feast at 113. SJS champ Israel Tubera (Pitman-Turlock), NS champ Jimmy Heryford (Sutter), CCS champ Christian Caubag (Monte Vista Christian-Watsonville) and NCS champ Blake Fredrickson (Windsor) earned seeds No. 3, 4, 5 and 8, respectively. All have enormous medal potential after fighting for section titles last week.
Upset special: Carter Bailey of Granada-Livermore, the No. 15 seed, should see No. 2 Negrete in his second bout. He lost to Negrete just 5-4 at the Zinkin Classic and could close that gap early.
120 POUNDS
Overview: Returning section champion Maximo Renteria of Buchanan is heavily favored and undefeated against Californians. He's already beaten 2017 Del Oro transfer Antonio Lorenzo of St. John Bosco-Bellflower this year, after upsetting him in last year's state semifinals. A rematch in the semis this year could give Lorenzo much-needed vengeance.
NorCal's best hope: SJS Masters champion TJ Ruiz of Vacaville said the Bulldogs have a room full of killers. He's seeded 10th here and can end his senior year with a bang by winning some upsets and reaching the CIF medal podium.
Upset special: No. 11 seed Isaiah Schanepp of Whitney-Rocklin is looking for his own upsets at the tail end of his breakout sophomore season. He sat out the 2018 season and has been one of NorCal's biggest stars.
126 POUNDS
Overview: This bracket has roused quite the debate about CIF state wrestling seeds, since Central Section champ Wayne Joint (Lemoore) and CS runner-up Hunter Leake (Buchanan) are both seeded lower than No. 2 Devin Murphy (Clovis North-Fresno), who lost to Leake in the CS tournament and ended third there. This bracket is bound to be wild, and Southern Section champion Aaron Nagao (Esperanza) emerged with the top billing at No. 1.
NorCal's best hope: Victor Jacinto bided his time in the wings of Gilroy's depth last year, but looks to make a big impact in his first postseason. He is seeded seventh and could cause some more drama by beating Murphy in the quarterfinals. He lost just 3-1 in their last meeting.
Upset special: Despite beating No. 9 Dakota Unpingco (Freedom-Oakley) at the Tim Brown Memorial Classic, Turlock's Adrian Heras is seeded 12th. He has improved all season and hit his stride at the SJS Masters, where he was first. He should see Joint in round two.
132 POUNDS
Overview: A three-time CIF state wrestling qualifier who has never clutched a state medal, Kyle Parco (De La Salle-Concord) should put his footprint on the podium this season, as the No. 1 seed. The Doc Buchanan champion won a hard-fought NCS final last week and should continue his run here. He could see 2018 CIF runner-up Ryan Franco of Clovis North in the finals.
NorCal's best hope: Returning 120-pound CIF runner-up Henry Porter (pictured at top of post) navigated a tough SJS bracket to win gold and picked up the No. 4 seed here. He's stubborn in every position he gets into, and will be tough to score on. No. 5 seed Jose Fernandez of Upper Lake was the NCS runner-up to Parco and beat Franco at the Doc Buchanan.
Upset special: Devin Holman (El Capitan-Merced) is cagey and put his opponents in awkward spots with his athleticism. He's unseeded and can take down No. 16 seed Luke Gayer of Calvary Chapel-Santa Ana in his first match.
138 POUNDS
Overview: Two-time CIF state wrestling champion and National No. 2 (Intermat) Jesse Vasquez of Excelsior Charter-Victorville is alone atop this bracket. No one has come close to beating him this year, and they won't break that habit this weekend.
NorCal's best hope: Second seed Chase Saldate is perhaps Gilroy's best pound-for-pound wrestler and should be nails in the bracket's bottom half. SJS champ Ricky Torres (Oakdale) picked up the No. 6 seed and should battle No. 3 Tyler Deen (Buchanan) in the semifinals. Eli Blake (Del Oro-Loomis) is seeded seventh.
Upset special: No. 14 seed Dwayne Guerrero of De La Salle is the NCS champion. He will likely meet CS champ Tyler Deen of Buchanan in his second match. He lost to Deen just 3-1 this season and can cause some bracket havoc with an upset.
145 POUNDS
Overview: Three-time state placer Jaden Abas of Rancho Bernardo-San Diego is the anointed one at 145 after winning three state medals, including gold last year. The Walsh Ironman runner-up is unbeaten against California wrestlers and should continue that streak here.
NorCal's best hope: A three-time state qualifier who has never medaled, John Fox has enjoyed a stellar campaign and picked up the No. 6 CIF seed. Fox has a tough quarterfinal draw with No. 3 Dawson Sihavong of Bullard, but it's the kind of match he needs to win to achieve his goals. Sammy Silveira (Pitman) also has opportunity to succeed here at No. 13.
Upset special: Just because it would be awesome, watch out for SJS runner-up Seth Borba (Oakdale), the No. 16 seed. Borba will get Abas if he makes the second round, and he can create all kinds of noise with one big move there.
152 POUNDS
Overview: Selma's Jace Luchau and Poway's Aaron Gandara, an Arizona transfer, are the top two seeds at 152, but East Nicholas junior and Del Oro transfer JT Stinson lurks as the No. 3 seed after taking seventh at the same weight a year ago. Stinson has lost just one match, to 160-pound CIF No. 2 Noah Blake (Del Oro).
NorCal's best hope: Stinson could win his way to any spot on the 152 podium. He's terrific in a scramble. Vacaville's top talent, seven-seed Tyee Ducharme, is one of best wrestlers in NorCal and should also shine here. Eight-seed Daniel Vizcarra of Gilroy also plans to medal.
Upset special: Two NorCal wrestlers have the skills to upset the No. 4 seed, and they could meet in the first round if NS runner-up Corey Williford (Foothill-Palo Cedro) wins his pigtail match. A win would set up a match with SJS runner-up Hassan Khan (Franklin-Elk Grove). The winner of that showdown would likely get No. 4 Troy Montanona of Palm Desert.
160 POUNDS
Overview: Can Noah Blake thwart his biggest nemesis? The Del Oro senior could set a school record by winning his fourth state medal, but the No. 2 seed wants CIF state wrestling gold. To get it, he will have to overcome Buchanan's Matthew Olguin, whose beaten Blake twice this season. Olguin, the top seed, is ranked No. 5 in the country.
NorCal's best hope: Blake must wrestle with extreme focus after slow-playing his SJS finals win. Aggression throughout the bracket will be vital.
Upset special: NCS champion Alex Garcia of Kelseyville is extremely tough, and will look to do damage from his No. 13 seed. He could see No. 4 seed Max Wilner of Fountain Valley with upset opportunity in the second round.
170 POUNDS
Overview: Unbeaten Trabuco Hills-Mission Viejo superstar Trey Munoz is looking for a CIF title after ending runner-up at the 2018 state tourney and winning this year's Doc Buchanan bracket. He's ranked 10th in the country.
NorCal's best hope: Returning CIF state wrestling runner-up Gabriel Martinez (Oakdale) could only land the No. 8 seed after early losses, and will fight to snare another medal after rolling through the SJS Masters. No. 9 Joe Barnes (Gilroy) is also tough here.
Upset special: The Sac-Joaquin Section was loaded at this weight, and sports bracket busters at the seeds No. 10 (Placer's Joseph Valdez), 11 (Oakmont's Sean Myles), 12 (Vacaville's Cole Chapman) and 13 (Kodiak Stephens of Bret Harte-Angels Camp).
182 POUNDS
Overview: Trent Tracy of Frontier-Bakersfield is expected to win his second straight state title after going unbeaten this year. Southern Section champion Nathan Haas (St. John Bosco) is a stout No. 2 seed, undefeated against Californians this year. He previously shut out the No. 3 seed, Tyler Gianakopulos of Clovis, 6-0.
NorCal's best hope: Franklin-Elk Grove star Malik Lewis is dangerous on his feet, and should electrify the CIF crowd with powerful throws. He is seeded fifth and could pin anyone in the bracket. At the Doc Buchanan, Lewis lost just 4-3 to fourth-seeded Joseph Curtis (La Costa Canyon-Encinitas).
Upset special: The pride of the Oakland Section is its only seeded wrestler. No. 14 Denzel Mabry of Castlemont can give the section plenty of prestige by prevailing in a few key matches to make the podium.
195 POUNDS
Overview: Gilroy's Ryan Reyes is the top seed and ranked No. 3 in the country. The Fresno State-bound stalwart has only three losses to out-of-state nationally-ranked wrestlers. He was third at the Walsh Ironman.
NorCal's best hope: Reyes and No. 2 Adrian Chavez of Liberty-Brentwood could meet in an all-NorCal finals and should dominate this bracket.
Upset special: Cody Golding of Oakdale is seeded fourth here after a sterling performance to win the SJS Masters and should do well in this bracket. No. 11 seed Elliott Houghton of Calaveras is also tough, and should rebound from his semifinal loss to No. 5-seed Peter Ming of Elk Grove last week. Reagan Dahle of tiny Big Valley-Bieber (86-student enrollment) played eight-man football for the Cardinals and was a Northern Section sensation this season. He picked up the No. 15 seed and could inspire in this bracket.
220 POUNDS
Overview: After getting stuck in the third round of last year's CIF state wrestling tournament, Victor Jaquez of Bellarmine-San Jose should maintain his top seed in 2019. He is ranked No. 6 in the country.
NorCal's best hope: Jaquez is one of NorCal's best, pound-for-pound. Durham's Jacob Christensen also earned the No. 6 seed after a stellar season, and Folsom's SJS champ Kyle Richards is stout at No. 7.
Upset special: Vacaville's Chris Island (seeded ninth) and Hilmar's Justin Rentfro (seeded 10th) are projected outside the medal round, but both could land upsets in championship or consolation to fight for CIF state wrestling hardware. Rentfro is back after missing the 2018 postseason and could excite in his third match against Richards, who beat him 2-1 at the SJS Masters.
285 POUNDS
Overview: National No. 14 Nicholas Villarreal of Gilroy is the top seed and favored here, but the succeeder to four-time state champ Seth Nevills (Clovis) could come from anywhere in the bracket. No. 2-seed Michael Jeffus of Turlock was dominant at the SJS Masters, and could make a run at the title.
NorCal's best hope: NorCal wrestlers occupy the No. 1, 2, 3 (Justin Ramos of Vista del Lago-Folsom), 4 (Levi Markey of Del Campo-Carmichael) and 5 (Fremont's Cohle Feliciano) seeds. The upper half of the state will be well represented on the medal podium.
Upset special: Eric Hayward of Vacaville and Lucas Cook of Lincoln-Lincoln were unseeded at taking third and fourth, respectively, in a gauntlet heavyweight bracket at the SJS Masters. Expect both to win upsets here.