California Wrestling Championship Teams 1973–2020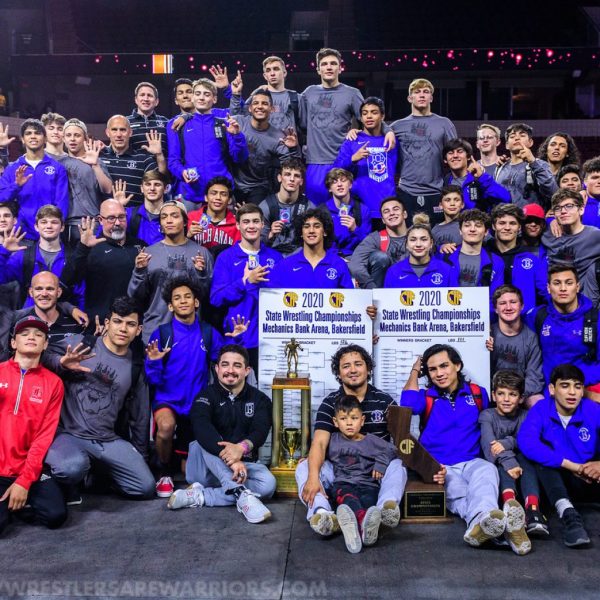 SportStars wrestling Insider, Al Fontes (The California Wrestler) offers his retrospective report of California State Wrestling Championship Teams dating back to 1973. There's a photo gallery included. Click this link also for a player-by-player list of 1973 & 2020 CIF State Individual Champions.
Perpetual stalwart, Buchanan High School-Clovis caps off the 2020 wrestling season (its 6th overall and 5th in as many years) as #1 in the State. Only one other high school team has won as many consecutive state titles as Buchanan. Clovis, with an overall record of 13 State titles won five consecutive championships starting in 2011 and running through 2015. Overall, Clovis is the winningest team with 13 State titles to its credit.
California State Wrestling Championship Teams
Clovis (CS): 1974, '75, '76, '90, '91, '92, '03, '08, '11, '12, '13, '14, '15 (13x)
Calvary Chapel (S): 1993, '94, '96, '97, '98, '00, '01 (7x)
Buchanan (CS): 2006, '16, '17, '18, '19, 2020 (6x)
Poway (SD): 1986, '99, '05, '09 (4x)
Bakersfield (CS): 2002, '04, '10 (3x)
Clovis West (CS): 1983, '84, '89
Vacaville (SJ): 2007
Independence (CC): 1995
Antioch (NC): 1988
Victor Valley (S): 1987
Valhalla (SD): 1985
El Dorado (S): 1982
South Hills (S): 1981
Merced (SJ): 1980
Overfelt (CC): 1979
Andrew Hill (CC): 1978
Clayton Valley (NC): 1977
Monte Vista (SD): 1973
_______________________________
CONNECT WITH US:
Follow SportStars on Twitter & Instagram | Like us on Facebook | Subscribe!
_______________________________
Feature image: Buchanan (CS) 2020 CIF State Team Champions (6x State Champions)
Story by SportStars INSIDER, Al Fontes. Follow Al at www.thecaliforniawrestler.com