Danville Oaks Rugby Carve Path to Finals, Victory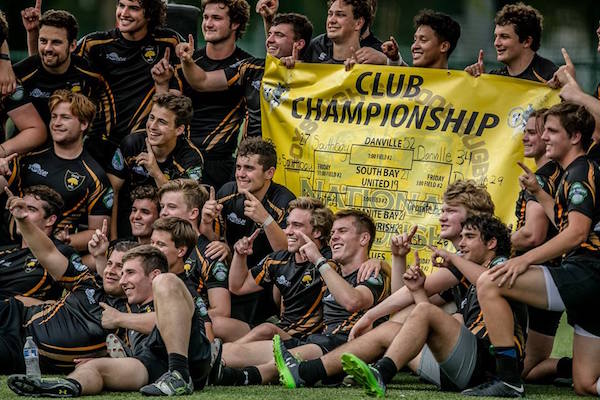 Danville Oaks Take Down Defending Champions In Extra Time To Claim The Varsity Boys National Championship In Kansas City •
Beat the Best to Be the Best. That's how the saying goes. And that's exactly what the Danville Oaks varsity boys rugby club did on May 19 in Kansas City.
Even if they needed extra time to do so.
The Oaks were taking on Royal Irish of Indiana, defending national champions and winners of four of the last six. As regular time expired, the teams were deadlocked at 15-15. In fact, Danville started extra time feeling like it was given new life after the Irish missed a couple of near game-winners in the waning moments of regulation.
Looking to make the most of their opportunity, the Danville Oaks — led by De La Salle-Concord senior Luke Freeman — dominated the extra period.
After stopping an aggressive surge by the Irish to open the extra period, Cal Liebowitz, a San Ramon Valley-Danville junior who plays water polo for the Wolves, used a lineout to get the ball to Freeman. Freeman then took the ball approximately 88 yards for the go-ahead try. Austin Arends (San Ramon Valley) delivered a successful conversion for a 22-15 lead.
The Oaks wouldn't need any more points, but they'd score seven more anyway. Not long after taking the lead, Danville went on attack again. This time Freeman delivered it to Jack Slimm (De La Salle), who dove across the line for a try. Arends added two more for a 29-15 final.
Though the Irish opened the match by scoring, the 3-0 lead would be their only advantage of the final. Freeman scored a try for a 5-3 lead. Danville pushed the lead to 10-3 with the first of two first-half tries by Jason Severance, a senior from Amador Valley-Pleasanton. The Oaks eventually led 15-10 af the half.
Path To The Title
The Danville Oaks' path to the final include a 52-21 quarterfinals win over South Bay Youth Rugby, a Southern California program based in Lomita. In the semifinals, the Oaks took down fellow NorCal power Granite Bay 34-14.
In addition to Freeman, Severance, Slimm, Liebowitz and Arends, Danville's full roster includes Joshua Allan, Nathan Anderson, Luka Armando, Nikolas Barretto, Ryan Chambers, Nick Cox, Kobe Davis, Patrick Deely, Nathan Dickinson-Jones, Tim Etherington, Marshall Ferris, Ethan Gruber, Zach Heffel, Jacob Himan, Caden Jarvis, Jason Javier, Nick Leusing, Matt Loeffler, Cameron Lugo, Jeremy Mast, Liam Michka, Luke Ogburn, Hunter Phillips, Joey Schwartz, Carson Sumter, Grant Vorous, Matt Vranesh, Harrison Wheeler and Fin Zilk. They are coached by David Liebowitz.
The national championship was the cherry on top of a stellar year club-wide for the Danville Oaks.
Danville Oaks also claimed the Boys Middle School NorCal title and its junior varsity boys were Premier League NorCal runners-up.
Be sure to check SportStarsMag.com later in June for an expanded story.  The national championship team, including interviews with the head coach and various players will be there for you.
Photo credits and thanks to Shad Davis and Sandi Allan