De La Salle And Folsom Football: After The Clash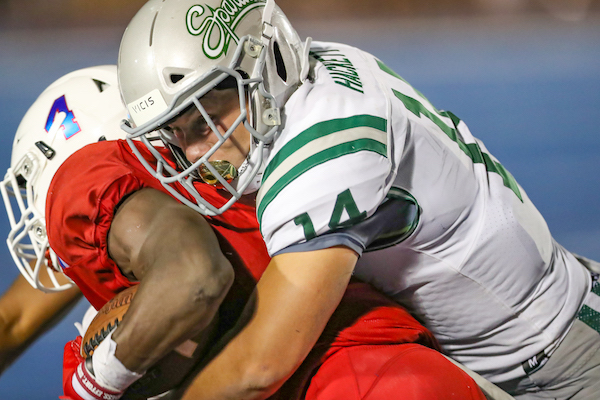 On Sept. 13, De La Salle And Folsom Clashed For The Fourth Time As NorCal's Top Two Teams — The Spartans Maintained Rule, But The Bulldogs Aren't Fading Away •
Northern California teams have been taking their shots for nearly 20 years. One by one, the next challenger takes the field hopeful of becoming the team to finally beat mighty the De La Salle football program. But, one by one (more than 300 times over), opponents leave with shattered dreams. From 2010-2018, Folsom football has compiled a record of 127 wins and 10 losses. Which means: De La Salle and Folsom has become appointment high school football in Northern California.
"That's the standard," Folsom coach Paul Doherty said in the wake of a their Sept. 13 nonleague showdown with the Spartans. "They are still the standard, plain and clear.
"I think the more we see them, the more we play, the more attainable it seems," he added. "but they're better than we are."
It was billed as the Clash of the Titans. A little more than a year removed from a strong Folsom road effort undone by a slew of turnovers, the Bulldogs had their shot to be the first team north of Fresno to beat the Spartans since December 7, 1991. A confident sellout crowd at Prairie City Stadium believed this group could be the one.
Instead, they became No. 302. 
_______________________________
GET CONNECTED:
Follow SportStars on Twitter & Instagram | Like us on Facebook | Subscribe!
_______________________________
A 42-27 De La Salle victory made Folsom the 302nd consecutive Northern California team to fall to the Spartans as they have compiled a 300-0-2 record against regional foes in more than 10,000 days.
For all of the hype of the game and the potential upset, the two NorCal powers—they have 11 CIF State Bowl Championships victories between them and 17 state final game appearances since bowl play began in 2006—were who pundits thought they were.
De La Salle established its dominance at the line of scrimmage — as they have for decades. The Spartans raced out to a 28-0 lead in the first half before holding off a stubborn Folsom squad and its patented aerial attack.
Folsom's focus on stopping the Spartans' speedy duo of Shamar Garrett and James Coby opened things up for quarterback Dorian Hale. The junior raced for a 69-yard score on the game's fourth play from scrimmage. It was Hale's first of four touchdown runs on the night.
"They were trying to collapse their defensive line, which can leave the quarterback unaccounted for, but you have to pick the right moments to do it," De La Salle coach Justin Alumbaugh said afterward. "He picked some great moments. You can't cover all of it when our offensive line is blocking pretty well and our quarterback is making good decisions."
A Garrett three-yard touchdown plunge gave De La Salle a 28-0 lead less than a minute before halftime. It appeared as if the De La Salle and Folsom's latest clash would be a clunker. But the Bulldogs went 68 yards — all through the air — in 25 seconds. Elijhah Badger capped by the drive with a 26-yard TD catch as the clock reached zeroes. Badger, who would catch his second scoring strike from quarterback Jake Reitheimer to finish the opening drive of the second half, ignited the home crowd and pulled Folsom to within 28-14.
De La Salle was pushed back deep into its own end by a cluster of uncharacteristic penalties. It set up what might have been the play of the game. Faced with a 3rd-and-21 from the team's own 18-yard line, Hale connected with Grant Daley for a 23-yard gain to take back the momentum and eventually build a 42-14 lead in the fourth quarter.
Folsom would continue to fight back. It had a chance to pull to within one score thanks to a pair of successful onside kicks, but the De La Salle defense eventually held firm. As Reithmeier threw the ball all over the field for 314 yards, all Hale could was watch his defense for much of the fourth quarter.
"It was tough," Hale said of being stuck to the sideline after a pair of successful Folsom onside kicks. "We for sure wanted to go out there and close this one out."
With the hard-fought win, De La Salle remained the favorite to earn an unprecedented 14th CIF State Bowl Championship berth. But, what exactly does the relatively narrow victory mean for De La Salle when Southern California powerhouses Mater Dei-Santa Ana and St. John Bosco-Bellflower continue to steamroll toward an eventual showdown to see who will represent the Southland in the Open Division?
The MaxPreps national rankings list Mater Dei and St. John Bosco at 1 and 2 as of Sept. 19. The two programs have each soundly beaten De La Salle over the past three Open Division finals. With six games still left on the schedule — five of which are against regional foes — the Spartans will not overlook any opponent. However, they won't ignore the implications of allowing Folsom to stay in the game relative to a potential showdown with what is likely to be the nation's top-ranked program.
"It definitely comes up right now," Hale said of addressing areas for improvement. "The road to the Open goes through Folsom. They are definitely a team that can go to state and win. They are a team that can prepare us for the teams down South."
Alumbaugh saw his team's second-half struggles as a starting point to getting better prepared for the upcoming challenges.
"We had them on the ropes and we let them back in which is a little disappointing," Alumbaugh said. "We have some things to focus on and work on, but that's just the daily grind and we will keep working.
"I think we just need to shore up a couple of things—like those onside kicks. But the physicality and the toughness and a lot of the execution we had was really good. You know, (Folsom) is a good team."
Some might say Folsom's loss might be a positive in the long run. It was believed the winner of last Friday night's game had the inside track to the Open Division final, and the loser would have the good fortune of avoiding SoCal's Big Two. That prospect was the farthest thing from the minds of the Bulldogs, including Doherty.
"We have bigger goals in front of us," Doherty said. "It's not a one-game season for us. We have no bye and no break the rest of the way.
"I think we responded well and played well, but we have to be more consistent all of the time. We will stay (focused) on us, and try to get better. The kids will respond and they already have responded."
In 2018, Folsom rebounded from its disappointing 14-0 season-opening loss to De La Salle. The Bulldogs rattled off 14 consecutive wins for a CIF State 1-AA Bowl Championship berth. They would add a 15th win over Cathedral Catholic-San Diego to win their second consecutive state championship and fourth overall. Thus, the outlook is still bright for Folsom. 
Despite that, Doherty knows that his team—along with every other NorCal program—will still strive to be the first to finally end the Spartans' streak.
"Are they that much better than we are?" Doherty quipped after the game. "We are trying to close the gap. It's a 12-month thing.
"They are the standard. Like it or not, we can be encouraged. We can do that. We can be that program."