Del Oro Football: Carson Jarratt, Capeless Crusader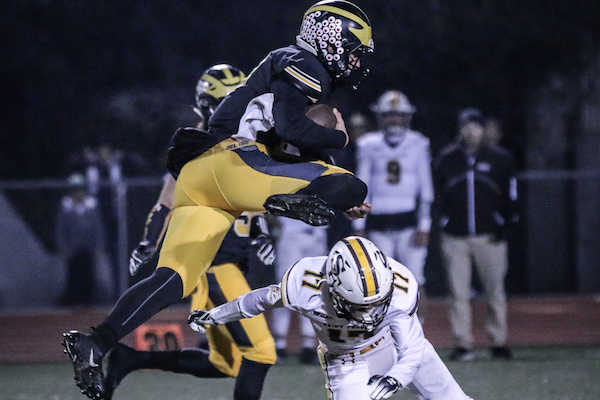 Senior Quarterback Carson Jarratt Flashed His "Clutch" Superpower To Lead The Golden Eagles Into The CIF 2-AA State Bowl Championship •
Carson Jarratt wears a Del Oro football uniform. It does not include a cape.
The senior quarterback poised to lead the Golden Eagles into Friday's CIF Division 2-AA State Bowl game against Grace Brethren-Simi Valley was only the fifth-most prolific passer in his own conference. He hasn't fielded any NCAA scholarship offers.
Nonetheless, in Loomis, he is Superman.
Last week, with Del Oro's season teetering toward termination in the NorCal finals, Jarratt overcame his own paltry start, a 13-point deficit and one of the best defensive squads in California.
He was heroic in the last 19 minutes of the game. He completed 7 of 13 passes for 237 yards, two touchdowns and a 14-13 comeback win over St. Francis-Mountain View.
Before the game, the Lancers had averaged under 100 yards allowed to opposing passers. The prolific unit held Jarratt to just 27 yards on nine first-half passes, but couldn't stop his second-half crusade.
It all started in the huddle.
"In the second half I told them that we have got to drive down the field, be smart with the ball and run our two-minute offense," Jarratt said. "I said, 'We are not going to get it done in one play.'"
It took about three.
After St. Francis gobbled up six minutes of the third-quarter clock and quarterback Ryan Daly gave the Lancers a two-touchdown lead with a scoring pass to Evan Williams, Jarratt hit Matt Smart for a 79-yard touchdown on third and nine.
Five possessions later, with Del Oro stalling at midfield, Jarratt suddenly broke upfield. He evaded four-star St. Francis defensive end Joshua Pakola (Stanford commit) and hurdled 2018 All-West Catholic Athletic League honorable mention defensive back Christopher Senteno at the first-down mark.
Six plays later, Jarratt saved the day.
"I hoped St. Francis would stay in press coverage and told (Smart), 'Win your matchup right here. I got you,'" Jarratt said. "When we lined up, they stayed pressed, and I knew my man was better than their man, so I gave him a chance."
Smart (three catches, 177 yards) caught the game-winner with 59 seconds to play.
"I always have faith in my quarterback," Smart said. "Carson is pretty damn good, and I know he is going to get it there."
Jarratt, who sat out his sophomore year after transferring from Woodcreek, has had a tumultuous varsity campaign. He fought for playing time last year, but threw eight interceptions and played poorly in a section finals defeat to Granite Bay.
His senior year has been better (124 for 230, 2,205 yards, 21 touchdowns, six interceptions), but recruiters have not been knocking down his door to levy scholarships to the 6-foot, 3-inch, 208-pound signal caller.
"I have no problem going JUCO and transferring," Jarratt said. "In the past I haven't been that D1 athlete that some colleges are looking for, but I feel I am out here grinding, doing everything that I can to get in the eyes of those recruiters.
"But also, we are not out here just to get scholarships. We are out here to play football and have fun, and whatever happens, happens. We are a team, and that comes first."
Second-year Del Oro coach Jeff Walters projects next-level success for his unheralded senior quarterback.
"He's growing up right in front of my eyes and I am so darn proud," Walters said. "He stepped up and showed what he is capable of, and I know he is capable of even more.
"Carson is dedicated to his craft, he fully understands it, and he thinks like a coach."
Del Oro's defense has also played a dramatic role in the program's recent success. Despite being overwhelmed in time of possession last week, the Golden Eagles held St. Francis to just two field goals, forced four punts, watched a potential game-clinching field goal bang off the crossbar, forced and recovered a fumble inside their own 5 yard line and intercepted Daly with 20 seconds to play,
Dawson Hurst picked off Daly's desperate pass. Dante Pericin forced the game-altering fumble. It was his second consecutive week of similar heroics. His strip with 1:52 to play in the Sac-Joaquin Section finals helped Del Oro overcome a deficit to beat Central Catholic 20-17.
A stout defense and Jarratt's deficit heroics will come in handy Friday. For the third round in a row, the Golden Eagles face a private school power. Grace Brethren, Southern Section champions, reached the Div. 2-AA CIF State Bowl game by beating St. Augustine 28-14 last week. The Lancers have won 10 straight games since losing to Div. 1-A CIF State Bowl qualifier Sierra Canyon-Chatsworth by four points.
Grace Brethren has a tenacious defense and a powerful running back in Lontrelle Diggs (5-8, 225), who has amassed 5,268 yards and 77 touchdowns in four seasons. Grace Brethren also has a pair of hulking two-way USC commits in linebacker/guard Stanley Taufoou (6-3, 255) and tackle/nose guard Jay Toia (6-3, 320).
"It looks like we will be a little undersized again, but I hope we are up to the task," Walters said. "It should be a heck of a football game."
Jarratt hopes his kryptonite isn't playing 425 miles south at Cerritos College in Norwalk. Game time is set for 4 p.m.
"We have one more week to try and win it all," he said.