FINAL NorCal Football Top 20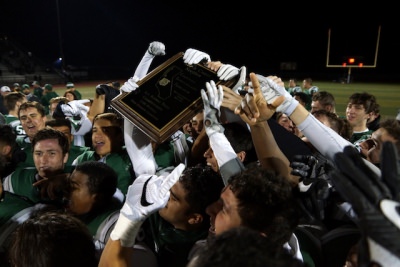 AFTER VIEWING THESE RANKS, BE SURE TO CHECK OUT CAL-HI SPORTS FOR ITS FINAL STATE TOP 10.

Records are FINAL
1. (1)  De La Salle-Concord   11-2 COMMENT: Spartans will always own this spot until losing to a NorCal opponent

2. (2)  St. Mary's-Stockton   14-2 COMMENT: Rams proved mettle in OT loss in I-AA Bowl

3. (3)  Freedom-Oakley   11-2 COMMENT: Falcons must remain behind St. Mary's due to head-to-head loss
4. (4)  Monte Vista-Danville   12-1 COMMENT: It would've been fun to see a Freedom-MV playoff for regional berth

5. (5)  Clayton Valley Charter-Concord   9-2 COMMENT: Uglies hang on to No. 5 after Valley Christian, Serra both lose bowls
6. (7)  Valley Christian-San Jose   13-2 COMMENT: Warriors stay at No. 6 thanks to head-to-head win over Serra

7. (6)  Pittsburg   9-2 COMMENT: Pirates may have been lucky to face Serra so early in the season
8. (8)  Serra-San Mateo   10-5 COMMENT: Had shot at No. 5 if 42-40 II-AA Bowl loss to Sierra Canyon broke differently

9. (9)  Folsom   12-2 COMMENT: Head-to-head drubbing of Del Oro keeps Bulldogs above the Golden Eagles
10. (10)  Del Oro-Loomis   13-3 COMMENT: Eagles clearly ran out of gas in I-A bowl loss to San Clemente

11. (11)  St. Francis-Mountian View   10-2 COMMENT: Only losses were to Serra, the first was by just one point
12. (12)  Oak Ridge-El Dorado Hills   10-3 COMMENT: Trojans can hang hat on win over Del Oro, and one-point loss to Folsom
13. (15)  Oakdale   14-2 COMMENT: Mustangs earn final bump following 47-0 pasting of Bishop's-San Diego in III-A Bowl

14. (14)  Bishop O'Dowd   15-1 COMMENT: Dragons only hiccup of season was 43-13 loss to No. 3 Freedom

15. (13) Elk Grove   11-2 COMMENT: Herd slightly sullied by 41-3 playoff loss to Folsom

16. (16)  Campolindo-Moraga   12-3 COMMENT: Cougs dominate Bakersfield Christian for second Bowl title in three years
17. (17)  Menlo-Atherton-Atherton   12-3 COMMENT: An 18-point loss to Paraclete in frigid Lancaster was tough ending to program's best season in years.

18. (20)  Manteca   12-2 COMMENT: With win over Oakdale, Buffs get a bump due to Mustangs' dominant bowl win
19. (18)  Sutter   13-1 COMMENT: Only loss was a 27-10 defeat to Oakdale in the III-A Northern Regional playoff
20. (NR)  Pleasant Valley-Chico   11-3 COMMENT: Thrilling 50-49 OT IV-A Bowl win over St. Anthony-Long Beach is enough for Vikings to bump Sac High
DROPPED OUT: No. 19 Sacramento

THE NEXT 5: 21. Sacramento (10-2), 22. Cardinal Newman-Santa Rosa (12-2), 23. Inderkum (11-3), 24. McClymonds-Oakland (13-1) and 25. Capital Christian-Sacramento (11-3).