GET MENTAL: Thoughts from the NFL Combine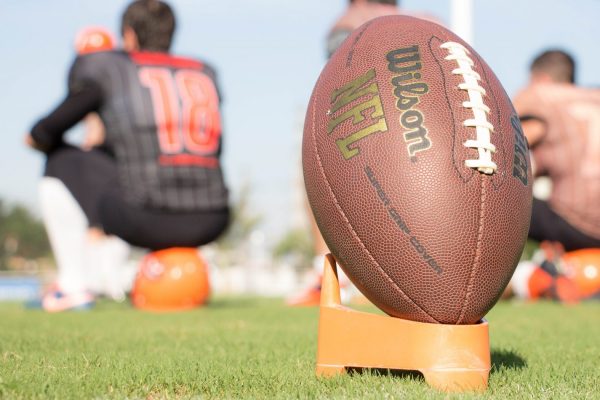 How do you perform under pressure? If you think school is difficult, the SAT is tough and the recruiting process daunting, imagine having your future employment potential dissected under a microscope, both physically and mentally over a four day period of time. At the annual NFL Combine, future NFL players must endure scrutiny and performance pressure in a very different environment then game day.
After spending a week at the NFL Combine, I came away with a greater appreciation for athletic performance under the most stressful of situations. Football players spend weeks preparing for their Combine performance.  They are in the gym, honing their interview skills and preparing for the Wonderlic test.
Endurance for NFL Combine
Players endure 12-15 hour days, often starting at 5 a.m. and ending around midnight.  Balancing interviews with 30 teams, physical examinations and psychological evaluations, players then have to step onto the field and maneuver themselves through rigorous drills that have to be performed to the highest degree, under the most difficult and stressful of circumstances.
One dropped ball, one missed cone, let alone a bad snap from a long-snapper, a missed field goal or a muffed punt leaves a lasting impression. This lasting impression is on the scouts and team officials sitting in the stands.
_______________________________
CONNECT WITH US:
Follow SportStars on Twitter & Instagram | Like us on Facebook | Subscribe!
_______________________________
Mental Stamina for NFL Combine
From a mental standpoint, I have not witnessed a more pressurized environment for athletes. We often think of pressure in competitions like the Olympics and the Super Bowl. Or pressure in  the World Series and other must-win competitive environments. But there's more pressure in running a 40-yard draft, kicking footballs, catching passes and other drills in front of a handful of people at Combine.
Making a mistake in front of 40 million viewers might be easier to deal with than shanking a kick in front of 30 future employers. I watched a long-snapper fire over 80 snaps to punters and field goal kickers. He was exhausted, sweating and he was the only long-snapper at the entire NFL Combine.
The long snapper position is one of the most pressurized positions in all of football.   Remember the Monday Night Football game this past season when the Raiders lost their long-snapper in the second quarter? Their back-up had not snapped a ball since high school and the game took a disastrous turn soon after.
Reaction to Mistakes at Combine
Whenever watching athletes perform, I am not as focused on the mistakes they make as I am on their reactions to their mistakes and how they perform on the next play or opportunity. The long-snapper not only had the personal pressure of having to snap the ball perfectly every time, as his mistakes also effected the performance of the punters and field goal kickers.
I watched a few bad snaps, which resulted in a few missed kicks and bad punts. In this finely tuned process, long-snappers and kickers practice this exchange extensively. Just as much as quarterbacks and receivers build chemistry on pass patterns. At the NFL Combine, players are working with each other for the first time and mistakes are due to happen. I was very impressed to see the long snapper fire the next snap perfectly after his few misfires.
Coincidently, he and I were on the same flight back to the West Coast. Also the Oakland Raiders special teams coach was on the flight. The three of us discussed his experience at the combine. The coach echoed the same thoughts I shared, in that he was very impressed with both the sheer endurance the long-snapper had, along with his accuracy and ability to focus on the next snap after the few bad one's he had.
Importance of Stress Management
At the NFL Combine, there is money to be made and lost at every turn. The difference between a great and a poor performance is often the difference between buying a house and renting one. How an athlete handles the stress of being on the largest stage of their careers, performing in front of 30 potential employers instead of thousands or millions is very telling about their preparation and ability to deal with internal and external distractions.
Each of you reading this article have and will experience situations similar to the players at the NFL Combine. You'll need to perform under pressure. Try-outs for a travel program, varsity team or college recruiters take on the same importance. Your ability to focus on your execution and the things you control is just as critical as the players trying out for the NFL.
How do you Prepare to Perform Under Pressure?
The question I have for you is simple, yet complex. How do you prepare, both mentally and physically to perform? Perform at your highest level when the pressure is at its greatest? Especially when you are performing in front of one or a handful of individuals who hold your future employment in their hands?
Dr. Doug Gardner is a Sport Psychology Professional, based in Lafayette, CA.  He currently consults for the NFL Players Association.  Dr. Gardner is the former SPP for the Boston Red Sox. He has also consulted locally with the Cal Women's Swim Program, along with several other college, HS and travel teams.  To learn more about Dr. Gardner, you can contact him at 925-284-7506 or at dg@thinksport.com.