Team California Girls Wrestling Come up Winners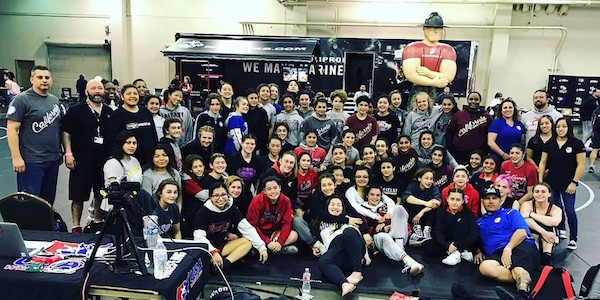 This past March 24th weekend, Team California won both the Cadet (under 16) and Junior Girl's Folkstyle Nationals in Oklahoma City, Oklahoma. Several All-Americans are from the Sac-Joaquin, North Coast, and Northern Sections.
Below is a list of girls from these sections that earned All-American honors.
USAW Junior Folkstyle Nationals – ALL-AMERICANS
117 – Jennifer Soto – 2nd Place (Orland HS, N)
117 – Alisha Navaez – 6th Place (Arroyo, NCS)
122 – Adriana Lopez – 4th Place (Upper Lake, NCS)
138 – Dalia Garibay – 2nd Place (Freedom, NCS)
138 – Joanna Qiu – 4th Place (Albany, NCS)
144 – Francesca LoPresti – NATIONAL CHAMPION (Albany, NCS)
144 – Maicie Lockyer – 7th Place (Del Oro, SJ)
152 – Michelle Kamyshin – 2nd Place (River City, SJ)
152 – Hannah Ricioli – 8th Place (El Molino, NCS)
164 – Alia Abushi – 3rd Place (Arroyo, NCS)
164 – Ariana Pereira – 4th Place (Newark Memorial, NCS)
180 – Jasmin Clarke – 4th Place (Kelseyville, NCS)
225 – Lillian McCoy – NATIONAL CHAMPION (Casa Grande, NCS)
225 – Jasmine Guerrero – 3rd Place (Del Oro, SJ)
USAW Cadet Folkstyle Nationals – ALL-AMERICANS
94 – Jalen Bets – 4th Place (Granada, NCS)
106 – Adrienna Turner – 4th Place (Davis, SJ)
112 – Artemisia Matera – 4th Place (Albany, NCS)
117 – Jennifer Soto – National Champion (Orland, N)
117 – Lexy Beadles – 4th Place (Lodi, SJ)
117 – Tamsin Urbas – 7th Place (Albany, NCS)
132 – Ximena Pulido – 8th Place (Livermore, NCS)
144 – Valeria Ceja – 7th Place (Winters, N)
152 – Jessica Beavers – 5th Place (Del Oro, SJ)
152 – Hannah Ricioli – 7th Place (El Molino, NCS)
200 – Abigail Veske – 6th Place (Del Oro, SJ)
To view the entire list of All-Americans from California, go to the following links on the California Wrestler:
USAW Cadet All-Americans
http://thecaliforniawrestler.com/2019-usaw-usmc-girls-folkstyle-nationals-all-americans-california/
USAW Junior All-Americans
http://thecaliforniawrestler.com/lopresti-and-mccoy-lead-california-to-junior-girls-folkstyle-team-title/