Going the Distance: Angel More Menlo School-Atherton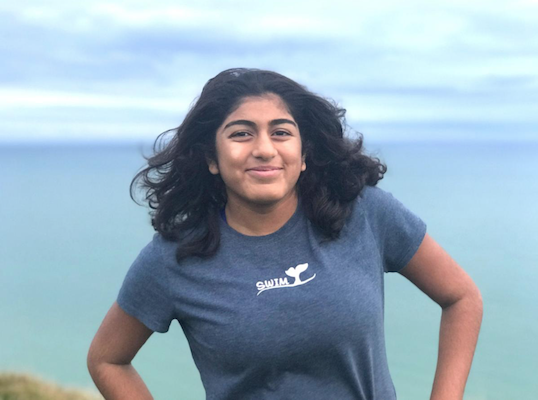 Angel More, Menlo School-Atherton – Distance Swimming – Senior named SportStar of the Week.
So… what did you do this weekend? Angel More swam 28 miles around the Manhattan Island in New York City.
She's also setting records on Menlo-Atherton's swim team and was a league championships qualifier. But her strong suit is her endurance swimming.
More is a world record-holding marathon swimmer who has swum the likes of Lake Tahoe and the Catalina Channel.
Perhaps even more impressive than those athletic feats, her recent swim around Manhattan was an event to raise awareness for a two-year charity campaign she's launched in conjunction with Children International.
The campaign is called "Angel's Hope" and carries a goal of raising $1 million to create as many as 5,000 scholarships for teens around the world. In the first two weeks of the campaign, More has already raised $15,000.
Visit Angel's Hope to learn more and donate.
Manhattan Sightseeing
The Menlo School senior went sightseeing around Manhattan days before the start of school. Only she had a unique vantage point.
In nine hours Saturday, More swam the 28.5 mile course named 20 Bridges (because that's how many bridges they swim under via the East River, Harlem River and Hudson River).
It was much warmer than what More is used to – she swam Alcatraz more than 50 times – as well as Anacapa (Santa Barbara County), Catalina Island and Incline Village when she became the youngest to complete California's Triple Crown of Marathon Swimming.
One of her favorite places to visit is New York.
"The swim went well," More said. "The water was very hot compared to what I normally swim in (76-78 degrees F). It was very cool to see all the buildings and bridges as I normally am not able to sightsee while I swim. It's usually water and water for miles."
Her crew – Lisa Amorao, on the boat, her kayaker Noah Diary, and observer Angela Degrassi, kept an eye on More's safety and health throughout the swim.
Along the way, as in every interview, More talked about Children International, the nonprofit which aims to break the cycle of poverty. And her new campaign.
As More notes on her campaign page, an annual pledge of $95 supports a youth's university expenses in India.
Now that she has completed Catalina and Manhattan, More is two-thirds of the way to competing the Triple Crown of Marathon Swimming. The English Channel being her next goal.
Until then, she plans to swim Estero Bay near San Luis Obispo next month.
Photo: Menlo School Athletics