Golden Goal Scores St. Francis Soccer CIF NorCal Title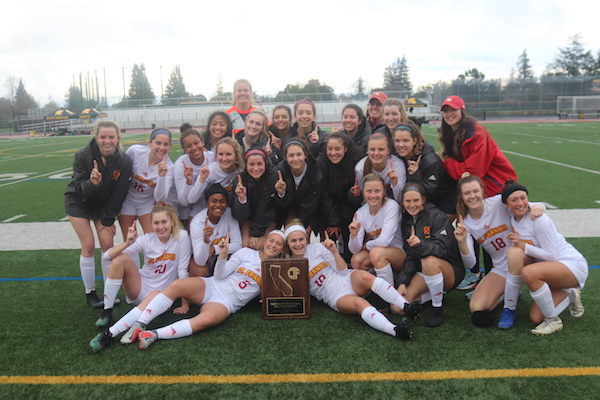 Junior Lindsey Piatanesi scored a golden goal in overtime to lead No. 4 St. Francis to the 2019 CIF State Northern California Division II Regional title. The Saturday afternoon match was a 1-0 win over No. 3 Mountain View. Giving St. Francis Soccer the CIF State Northern California DII Regional Title.
"Going into overtime, the girls had it," said Head Coach Maryclaire Robinson '86. "We had really good leadership. They brought the team together and refocused. They were excited about overtime and getting a chance to finish it."
Senior Jackie Koerwitz controlled a ball in front of the net off a corner kick, making a quick pass back to Piatanesi who hit a left footed blast into the right corner of the goal past the outstretched reach of the Spartan goalie.
"It was a smart play," said Robinson. "The ball bumped around and Jackie laid it back and Piat buried it. It was selfless play and a team-led charge. It was fantastic."
St. Francis finishes with a 23-3-4 record and the first CIF State NorCal soccer title in school history and 13th overall.
Golden Goal Girl
"It was super exciting," said Piatanesi, who finished the season with a team-best 14 goals. "Once we got the corner I had a gut feeling we were going to score. It was in box and Jackie passed it back to me and I was able to finish."
The Troubadours and Spartans played a competitive game throughout. The game remained tied, though both teams had their chances.
SF had a great chance late on another corner that was headed by Piatanesi just off the cross bar in the final minutes.
The momentum carried to the overtime and the quick score to end the game.
"It was a really good game and Mountain View was a very good opponent," said senior Elise Urkov. "They were a good opponent for us and they put us under pressure. They had a lot of opportunities and we got lucky a few of them. It was back and forth and felt good to get a win over them."
The Troubadours sent their seniors out with the ultimate celebration that brought the team on the field to for the winning dogpile.
"It feels great. We have been working all season for this and it paid off," said senior Lindsey Porter. "We worked for each other the whole game, kept the intensity high and we knew we wanted to win this. Now we are champs. Finishing off with a win in the last game is a great feeling."
St. Francis finished runner-up in the Sac-Joaquin Section Division II bracket to Whitney and second overall in the Delta League to CIF NorCal DI runner-up Davis.