Hannibal Navies "Spectators FREE" Football Camp in the Bay July 1-2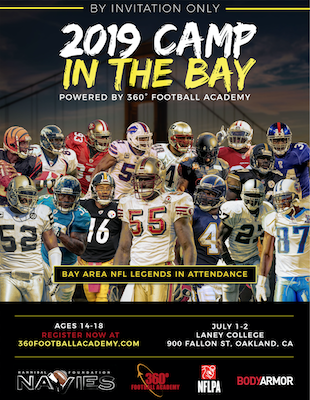 Spectators Welcome! 49ers Hannibal Navies Camp in the Bay July 1-2, 2019 powered by 360 Football Academy is about Pros preparing student-athletes for post-secondary success.
Over 200 high school athletes and parents from across the Bay have an opportunity to participate in Hannibal Navies Foundation Football "Camp in the Bay". And you're invited!
It's taking place July 1-2 at Laney College in Oakland and includes an impressive list of current and former NFL, NBA and Olympian athletes.
This intensive, two-day program provides comprehensive sports training as well as engagement with community and civic-minded authorities through classroom sessions.
Wide-ranging experiences which include academic and life skills seminars followed by the 360 Inner Circle NFL Player Panel for both youth and parents are on the schedule.
For the athletes, "Speed Dating Counseling" offers a 15-minute consult with a college guidance counselor and school transcript review. The effort ensures kids are on the right course to graduate and are academically eligible for college acceptance. Staffers review financial literacy, SAT/ACT basics, NCAA compliance, recruiting 101, nutrition basics, social media protocol and more.
"Training Day in the Bay" led by Lorenzo Neal, Maurice Jones-Drew, Kirk Morrison, and Host, Hannibal Navies
Day two, the young men will experience "Training Day in the Bay" football instruction led by over 15 of the sports industry's best local talent. Celebs include Lorenzo Neal, Maurice Jones-Drew, Kirk Morrison, and host, Hannibal Navies.
Navies Foundation Training Day in the Bay" Football Camp, Combine Prep & Sports Performance
Training Attendees are from high schools such as McClymonds, Berkeley, Skyline, Oakland Technical, Elk Grove and Capital Christian. They will have access to year-round curriculum and hear insiders share their experiences and life lessons. Participants will be equipped with skills and the knowledge to make sound decisions to effectively pursue their future endeavors. 
This event is free for participants—made possible thanks to the National Football League Players Association (NFLPA), National Football League Foundation, the UCSF Benioff Children's Hospital Oakland, City of Oakland, Oakland Police Department, BODYARMOR, GAMEBREAKER, Lorenzo Neal Foundation, San Francisco 49ers, and the Oakland Raiders. An expectation of 350 total attendees will be present, including volunteers, parents, coaches and community influencers.
"To simplify, we're putting the student back in "student-athlete," said Founder of 360 Football Academy and former San Francisco 49ers Hannibal Navies. "With a solid infrastructure supported by the NFL Players Association (NFLPA). Our camp prepares rising stars for the rewards, challenges, and pitfalls that face professional athletes. With over 15 years of conducting high performance training for youth, I'm excited to offer this program to the city I was born and raised."
Camp registration is already full but spectators interested in seeing and meeting some of the Bay Area's most beloved athletes, including Lorenzo Neal, Maurice Jones-Drew, Kirk Morrison, and Host, Hannibal Navies are encouraged to attend. July 1-2 at Laney College in Oakland.
About Hannibal Navies
Veteran NFL athlete Hannibal Navies is the Founder and CEO of 360 Sports Academy and Hannibal Navies Foundation. An avid believer in making a positive impact in the community, Navies formed the foundation to cultivate successful, well-rounded student-athletes by providing them with applications for growth on and off the field.
Hannibal has more than 15 years of experience organizing and conducting high-end sports training events and camps throughout the U.S. Naives is a highly experienced leader in this industry. Additionally, he is Director of Engagement and Outreach for The Trust powered by The NFL Players Association.
Navies organization bases its academy training on what he calls the AAA Platform. Academics. Athletics and Attitude. Camp in the Bay stresses the importance of balance in achieving long-term success. A native of Oakland, each year Navies hosts Camp in the Bay for youth ages 14-18. His career includes the University of Colorado 1995-1998. San Francisco 49ers 2006-2008. Cincinnati Bengals 2005. Green Bay Packers 2003-2004 and Carolina Panthers 1999-2002.
Camp in the Bay and 360 Football Academy thanks BODYARMOR for their support for our youth!  Make the switch to @DRINKBODYARMOR, the BETTER for your sports drink for today's athletes.