Kyle Harrison: NorCal Baseball Pitcher Of The Year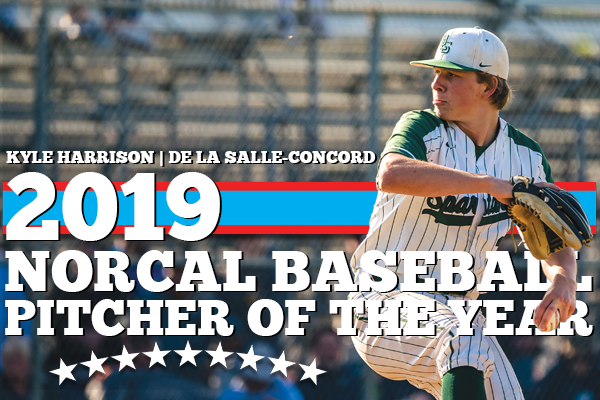 De La Salle Lefty Followed Up Stellar Sophomore Year With Even Better Junior Season; Saved His Best For Spartans' Championship Run •
As the De La Salle Spartans chased their third straight North Coast Section Division I championship in 2018, sophomore pitcher Kyle Harrison played a huge role. He boasted a 9-1 record on the mound with a sterling 1.17 ERA. But he was not given the ball for the championship game.
He made sure that wouldn't happen again in 2019.
"He could have pitched the final last year. But I don't like throwing sophomores into a championship game," coach David Jeans said. "Although he was ready, you have to have that chip on your shoulder coming into these games — something he clearly had this year."
Harrison proved his coach right. He allowed just two hits over 5.1 innings. He gave up one earned run and struck out 10 to help the Concord school top Heritage-Brentwood 10-1 and roll to an unprecedented Div. I four-peat. It was a performance that made his selection as NorCal Pitcher of the Year a no-brainer. 
"I was ready to get the nod," Harrison said. "I was excited to compete and prove to my teammates I had as much faith in them as they had in me." 
Along with his calm, "keep grinding mentality," Harrison had the numbers to assure teammates he was ready for every big moment.
He finished the 2019 campaign with a flawless 10-0 record. He piled on 103 strikeouts and giving up a measly 11 runs. Oh yeah, he also hit .286 with 24 hits, 13 runs and 20 RBI.
Although unfathomable to assume Harrison could get even better for his senior season, the coaching staff sees room for growth. Especially given his work ethic and tireless dedication to his teammates. Jeans insists he found a way to level up for his guys when it counted the most.
"He took the responsibility on his shoulders that 32 other kids were relying on him," the coach said. "He matured into realizing he can carry this team in big moments."
Now with the 2019 championship banner in hand and the school year done, Harrison finds himself doing what every kid does during his or her summer vacation: Hitting the weights and attempting to find what next season's team identity will be.  
Ok, so maybe not every kid takes baseball as seriously as he does. Yet that's what has earned him his leader role moving forward. 
"Being a mentor is huge for me." Harrison said. "The past seniors helped me and I want to return the respect for the next generation."
Not willing to rest on past accomplishments, he has adopted the phrase, "It starts now." It signals that preparation for a fifth straight title begins before a new school year will.
Sticking to that mantra, Harrison is taking part in the Prospects Development Pipeline league hosted by Major League Baseball at the IMG Academy in Florida. The three-week long camp could potentially land him a spot on the Under-18 USA National team. Yet, he continues to express his desire to get home and apply what he's learned.
With their UCLA-committed ace ready to rock for his final season, De La Salle players continue to remind each other that the 2020 championship banner isn't hanging in the gym yet. 
"2019 is done. Those seniors got their names up their forever, now it's this team's turn," Harrison proclaimed.  
Personal legacy is not necessarily a motivating factor for Harrison. Make no mistake, though. He wants to leave De La Salle on the right note. Winning and building bonds with teammates is the only way he knows how to accomplish that. 
— Story by Jesse Gomez, Photo by Jean-Paul Toshiro