Hartshorn, Omania Win UWW Jr. Greco Championships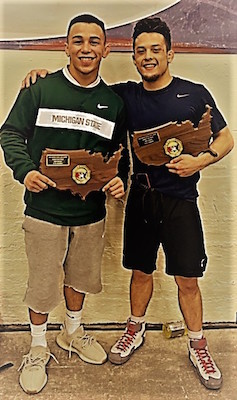 California Wrestlers Mason Hartshorn and Peyton Omania Win UWW Jr. Greco Championships – Earn Spots on Jr. World Team.
SportStars INSIDER Al Fonte's post April 25th outlined the UWW Jr. Greco Championship results, shared below. USA Wrestling posted this commentary that same day, written by Mike Willis. We're sharing it here to bring context to Al's results reporting.
The Junior Greco-Roman World Team is set at nine weight classes with only 77 kg left to be settled. The team is a veteran squad with extensive international experience. Four wrestlers made their second World Team, three of whom were members of the 2018 Junior World Team.
Veteran Squad
The most surprising wrestler of the tournament however, was the only wrestler not to secure a spot. 77 kg champion and Washington native, Jake Ervien. He came into the tournament unseeded and knocked off the seventh seed in the opening round, top-seeded 2017 Cadet World Team member Jake Hendricks in the quarterfinals and scored back-to-back pins in the best-of-three finals against no. six seed Isaiah Alford. Ervien will have to wrestle off 2018 Junior World Team member Tyler Dow in a best-of-three series because Dow is competing in the senior Open.
"It's just hard work. I've never won a state title. I've never won a national title, but I've put the time in and it's finally paying off. I came in with confidence because I've been training hard" Ervien said.
Among the previous Junior World Team members are Alston Nutter at 62 kg, Peyton Omania at 67 kg, and Cohlton Schultz at 130 kg. Schultz has made an impressive six age-group world teams, and has brought home a Cadet World gold medal and a Junior World silver. Although he was pinned in his first match, he came back dominant, with back-to-back 9-0 and 8-0 technical falls. At 55 kg Dylan Ragusin has also made a Cadet World Team.
Omania is one of two Michigan State wrestlers to make the team alongside Cameron Caffey at 87 kg. Caffey took gold in both men's freestyle and Greco-Roman at the 2018 Junior Pan American Championships.
Greco-Roman Programs Manager, Gary Mayabb said this an extremely experienced team.
"This is about as veteran as we've had. On several of our cadet and junior teams we've had guys that their first time overseas was at the World Championships. That is not the case with this team. I think we've got a great team, and I think we've got the right team", Mayabb said.
The Junior World Championships will take place in Tallinn, Estonia, August 12-18.
UWW Junior Greco Championships Finals Results
55  Dylan Ragusin Elk Grove Village, IL (Izzy Style) 2-0 over PO Billy Sullivan Las Vegas, NV (Legends of Gold) (8-0, 10-1)
60  Mason Hartshorn Oakley, CA (NMU/OTS) 2-0 over Haiden Drury WA (Takedown Express Wrestling Club), 2-0 (7-1, 4-1)
63  Alston Nutter Fennimore, WI (Sunkist Kids Wrestling Club) 2-0 over Hunter Lewis Madison, WI (Advance / Ringers) (12-3, 16-8)
67  Peyton Omania Concord, CA (Michigan State) 2-0 over Benjamin Peak Elkhorn, WI (Sunkist Kids Wrestling Club) (6-4, 7-4)
72  Tyler Eischens Andover, MN (Stanford – California RTC) 2-0 over Calvin Germinaro Anoka, MN (Minnesota Storm) (17-7, Fall)
77  Jack Ervien Milton, WA (Takedown Express Wrestling Club) 2-0 over Isaiah Alford Lincoln, NE (MWC) (Fall, Fall)
82  Zachary Braunagel O'Fallon, IL (IRTC) 2-0 over Max Wohlabaugh Winter Springs, FL (Clarion RTC) (8-4, 6-3)
87  Cameron Caffey Carbondale, IL (Michigan State) 2-0 over Keaton Fannin, Bedford, TX (NMU/OTS) (Fall, Fall)
97  Nicholas Boykin Murfreesboro, TN (Sunkist Kids Wrestling Club) 2-0 over Austin Harris Stillwater, OK (Cowboy RTC/TMWC) (Fall, 10-0)
130  Cohlton Schultz KY (Sunkist Kids Wrestling Club) over 2-1 Lee Herrington Kearney, NE (Nebraska Golden Eagles Wrestling Club) (Fall, 9-0, 8-0)
See this and more CA Wrestling reports at TheCaliforniaWrestler.com