Hawaii's Top Jr. Golfers Take on Ka'anapali HSJGA Match Play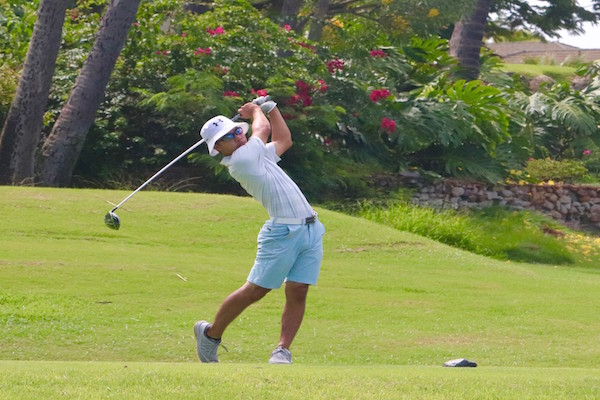 39 of Hawaii's top Jr. golfers competed Saturday in the annual Ka'anapali HSJGA Match Play Championship on the Ka'anapali Kai Course. 
Maui's hot and humid weather took a toll on several players during the second round of play, but there were no real surprises in the leaderboard heading into Sunday's semi-final (Girls 13-18; Boys 15-18) and final (Boys 13-14) rounds.
Sunday's matches began at 7:00 am, with the Boys older division and Girls final matches which began at noon.
In the Boys 13-14 Division, Honolulu's Marshal Kim had a BYE in the first round and then defeated Anson Cabello (Kahului) 6Up in the semi-finals.
Anson had defeated Lahaina's Ian Chapital in 19 grueling holes in the quarter finals.
The Boys 13-14 Division played from 6,010 yards.
After Hayashida's round, he commented, "I was just trying to stay relaxed today and not pressure out."
"On the par 5, 12th hole (against Cafferio), I had a great drive with about 250 yards to the pin and I hit my approach to about a foot and a half, making the putt for eagle." 
Likewise, on the 13th and final hole for the match, Hayashida had a nice drive and his approach shot landed him only about two feet from the hole. 
"I remember thinking my motivation was that I just wanted to make this putt so I could go home – I was super tired" said Hayashida.
"The green speeds were really nice. I was able to make some good birdies out there today – Sunday, my goal is to keep it in the fairway and make most of the greens again to give myself some birdie opportunities", He concluded
Eun Lee said of her strategy for Match Play, "My goal was to get a good rest last night and not stress, stay positive and make a lot of birdies."
Kyung birdied the 13th hole in her first match with Soldwisch to give her some extra confidence heading into her second round Sunday.
She added, "On the short par 4, 9th hole with Rachael, I actually hit my drive into the left bunker. But then I was able to get out and land the ball about 10 feet from the hole and make the putt."
Wailuku's Lana Calibuso-Kwee also made it into the Sunday's semi-final round.
She defeated Wailuku's Payten Shimizu 5&4 in the first round and then Makawao's Jaelin Ishikawa 4&3 in the afternoon.
"I've actually played against Jaelin the last three years in this tournament," Calibuso-Kwee laughed.
On the par 5, 8th hole, I was able to get on in three and then make an 8-foot putt for birdie.
On the 15th (on what would be final hole of the second match), "I had about 117 yards to the pin. I had a lot of confidence, so I choked up on a 9-iron and went for it.
I had only about an 8-10 foot putt and made it for birdie." Jaelin would par the hole and the match ended 4&3.
Karissa Kilby of Honolulu and Myah McDonald of Kaneohe also advanced to the semi-final round. The girls played the Kai Course from 6,010 yards on Sunday.
The Boys 15-18 Division quarter final matches were fairly close, with matches going at least 15 holes.
Pearl City's Noah Koshi and Honolulu's Jonathan Morikawa paired up Sunday morning in the first semi-final match.
Alex Kam and Peter Jung, both of Honolulu also paired up at the same time for their semi-final match. The boys in this division played from 6,388 yards on the Kai Course.
Alex Kam, a senior at Hawaii Baptist Academy said, "This is my first time playing in Ka'anapali's Match Play and my strategy was to get off the course as fast as I could.
I knew it was going to be tough conditions playing 36 holes today (and hopefully another 36 holes Sunday) which is a lot of golf."
In the first match with Pierce Dowd of Kihei, Kam made a great 20 foot putt for birdie on the 4th hole to Pierce's 2-putt for par.
"That was a really good confidence-booster for me and helped set the tone for the next hole," said Kam.
Kam and Pierce both had about 18-20 foot putts for birdie on the par 5, 5th hole.
Pierce 2-putt for par and Kam actually putted past the hole, but because of the uphill slope, the ball then rolled back right into the hole, putting Kam at 5Up through 5 holes.
He would win that match with Pierce 6&5. 
In Kam's second match of the day, with Honolulu's Davis Lee, the two of them had very consistent play from tee to green.
On the par 5, 15th hole Lee and Kam both had solid drives and hit their woods to within 30-40 yards.
Kam first chipped up to about 15 feet and Lee put himself to about 18-20 feet from the pin.
Lee missed the putt only by a foot and Kam gave him the next.
Kam then knew exactly the break in his putt because he had a similar angle in his prior match with Pierce just earlier in the morning. He made the birdie putt and went on to win 4&2.
For scoring and full results from the day's Championship and Consolation Brackets, visit the HSJGA web page.
Sunday's semi-final and final rounds began at 7 am and 12 noon on the Ka'anapali Kai Course.
VACATION AT KA'ANAPALI GOLF COURSES:
The Royal Ka'anapali Course, a Robert Trent Jones Senior design, opened in 1962 and has tested the skills of golf professionals and amateurs alike.
A Par 71 stretching 6,700 yards, the Royal Course combines wide fairways and undulating greens, making it both distinctive and demanding.
Home of the PGA TOUR Champions Ka'anapali Classic for 14 years, the Royal Ka'anapali Course has hosted some of golf's legends: Jack Nicklaus, Arnold Palmer, Greg Norman, Fred Couples, Billy Casper, Jan Stephenson and Betsey King.
The Ka'anapali Kai Course is a Par 70, 6,400-yard course and boasts an array of strategically placed bunkers, contoured fairways, and re-shaped and resurfaced greens.
This course, host of Golf Channel's #1 series Big Break Ka'anapali, is a challenge to play and places a premium on strategy off the tee, accuracy with approach shots, and a deft touch around the greens.
In 2005-2007, Ka'anapali Golf Courses invested over $13 million in renovations and infrastructure.
Golf course architect, Robin Nelson, was brought in to oversee the rework of the Ka'anapali Kai Course and enhancements to the championship Royal Ka'anapali Course. Ka'anapali recently celebrated 55 years and was host of the PGA TOUR Champions SKIN GAME January 2008-2011. 
Visit our site for more information about Ka'anapali Golf Courses or call (808) 661-3691. Instagram @kaanapaligolf and www.facebook.com/kaanapaligolf
For a list of full grid and results, please visit the HSJGA site.